---
TDmonthly's Psychologist Mom
She'll Put Your Toys on the Couch
Dr. Wright doesn't just look at toys; she analyzes them. In and out of the box, she scrutinizes them for playability, appropriateness and educational value. The latter quality is especially important to this psychologist/mother, who also homeschools her three children.

This month,

TD

monthly Magazine's Psychologist Mom takes her kids to the races, prepares them for retirement and more, rating each of four products with 1 to 5 TD stars (for

TD

monthly!); 5 is the top mark.

Tri-Check by TRI-CHECK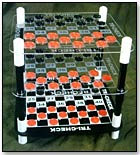 Age: 10 and Up
Gender: Boys and Girls
Category: Board Games
Price: $30.00



TD

monthly rating:





The Dr.'s Impressions
Tri-Check has taken the tired, old game of checkers to a new level — literally. Its three-level game board demands complex strategy to master the multiple movement options. Players can make traditional moves on one level and additionally move up and down to other levels. The game can be played on the floor or table top.

Kids' Perspective
My kids were giddy with joy when they first set up Tri-Check. Although the directions were very difficult to understand, once we figured them out the kids had a great time playing. Each time they played the game, their moves became more advanced and strategic as they learned to manipulate the multiple levels.

Recommendation
Tri-Check takes only about 30 minutes to play and can be set up anywhere. It is a great game for both younger and older kids. The opportunity for more advanced play is similar to chess and allows for development of analytical skills and improved memory.

---
The Horse Race Game by BOARDWALK DESIGN INC.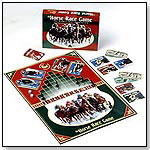 Age: 8 and Up
Gender: Boys and Girls
Category: Board Games
Price: $38.99



TD

monthly rating:





The Dr.'s Impressions
The Horse Race Game is a fast-paced game of luck. The object is to win the jackpot and make the most money by holding the card that represents the first horse to cross the finish line.

Kids' Perspective
The kids liked the luck of it all and really enjoyed learning the new language of gambling and horseracing. Phrases like "scratched," "pay the pot" and "winning horse" were all very exciting. The kids cheered as the horses raced along the track.

Recommendations
Frankly, I am not happy with introducing betting and horseracing to children. It was also difficult to get the required six players assembled around the board to play. It was marginally fun and a quick play, but not something I would purchase for my family.

---
Happy Retirement by MARTY'S GAMES CORP.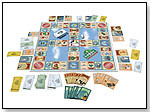 Age: 8 and Up
Gender: Boys and Girls
Category: Board Games
Price: $29.95



TD

monthly rating:





The Dr.'s Impressions
Happy Retirement is like Monopoly without all the complications. It requires the players to achieve a "balanced lifestyle" by obtaining "sets" of expensive (e.g., a yacht), inexpensive (e.g., art lessons) and free (e.g., a wonderful family) retirement lifestyle cards. The game introduces to little ones the idea of what can be acquired during one's life, and the point is not the most expensive items, but some of all that life has to offer.

Kids' Perspective
"It is the best game ever! It rocks!" said my 7-year-old. My kids played this game over and over. They played with adults and among themselves. They asked to play it the minute they woke up and all day long.

Recommendation
I highly recommend Happy Retirement to any family. The only downside is its large time commitment of at least 90 minutes to play. My kids loved to play and learned quite a bit about some of the things they might not have thought of until they reached 40 or 50 years old. They also learned how to count into the millions — which was a nice surprising educational benefit.

---
Discovery Edition WordSpot by FRONT PORCH CLASSICS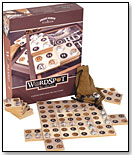 Age: 8 and Up
Gender: Boys and Girls
Category: General Games



TD

monthly rating:





The Dr.'s Impressions
WordSpot is a game in which players try to find hidden words within an arranged board of lettered tiles. The beautifully designed game is a pleasure to the senses to play. It comes in a handsome wooden box with 32 unique letter tiles, 64 clear tokens and a velvet bag. The tiles are laid out randomly and the players search up, down, across, backward or diagonally for hidden words.

Kids' Perspective
The kids liked WordSpot, but felt it was a little too "educational." However, once they got into the groove of the game, they had a good time finding little words that the other player had missed. The play required several trips to the dictionary, which is always a plus.

Recommendation
WordSpot is a fun game for anyone who likes crossword puzzles or Scrabble, but is much easier to play. It will certainly help with reading and spelling skills as well as vocabulary development. WordSpot can be played in less than a half an hour and over and over again.

Writer's Bio:
Dr. Tiffany Wright doesn't just look at toys; she analyzes them. In and out of the box, she scrutinizes them for playability, appropriateness and educational value. The latter quality is especially important to this stay-at-home psychologist/mother, who also homeschools her three youngest children. Her daughter attends UCLA. Dr. Wright earned her Ph.D. in personality psychology from University of California, Riverside. She is always on the lookout for toys and games that inspire creativity and impart knowledge while bringing fun and laughter to her home.
Read more articles by this author
THIS BANNER IS AN AD:
---
---