---
Retailing Tips: Making the Most of Trade Shows
Focus, Planning and "No, Thank You" Go a Long Way
Fifteen minutes before the show floor opens at the American International Toy Fair, Manager Matt Hannifin of Science Toy Magic in Santa Fe, N.M., waits in the Javits Center, adequately hydrated and armed with a black suitcase on wheels, a laminated, Sharpie-marked map of the exhibition halls secured to the handle.



Hannifin and two other specialty retailers — Debbie Scholl, owner of Fundamentally Toys in Houston, and Linda Angel, owner of Kidoodles Toys in Norman, Okla. — gave

TD

monthly Magazine 11 tips on how retailers can make the most of their time at trade shows:

1. Assess Your Stock. Scholl looks at what areas of her store need product, and then sets limits on how much she will spend per category. "If I'm overstocked in stuffed animals, I won't look at any."

2. Decide Whom to Visit. Look at the show guide's listing of companies by category and see what applies to your store. Hannifin's focus is science and educational toys: "I should know what every company in that category does," he said. "If I don't, I should visit them."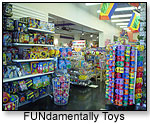 3. Know What You Sell. Hannifin approaches manufacturers with a sheet that defines the type of products he seeks. He recommended that retailers develop a single descriptive sentence, such as "I sell toys that…" Scholl agreed: "Many retailers waste time looking at stuff that is probably not for their customers."

4. Spend Wisely. According to Angel, "ordering in the moment and blowing your budget" is one of the biggest mistakes at trade events. She generally places minimum "test orders" after the show. Scholl doesn't place orders until the third or fourth day of the show because "as sure as you see one thing you love, two booths down you'll see something you love even better."

5. Keep Track of Orders. When placing an order, obtain a verbal agreement and make sure you and your sales rep have written copies, Hannifin said. Note any sales literature, extra parts or demo videos that should be sent to you.

6. Simplify Samples. Scholl only orders samples for products she hasn't seen. Requests for free samples may be difficult for manufacturers or for your store, if you get stuck with merchandise you don't want.

7. Compare Products. Hannifin asks competing manufacturers about their products, using this approach: "'I've already seen so 'n' so's product. What are the advantages of yours?' If they're smart," he said, "they'll tell me the flaws up front and I'll compare prices and make the best decision."

8. Set (a Few) Appointments. Angel schedules appointments with no more than five companies, and then works the aisles, usually beginning in the specialty section. This method helps her find new items from her vendors and discover toys from new companies as well.

9. Keep Moving. Don't get stuck listening to every product spiel. Scholl politely staves off hawkers by saying, "It looks great, but not right now."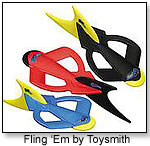 10. Listen When It's Right. When you're dealing with products applicable to your store, listen to reps. "Even if you've been selling the toy for years, have the sales person give the pitch," Hannifin advised. "You may learn something to help your customers and sell the toy better."

11. Search Big and Small. "One or two years ago, I saw this sweet gentleman in an isolated part of the show," Hannifin said. "He's got three demo models of one toy ― a flying little glider that you can't break. I said, 'I want to buy those.' Now, that glider is the Fling 'Em by Toysmith."

Writer's Bio:
Julie L. Jones has written articles for both newspapers and magazines. Before joining the staff of TDmonthly Magazine, she worked as a communications writer and provided editorial support for a market research company.
Read more articles by this author
THIS BANNER IS AN AD:
---
---