---
TDmonthly's Developmental Expert
Toys That Do More Than Play
Christina Liu uses toys to help kids with or at risk for developmental delay reach their full potential. Her goal is to educate parents on how children develop and to sensitize them to the uniqueness and individuality of their child. Here she shares her opinions about some of the toys that came

TD

monthly Magazine's way, rating them on a scale of from 1 to 5 TDs (for

TD

monthly!), with 5 being the highest score.

This month, her kids make up new animals, break secret codes, learn story structure and more.

Braidy, the StoryBraid by MINDWING CONCEPTS INC.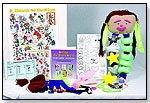 Age: 4 to 7
Gender: Boys and Girls
Category: Educational
Price: $139.95



TD

monthly rating:





First Impressions
This comprehensive tool teaches children in preschool through second grade the stages of narrative development. It is based on the Story Grammar Marker, a six-strand braid that represents the six language areas: pragmatics, phonology, semantics, syntax, discourse and metalinguistics. Along with the braid are icons that remind children of the components of a narrative story. These icons are: the face (character/who?); star (setting/where and when?); shoe (initiating event/what?); heart (internal response/how does the character feel?); and hand (plan/what does the character want to do?).

The kit includes a teaching manual, a plush doll, five wristbands for student participation, a Student Story Grammar Marker® tool, literacy planners, a poster, four character changes (girl, boy, dog/bear and rabbit), an extender, eyebrows, a mouth and a mesh storage bag.

Skill Reinforcement
This tool teaches children the basics of language development and story telling. It's unique because it gives children hints on the foundation of a narrative and, for those that are listening, it gives them a visual focus, too. Each part of the StoryBraid has a purpose; the four character changes allow for many story possibilities, and the eyebrows and mouth assist in better illustrating the character's feelings.

Recommendations
Braidy can be used in any classroom. The concept takes a while to understand, but the teaching manual has directions and explanations, and also includes plot outlines, narrative development sequences and other resources.

---
Codebreakers by DOUBLESTAR LLC (ToyDirectory)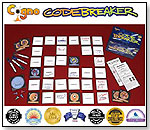 Age: 7 and Up
Gender: Boys and Girls
Category: General Games
Price: $19.95



TD

monthly rating:





First Impressions
Codebreaker is a new way of playing "memory," but allows players to give themselves a hint if they don't find the matching pair. It contains 34 character tiles, two gear tiles, one large planet tile, four rocket tokens and four dry-erase markers. The cards are durable and the characters are unique. Each has its own personality.

Skill Reinforcement
The object of this game is to match the most pairs. If the second card does not match, the players are able to leave themselves a clue on the card. This game requires good memorization skills as well as creativity. For example, children can try to also trick their opponents by leaving a clue that is the opposite of what the card is … but one that they'll remember correctly as well.

Recommendations
This was a fun game that the children enjoyed. It introduced a whole new way of playing the original matching games. It was interesting to see the different kinds of clues each player designed. This game is geared toward older children because they are able to think up clues. Younger children are not yet able to think this complexly, so the basic matching game would be better for them.

---
Crayola Color Wonder Sprayer by BINNEY & SMITH INC.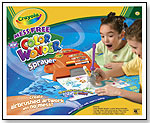 Age: 5 and Up
Gender: Boys and Girls
Category: Arts & Crafts
Price: $24.99



TD

monthly rating:





First Impressions
This new way of painting gives ease to parents. The Color Wonder Sprayer acts like an airbrush, but without the mess. The box comes with the sprayer, four colors, a play mat, two broadline markers, 12 sheets of Wonder Paper, three Create-a-Scene stencils and one Magic Reveal Crayon.

Skill Reinforcement
This is a great addition for any child that likes art. The stencils help them to create a scene or they can be imaginative and paint their own pictures. The sprayer was very easy to use, but be careful: There's no OFF switch so it will spray if the button is pressed.

Recommendations
It takes a while for the colors to appear, so individuals must be patient before they continue spraying. The paint only appears on the Crayola Wonder paper, but that also means there's no mess. The paint won't stain walls, carpet or clothes. If children want to make a painting of their favorite characters, the line comes with different stencils such as fairies and flowers, unicorns and horses, and Disney/Pixar's Cars.

---
Go Figure: Crazzzy Critters by MADE BY HANDS INC.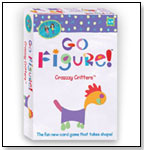 Age: 4 and Up
Gender: Boys and Girls
Category: Card Games
Price: $11.99



TD

monthly rating:





First Impressions
Go Figure is a game that allows players to put together different shapes to make a figure. There are 22 cards, each of which features various shapes. Players simply punch out the shapes and the creations can begin.

Skill Reinforcement
This game can be played alone or in a group to encourage socialization. Children can work together to build one big crazy critter or many little ones, reinforcing teamwork as they play.

Recommendations
The creations are endless. The children made animals, robots and many of their own designs. The material is a bit flimsy so it can be easily ripped or damaged. The great thing about this game is that it's compact and can be taken anywhere. Children can play on a long road trip or while waiting at a doctor's appointment.

---
Zoomorphs Deluxe/Tub Set by RIVER DOLPHIN TOYS LLC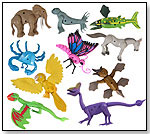 Age: 5 and Up
Gender: Boys and Girls
Category: Construction
Price: $50.00



TD

monthly rating:





First Impressions
This set of Zoomorphs comes with 100 pieces that snap together to make dinosaurs, birds, beach animals and more. Kids can make common animals such as a dog or crab or interchange the parts and make their own creatures. The pieces are colorful, durable and very well designed. The set comes with a booklet showing the animals that can be built.

Skill Reinforcement
The booklet encourages children to examine the pictures in order to build the same animals. It also allows them to use their creativity to invent a new species. In addition, interchanging the different parts stimulates fine-motor muscles.

Recommendations
The children really liked this manipulative and creative activity. They created some extraordinary and unique animals.

Writer's Bio:
Christina Liu has worked for more than three years as an early intervention specialist, concentrating on children 0 to 3 years old. She uses toys to foster development, which makes the whole process a lot more fun. She has a B.A. in Child Development and Family Studies from California State University and is currently pursuing an M.A. in Human Development at Pacific Oaks College and Children's School.
Read more articles by this author
THIS BANNER IS AN AD:
---
---