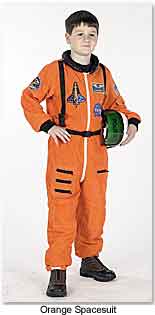 Out-of-this-World Costumes from Aeromax Toys
Aeromax Toys (ToyDirectory, ToyShow) is releasing a new line of high-quality Get Real Gear costumes, including an orange astronaut suit with zippers, cargo pockets and straps and buckles plus a domed space helmet, complete with a button to mechanically lower and raise the faceplate. With a press another button kids can hear Huston count down to blast off. Also straight from outer space is the Jr. Fighter Pilot suit with realistic helmet and shield. Closer to terra firma is a tan fire suit with red suspenders and helmet.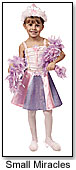 Small Miracles Expands Their Award-Winning Dress-Up Product Line
Small Miracles (ToyDirectory), the award-winning brand of dress-up apparel and accessories, has added new products to their line, including the Let´s Pretend Collection for boys and girls, which features career-oriented, dress-up outfits and accessories. The Girl´s Glamour Collection features fashion, frills and feathers in a comprehensive collection, from glamorous gowns and tiaras, to boas, shoes and make-up. The new girl-inspired collections for 2004 include: You´re a Star, Time for Tea, Pretty in Pink and Time to Twirl.