Bleyer Industries Ltd.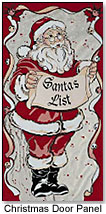 Bleyer Industries offers the Christmas Metalized door panel that features two different designs, "Santa's List," and "Season's Greetings." These Metalized door panels can be used on the interior or exterior of any door. They are 31" by 5' tall and are printed on durable waterproof plastic.
Blinky Products Inc.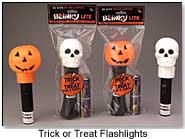 The ORIGINAL Blinky® Lites have been Blinky Products Inc.'s best seller for years. These trick or treat flashlights come in pumpkin, skull or mixed assortment versions. The flashlights, powered by 2 D-cell batteries are safe for younger children and make a great safety light! The flashlights come in a 24-pack and range in price from $30.96 to $31.68.
Sacred Artwork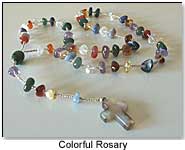 Some manufacturers offer retailers artistic gifts that will be cherished by their Christian customers. With the holidays coming up, Sacred Artwork offers the gift-giving solution to those with religious loved-ones. Sacred Artwork imports hand-carved and painted statues ($80+) and rosaries made of precious stones ($19). The profits of these Brazilian pieces provide work for some of Brazil's poorest residents.
Holy Land Stone Company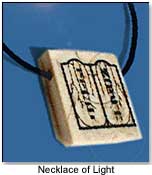 Holy Land Stone Company President Penny Martin "believes that people will be looking for more meaningful gifts—not just trendy, gimmicky products." It is understandable then, that she would preside over a company that veers from mainstream in their choices for inspirational products. All stone products from Holy Land Stone Company come with a certificate of authenticity signed by Chiam Yitzkah Ben Michal Abraham. Some inspirational products from Holy Land Stone Company that loved-ones are sure to enjoy: Small Plain Cross ($23; 4.5") and the Small Two-Tone Crucifix ($27; 4.5").
Cinema Secrets Halloween FX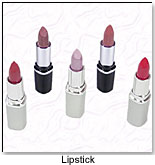 With 36 matte and shimmer shades to choose from, Cinema Secrets Halloween FX offers the perfect shade of lipstick for any skin tone! These full, rich colors last up to 5 hours. The creamy formula leaves the application satiny and smooth. These beautiful colors not only paints pouts, but moisturizes and protects them.
Creative Kids Products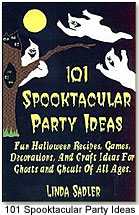 101 Spooktacular Party Ideas by Linda Sadler, will help anyone plan an unforgettable Halloween party-big or small. Party ideas include "boo-tiful" decorations and "bone chilling" games. The majority of ideas in this book are quick and easy and the materials are inexpensive and easy to find. Also included are 48 photographs to guide the reader in planning a fantastic Halloween party!
Disguise Inc.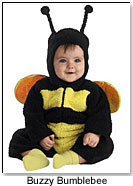 Buzzy Bumblebee is just one of the many costumes that Disguise Inc. offers. This costume is made of a soft, cozy fabric. It includes iridescent wings and a hood with fuzzy moldable antennas attached. This plush jumpsuit with attached headpiece and wings is great for your child's first Halloween!
Design Scapes, Inc.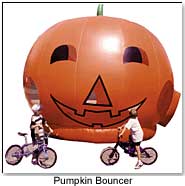 The Pumpkin Bouncer by Design Scapes is a fabulous way to jump into fun! This huge pumpkin is 15' x 18' and is fabricated with an 18 oz vinyl coated nylon with added UV inhibitors for sun safety. A pillow ramp is attached for safety and fast movement in and out of the bouncer. The Pumpkin Bounce is warranted for 12 months and is shipped with 3 blowers, sandbag covers, tiedown ropes and a storage bag. ($4295)