Whether sleeping or playing, a child spends countless hours in his or her bedroom. So it´s not surprising many parents today are choosing to furnish their children's room with the same care they would their own.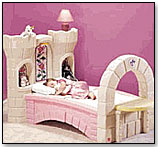 Dream Castle Toddler Bed

Toddler Bed Frames

Transitioning from a crib to a bed is a big step for a child, which is why Step 2 has created a variety of children's bed frames to make that change a little easier. The Dream Castle Toddler Bed ($344.99) comes standard with a variety of useful features, including a headboard with twin towers that include built-in storage, a drawbridge table that flips over for use in or out of bed, protective side rails and an overhead nightlight with an automatic timer. The bed also includes the Step 2 Dream Castle Conversion Kit that turns the toddler bed into a twin.

The Snooze 'n Cruise Toddler Bed ($257.99) is designed to look like a friendly car to make children feel safe. Both Step 2 toddler bed frames fit standard crib mattresses and bedding.


Castle Tent Bed



The Limited Edition Toy Box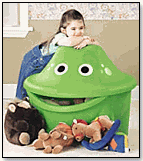 Step 2's Froggy Toy Box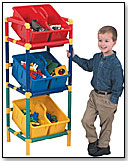 The 3 Twin Tray Storage Rack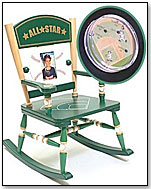 Home Run Rocker


Kinder Play Specialty Rockers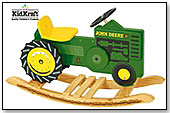 John Deere Rocking Tractor
The Castle Tent Bed ($630) by PJ Kids is also for children who are ready to leave the crib and slide out of bed from their very own castle. Made entirely from canvas, it can be used as both a bed and a playhouse. The Loft Bed ($1,925) is solid wood and includes a vertical access ladder and safety rails.

Toy Boxes and Storage Racks

With a toy box or a storage rack to keep toys in, moms and dads won't have to worry about stepping on their child's playthings. The Limited Edition Toy Box by KidKraft ($199.90-$209.90) features safety hinges to protect children safe from slamming lids. It also includes casters for easy mobility and a lacquer finish that protects against scuffs and marks.
Step 2's Froggy Toy Box ($29.95) looks like a giant green frog and has a removable lid, which features a non-locking hinge system and tether to keep the box lid permanently attached.
The 3 Twin Tray Storage Rack ($129) from the Children's Factory (ToyDirectory) has a sturdy handle for easy carrying. Trays are tilted in multicolored racks so children can easily see what each contains. It also includes wall clamps to prevent racks from tipping over.

Rocking Chairs and Rockers

Though rocking chairs and rocking horses have been around for centuries, they haven´t lost their appeal for children. Made by Levels of Discovery (ToyDirectory) and winner of the "2003 JPMA Innovations Award," Rock-A-Buddies have taken rocking chairs to a new level. With baseballs and baseball bats in the design of the chair, the Home Run Rocker ($119.95) includes a 4" x 6" picture frame on the back of the chair, and a "home run derby" rolling ball game built into the arm rest.
Featuring an assortment of fun and exciting images, including Airplane, Train, Fire Truck, Carousel, Space Shuttle and Elephant, Kinder Play Specialty Rockers ($39.99) are sure to stimulate a child's imagination. They feature all-wood construction and a non-toxic finish, and can be put together and taken apart without the use of tools or hardware. The John Deere Rocking Tractor ($129.95) from KidKraft is painted in the John Deere signature green and yellow, and features a working steering wheel and wooden wheels.