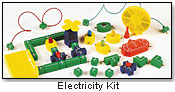 Huntar Company, Inc.
Let There Be Light! The Electricity Kit is designed to take the child on an adventure to understanding how electricity/electrical current affects and relates to our basic surroundings, for example, light from a bulb, breeze from a fan and sound from a speaker. Included is a how-to-guide with illustrations, showing the building of simple electrical circuits to the more complex.
Ikoso Kits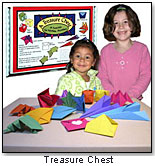 Great for parties, on airplanes, in cars or at home, A Treasure Chest features tons of activities that kids can do anytime, anywhere . This kit gives children ages 7 and up a place to start, then turns them loose to make up their own games and activities. Includes 48 sheets of brightly colored paper, easy to follow instructions for 9 different projects, scissors, glue and a pencil.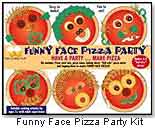 Kids Cooking Kits
Pizzas equal a fun time for all! Kids love pizza and now they can make their own with the Funny Face Pizza Party Kit from Kids Cooking Kits. The kit includes pizza crust mix, pizza sauce, baking sheet, kid-safe pizza cutter and topping ideas to make funny face pizzas! The kit makes 6-8 kid-size pizzas. ($14.95)
Magnetic Poetry
New from Magnetic Poetry, the company that makes the original word magnet kits, has introduced Marker Stones . The latest addition to the Poetry Stone line, it features smaller stones that are great for labeling vegetables, flowers, trees, or making address or welcome stones. ($24.95)
James Industries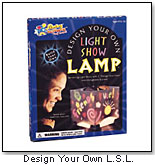 The Design Your Own Light Show Lamp activity kit allows kids to create their very own light show! Show off colorful images that dance across the lamp shade for hours of fun! Includes step-by-step instructions, lamp base, cord and switch, 40 watt bulb, lamp shade, safety contact cement, paintbrush, wooden stylus and 2 blank art cylinders to design yourself. (Ages 8 and up; $17.99)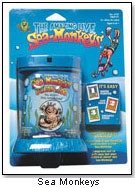 Educational Insights
The Amazing Live Sea-Monkeys® Ocean Zoo® Blister comes with everything a child needs to raise their very own adorable aqua-pets! These Sea-Monkeys are guaranteed to live two years! The aquarium includes a ventilated lid, built-in magnifiers and molded sea-scape bottom. Illustrations are included. (Grades 1 and up; $9.30)