LizzyBee Toys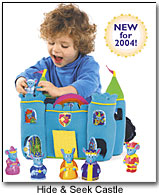 The Hide & Seek Castle playset has lots of places to play and hide, such as doors, trapdoors and towers. Six royal mice characters live inside; toddlers love the castle's brightly colored illustrations. A rainbow handle makes it easy to carry.
Guidecraft Inc.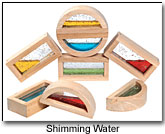 Shimming Water is a playing block adventure in color, light and sound. This toy indulges a child's desire for exploration by merging blocks together to form new colors, sounds and shapes. Each package comes with 4 rectangle and 4 half moon shapes. (Grade level: 3)
Koala Corporation
No ordinary wall, the Fun Wall from Koala Corporation is loaded with fun gadgets, including car steering wheels, airplane instruments, and puzzle panels. Its solid wood construction withstands heavy use. Eight brightly colored panels; no removable parts to lose or create hazards.