Parents and toy manufacturers have long since recognized the advantages of introducing music to children: a musical plush toy soothes a crying infant; an interactive musical game occupies a curious toddler; and learning to play an instrument challenges a school-age child.
Experts also point to the additional benefits of music referred to as the "Mozart Effect." Findings from a study at UC Irvine in 1993 found that music improved spatial and sequential memory and communication skills, and since then, parents have been rushing to the toy shelves to provide the boost to their child´s development through all types of musical toys and musical instruments.
Alex Fraser, the president of Little Hands Music Company, said that because parents and media powerhouses such as Sesame Street have embraced the "Mozart Effect," parents are now buying music instruments and toys for even the youngest of children.
"Our experience is that parents are favoring quality toy musical instruments for children starting as young as 3 months, such as percussive and rhythmic instruments. "
Fraser goes on to say that evidence of the popularity of musical toys and instruments is seen by the addition of well-known musical instruments into the inventory of his and other children´s music suppliers.
"The musical toy industry is experiencing growth from the entrance of products from traditional musical instrument manufacturers into this channel. Latin Percussion, Remo, Meinl Percussion, Rhythm Band and Hohner are now major suppliers of products within this segment."
Further proof of the strength of the music market is shown, he said, by a controversial move made last year when the music industry´s major trade publication, Music Trades, selected First Act, as their choice for "Company of the Year." He considers this selection a "significant cross over between musical instrument manufacturers and toy product manufacturers." Though First Act is not a toy manufacturer but a musical instrument manufacturer, their product line includes instruments sized for children, available through select toy retailers.
David Riley, a senior public relations manager at NPD, a premier source for marketing trends, cautions that sales in the category which includes power-sourced musical instruments and musical instruments was down 8 percent in 2003 from 2002 and that "video games (interactive software for PS2, Xbox, Gamecube, etc.) and youth electronics with the popular products such as Video Now, Karaoke Machines, CD Players, Walkie Talkies, Spy Gear and others" are having an impact on sales of musical items.
"I wouldn´t say people have abandoned musical instruments, but there is definitely competition out there that could potentially impact sales of this category in the interactive/tech areas," he said.
However, Global Sources, another aggregate for market trends, states that more and more Chinese stuffed toy manufacturers are getting into the market for plush toys with musical, interactive and electronic features. Currently, as much as 20 percent of China´s exports come from the sale of toys. In 2003, the combined exports of stuffed toys constituted 1.47 billion in sales. Several toy manufacturers, including Poppies Toys Co. Ltd. and Shenzhen Deshengxing Toys plan to increase their production of electronic/interactive plush toys (15 and 10 percent respectively) for the remainder of 2004 to meet its expected increase in demand.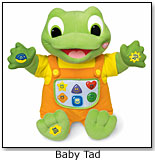 Parents around the globe have traditionally purchased musical toys for their children. Once upon a time, those toys were simple rattles with melodic tones, plush animals with music box inserts, or beginner musical instruments themselves. Today´s market also includes such interactive toys with musical features as LeapFrog´s Hug and Learn Baby Tad and its LeapPad Learning System, the Neurosmith Musini Preschool Music Maker, or The Sparkling Symphony Gym by Fisher-Price.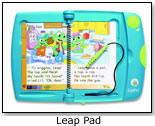 "Musical toys are BIG at our house with the younger kids," said Beverly Ingle, the mother of four young daughters (one age 7, twins age 2, and a 3-week-old) in San Antonio, Texas. Her family owns a large number of musical toys that their kids have played with since they were babies. Her youngest was first introduced to a musical toy, a carousel from Fisher-Price, at the ripe old age of four days old. An alphabet radio and a refrigerator magnet musical toy--both from LeapFrog--currently captivate her 2-year-old twins.
"The girls have always responded well to music since they were babies, and because of their exposure to it at a young age, they all love to sing and dance. We feel music is important, but I couldn´t really tell you why. Including music and musical toys just seems to be instinctive and intuitive as caring parents. It feels like we are doing something very positive for them when we add that element to their foundations for life."
As long as music continues to have the power to evoke emotion and stir the intellectual spirit in developing human beings, parents and educators will continue to purchase musical toys and instruments, even with the competition from the interactive media and technical toy market.