Music comes in many shapes and forms, and thank goodness it does! From plush toys that play traditional music to interactive DVDs, the musical toys on the market will have infants and toddlers singing and dancing with delight!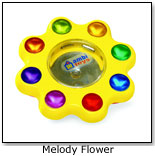 The Ambi Melody Flower ($20.00; ages 6 months and up) by BRIO (ToyDirectory) is a battery-operated toy featuring bright colors in graduated tones on its "petals" and in the center features a ball that rolls freely around in its enclosure. Roll the ball to its center and the Flower will play three different nursery rhymes. Roll the ball on the outer edge and the Flower will allow children to play their own music, while the colored petals light up and a series of notes are played.
Fisher-Price's Learn Through Music (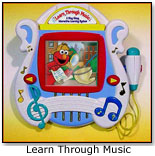 $34.99; ages 18 months and up) helps toddlers and preschoolers develop the building blocks of learning through music, with their favorite friends from a variety of children's television shows. One of a number of books in Fisher-Price's PowerTouch Learning System, Learn Through Music is based on computerized books featuring two modes of play, the Musical Identification Mode blends memorable songs and poems into each lesson. The Quiz Mode reviews with children the content they have learned. A touch-sensitive light-up screen lets children interact with each character as they're walked through each lesson. New software titles include Elmo's World, Numbers, Barney's Colorful World, Dora's Music Festival Adventure, SpongeBob and Winnie the Pooh. In 2005 even more new titles will be released from Sesame Street and Disney's My First Princess.
Plush Toys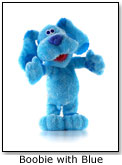 Fisher-Price introduces Sing & Boogie Blue, a battery-operated plush pooch ($24.99; ages 18 months and up). The new shaggy Blue can talk, sing and dance, and will have kids singing and dancing along with her, too. When kids press her right hand, Blue swings her hips and arms from side to side. By pressing Blue's left hand, kids can talk, play and pretend with her. Sing & Boogie Blue comes with an exclusive interactive video featuring the "Legend of the Blue Puppy" episode, plus two fun segments for kids to play a game or learn Blue´s new dance. Blue requires four AA batteries, which are included with the toy.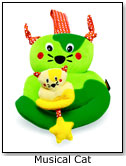 BRIO 's Musical Cat ($12.00; ages birth and up) plush toy is a music box too! Actually two cats in one toy, separating the small yellow cat from the big green cat by pulling the retractable cord will play Beethoven's Für Elise, while the little cat moves back toward the big cat. The big cat has a Velcro attachment at the top of its head so that it can be hung on a crib or playpen. The Musical Cat is designed to improve a child's motor skills, perception and concentration.
Already Elmo has sung and danced his own version of the 70's hit "YMCA." Now the beloved Sesame Street character sings E-L-M-O ($39.99; 18 months and up), spelling out his name with his furry red arms. Made by Fisher-Price, Elmo encourages the child to sing along with him by singing, "Give Elmo an E! Give Elmo an L!…" Included with the toy are four AA batteries required to play the music.
Board Games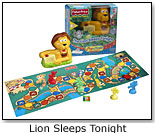 In the jungle, the mighty jungle, The Lion Sleeps Tonight ($19.99; ages 3 years and up) incorporates the classic song into Fisher-Price's new musical board game in which players join four animal friends on a journey through the jungle where the object is to arrive at the picnic before the lion wakes. By rolling the color-coded die, this interactive board game encourages developmental and social skills such as decision-making, following directions and taking turns.
DVDs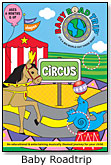 The multiple award-winning Baby Road Trip video series once again takes children on a fun educational ride, complete with musical elements. Baby Road Trip Circus ($18.99 DVD, $13.99 VHS; ages 6 months to 4 years) features originally composed, big-top band, carnival and traditional circus music. Images on the Baby Road Trip Circus features a combination of real life circus footage and graphic imagery, as well as unique circus toys, children "clowning" around and little ones performing amazing circus acts. In addition, the production quality goes unprecedented with other videos of the same genre in the market today.
Can you guess what Elmo is thinking about today? He's thinking about the place he lives – Sesame Street! As part of its 35th anniversary, Sesame Workshop, in conjunction with Sony Wonder, has released Elmo's World: The Street We Live On ($9.98 VHS, $12.98 DVD; ages 2 years and up). For anyone who loves Sesame Street and/or grew up watching it, this new DVD takes the adult and child viewer to back to the Street's memorable moments, while the entire cast joins in the adventure. Some historic flashbacks include Mr. Hooper, the wedding of Luis and Maria, the birth of their daughter, Gabi and the adoption of Miles, son of Gordon and Susan. Also included in this program is a brand new song that celebrates the Street everyone knows and loves. According to Sony Wonder, the "Elmo's World" segment on Sesame Street ranks as one of the most popular regular features on the program, and the 14 previous releases in the "Elmo's World" video/DVD line have all become instant best sellers upon release.
Music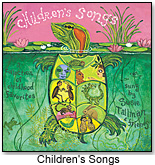 Rock Me Baby Records (ToyDirectory.com) most recent CD release, "Children's Songs," is the proud winner of the Oppenheim Toy Portfolio 2005 Gold Award. This exciting 38-track CD contains upbeat tunes that children love to sing and to dance along to, such as "Wheels on the Bus" and "Five Little Speckled Frogs." Music teacher Shelly Ley commends the songs for being "performed in a fun manner that engages children on all levels of creativity." "Children's Songs" will entertain children and adults alike, bringing back childhood memories, as well as creating new ones for the kids. ($12.99)