Since 1980, JAX, Ltd. Inc. (ToyShow) has been building demand for game entertainment with an educational flair "through word of mouth," says JAX´s Cindy Levine. The long Minneapolis winters provided plenty of product testing opportunities for developing games that hold a child´s interest.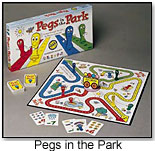 With a strong following among teachers and parents of home-schooled children, JAX Ltd. continues to strive to provide enjoyment for family and friends in a stimulating atmosphere.
Juniors as young as age 3 will enjoy JAX´s kids games, including Pegs In The Park, a counting game and Sequence For Kids, where players can match card images with board images to get four-in-a-row.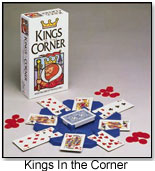 For middling youngsters, the whole family gets involved in adding and subtracting (Cubes, Over and Out), strategy (Polygon), group solitaire (Kings In The Corner), and a whole series of Sequence games.
And when the kids are tucked in, Ma, Pa and pals can bluff their way through all the latest poker games, fully equipped with chips, tray, dealer button, cards and a rule book just in case somebody forgets that a straight beats a full house.
JAX, Ltd.´s easy-to-use website, jaxgames.com, lets you research their titles and make product inquiries.