Article Synopsis
Despite slashed funding for school music budgets, the 2000 Gallup Poll stated that 93 percent of parents believe that schools should offer music and many national and media organizations are working to promote the study of music by children.
There have been dozens of studies that have documented how music study benefits our brain and helps us think differently and be creative.
Parents and teachers are very excited by the synergy between technological and creative innovations in addressing music education via childrens´ products in the Toy and Hobby industry.
Schroeder never had it so good.
Shopping for musical toys used to mean simply buying miniature versions of adult sized instruments. Interactive playthings that teach sounds and composition skills bring the classics into the 21st century and old favorites are made even better with kid-friendly features and engaging designs.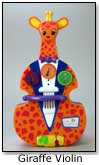 Baby Einstein (ToyDirectory)has expanded its line of award-winning CDs and DVDs to include infant, preschool and plush toys. The Classical Composer Musical Giraffe Violin, also from Baby Einstein, introduces classical string music in a friendly and playful manner. Shaped like a real violin, it features the sounds of violin, cello and harp. An attached "bow" activates the sound effects. The Giraffe Violin is appropriate for ages 3 and up.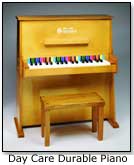 Schoenhut Piano Company's (ToyDirectory) Day Care Durable Spinet can withstand a whole school full of budding Beethovens. The 37-key piano is built entirely by hand of solid maple and birch and meant to endure active play. The keyboard is three octaves wide, allowing play with both hands. The chromatically tuned instrument plays chime-like notes with little hammers striking precision-ground steel rods from Germany. The patented learning system employs the use of a play-by-color teaching method that guides little fingers from chord to chord. The Day Care Durable Spinet is recommended for ages 3 and up.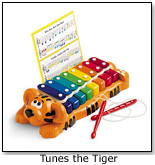 The Jungle Jamboree Tunes the Tiger is both an 8-note xylophone and a piano. Strikers store neatly underneath so they don't get lost and music sheets are enclosed for four nursery songs. Ages 1 1/2 and up will enjoy the versatility of this creatively designed toy.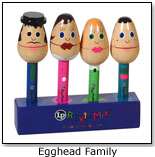 The LP Rhythmix Egghead Family (ToyDirectory) are musical instruments that double as amusing puppets. The hand-painted hardwood eggheads are percussion instruments that make a castanet-like "clap" when shaken. A color-coded base teaches children color and shape associations while providing an attractive means for storage. This unique item is recommended for ages 2 and up.
Early music skills and coordination are developed with the Tot Traps Drum Set by Ohio Art Company. Ages 2 and up can have their own specially sized drum set complete with bass drum, snare, tom tom, cymbal, triangle, sound block and two drum sticks.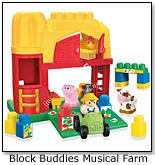 The award-winning Block Buddies Musical Farm from Mega Bloks (ToyDirectory) is an interactive role-playing set that teaches classic children's songs as kids play farmer. Animals, a farmer, a musical seesaw and a tractor all fit inside the unit for easy storage. The Block Buddie Musical Farm won the National Parenting Seal of Approval in Fall 2003. It is recommended for ages 1-5.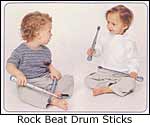 Imagiix (ToyDirectory) does it again with the Rock Beat Drum Sticks. The battery-operated teach rhythm and timing with three unique beats: catchy techno, crashing cymbals or snare sounds. Speakers are built into the bottoms of the sticks for air-drum fun. Although the age range starts at 3 years, parents won't be able to resist playing out their latent rocker fantasies.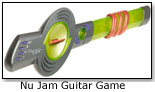 In keeping with the rock and roll theme, the Nu Jam Guitar Game from Hasbro's Milton Bradley line is an electronic music game with realistic rock, rhythm and blues sounds. Four different games can be played by strumming, twisting and sliding different parts of the guitar. The Nu Jam Guitar can be connected to a stereo or headphones for enjoyment by ages 7-14 years.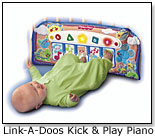 Fisher-Price's Link-a-doos Kick and Play Piano makes good use of one of baby's first forms of communication. The unit attaches to the side of a crib, and is easily played by simply kicking the colorful "keys." Ten songs play while lights dance along and different settings introduce letters, numbers, colors, shapes and animal sounds.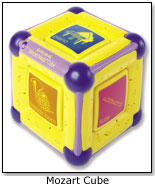 Finally, the Em-bry-on-ics line by Munchkin, Inc. provides a way for young composers to learn the instruments of an orchestra and invent their own tunes. The Mozart Magic Cube plays eight different Mozart compositions. With the push of a button on each side of the cube, the flute, French horn, harp, piano, violin and full orchestra can be added or taken away from the playback. Millions of possibilities teach the basics of polyphonic sound to children 2 and up.