See TDmonthly´s 2005 Lists of Top Selling Video Games

Be it PC, Microsoft´s XBox, Sony PlayStation 2 (PS2) or Nintendo´s GameCube (GC), video games for the home systems have enjoyed flourishing popularity in the last few years, especially as holiday gifts for players young and old alike. With the year´s most anticipated games all becoming available within a narrow pre-Thanksgiving window, which ones will still be exciting gamers six months from now?
Below, TDmonthly looks at the ten most sought-after game titles (covering all systems) for the 2004 holiday season:
1.) Madden NFL 2005 (PC, GC, PS2, XBOX; $46.95; Rated E for Everyone) by EA Sports


The king of all sports games makes its yearly bid for sales supremacy.
-Historically, the Madden series basic play level has always been easy for beginners, and offers slightly more challenging modes for true football fanatics.
-Expert players can use the dynasty mode to build their own franchise into a Super Bowl contender.
-With football replacing baseball as America's number one sport, expect Madden 2005 to fly off the shelves through the end of the NFL postseason.
2.) Star Wars Battlefronts (PC, PS2, XBOX; $49.99; Rated T for Teen) by LucasArts The latest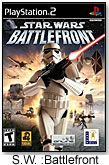 game from the Star Wars universe proves that timing is everything.
-Released day-and-date with the highly anticipated boxed DVDs of the original Star Wars trilogy, Battlefronts and the movies accounted for nearly $120 million in aggregate revenue on their first day on shelves.
-Battlefronts lets players choose from up to 16 different armies and allows for extensive exploration of famous movie planets and environments.
-The lightsaber-free game employs an innovative "conquest mode" to help players in a long-term objective to take over the Star Wars galaxy, planet-by-planet.
3.) Donkey Konga (GC; $49.99, Rated E for Everyone) by Nintendo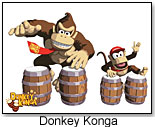 Nintendo´s original franchise character returns in his first musical adventure.
-The famous ape at the center of this musical game can compete with up to 4 different players simultaneously.
-The new Bongo controller provided with the game is literally a set of electronic drums that allow players to sync to the music DK plays onscreen.
-The game features 30 popular songs, three levels of difficulty, and five modes of play.
4.) Halo 2 (XBOX; $49.99; Rated M for Mature, 17+) by Microsoft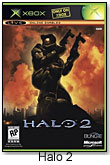 The feverishly-anticipated sequel to the most successful XBox game ever is bigger, badder and louder than the original.
-Four weeks before its release, Halo 2 was the number three product overall on Amazon and the retailer´s number one Early Adopter Video Game.
-The central story in Halo 2 is considered stronger than the original, but so are the additional multi-play modes: Oddball, Race, Slayer, Capture the Flag and more.
-Perhaps the most innovative feature in the game, literally everything onscreen is destroyable or otherwise susceptible to weapon fire. Plus, every in the game has been upgraded and tweaked.
5.) Grand Theft Auto: San Andreas (PS2; $49.99 Rated M for Mature, 17+) by Rockstar Games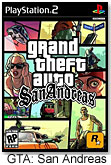 The third installment of the smash GTA series covers a fictional triumvirate of locales resembling Los Angeles, San Francisco, and Las Vegas.
-Set in the early '90s, this game features a retro soundtrack and scores of celebrity voices.
-In a sure-to-be-controversial feature, the game allows players to enlist CG gang members for four-way drive-by shootings.
-A revised stamina meter and newly-incorporated "Ragdoll physics" make for realistic wounds and shockwaves from explosions. Weakened players can go to a virtual gym to improve their abilities.
6.) The Sims 2 (PC; $49.99; Rated T for Teen) by EA Games


The sequel to the barrier-shattering simulation deepens its selection of controls, letting players master a lot more than just their own domain.
-New features allow players to manage a Sims' hopes and dreams over a lifetime, while a companion DVD (sold separately) offers an inside glimpse at the game´s development, desktop goodies and digital outtakes. Both products were top five sellers at Amazon.com.
-A ´gene-mixing´ feature lets players manage multiple generations of Sims with realistic combinations of parental traits.
-An in-game virtual camera allows players to film, edit and exhibit "mini-movies" about the lives of their Sims.
7.) Metroid Prime 2: Echoes (GC; $49.99; ESRB rating pending at press time) by Nintendo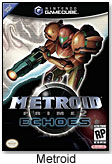 Fans are salivating for the long-awaited sequel to Nintendo's premiere GameCube space adventure.
-The game offers an eye-popping first for the long-lived Metroid franchise: a multi-player option.
-The armored hero of the series is actually a woman, a story point that has garnered female fans for the franchise over the years.
-Metroid has also enjoyed considerable success on Nintendo´s GameBoy.
8.) NBA Live 2005 (PC, GC, PS2, XBOX; $39.99; Rated E for Everyone) by EA Sports


While EA Sports has always cornered the market on sports games, their series of NBA Live titles have arguably been their weakest. Until now.
-Experts agree: NBA Live 2005 has the best graphics of any NBA game ever released.
-A ´dynasty mode´ allows gamers to assemble a multi-championship-winning squad.
-Shaq and Yao Ming can compete in a first-ever feature, the slam-dunk contest, or battle head-to-head in the three-point shootout mode.

9.) Tony Hawk's Underground 2 (GC, PS2, XBOX; $49.99; ESRB rating pending at press time) by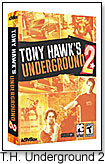 Activision
The most famous skateboarder of all time lends his name to the sequel to his unpredictable original foray "underground."
-Game features have been significantly upgraded, primarily with better and more challenging trick moves.
-When a player misses a move, his on-screen avatar throws a temper tantrum and angrily kicks his board.
-Activision promises an "unprecedented level of customization;" players can design their own graffiti logo and skate park.

10.) The Legend of Zelda Four Swords Adventures (GC/GameBoy Advance; $49.99; Rated E for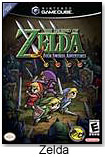 Everyone) by Nintendo
Don't get confused: this innovative adventure is for the GameCube AND GameBoy.
- For the first time, this Zelda adventure game can only be played by owners of both the GameCube and the GameBoy. A connecting cable between ´Boy and ´Cube is included with the game package.
- The "Four Swords" of the title refers to the multi-player capacity of the game, another first for the Zelda franchise.
-- Nintendo promises, "This game really is a dream come true for any Zelda fan!"

**ONE TO WATCH...X-Men Legends (GC, XBOX, PS2; $49.95; Rated T for Teen) by Activision
The movie and comic book heroes of the X-Men universe finally get their own major action game (supported by significant TV and print advertising), with a story written by the authors of the monthly comic and featuring some major voices from the films, including Patrick Stewart as Professor X.

TDmonthly´s Lists of Top Selling Video Games (2005):
Top 20 Best Selling Video Games
Top 10 Video Game Console Accessories
Top Video Game Titles by Platform:
Top 10 Dreamcast Titles
Top 10 Nintendo 64 Titles
Top 10 Playstation 2 Titles
Top 10 XBox Titles
Top 10 Gamecube titlesTop 30 PSX And PS2 Titles
Top 10 Playstation Titles
Top 10 Portable Software Titles
Top Fifteen Video Game Titles by Genre:
Top 15 Video Game Action Titles
Top 15 Video Game Fighting Titles
Top 15 Video Game Arcade Titles
Top 15 Video Game Racing Titles
Top 15 Video Game Shooter Titles
Top 15 Video Game Flight Titles
Top 15 Video Game Strategy Titles
Top 15 Video Game Children Entertainment Titles
Top 15 Video Game Role-Playing Titles
Top 15 Video Game Sports Titles
Top 15 Video Game Family Entertainment Titles
Top Ten Video Game Genres by Platform:
Top 10 PS2 Video Game Genres
Top 10 Gamecube Video Game Genres
Top 10 XBox Video Game Genres
Top 10 Nintendo 64 Video Game Genres
Top 10 Playstation Video Game Genres

Click on the links below for more TDmonthly Magazine's Top 10 Most Wanted lists.
TDmonthly´s Top 10 Most Wanted Casino Games
TDmonthly´s Top 10 Most Wanted Pop Culture
TDmonthly´s Top 10 Most Wanted Interactive Games
TDmonthly´s Top 10 Most Wanted Sports Figures
TDmonthly´s Top 10 Most Wanted Video Games
TDmonthly´s Top 10 Most Wanted Fem. Action Figures
TDmonthly´s Top 10 Most Wanted Mini Action Figures