The future of toys is now, as today's interactive playthings incorporate components like invisible data streams, voice activation and color recognition technology. Interactive products have become user-friendly, insisting children participate with the toy instead of simply playing with it in a one-sided fashion. Tom Conley of the Charleston Post and Courier estimates that 70% of the products showcased at Toy Fair 2004 had some type of microchip. As manufacturers try to implement twenty-first century toys, new technological advancements have made that lofty objective less elusive than it's ever been.
Educational toys have been the driving force within this movement. "Learning is derived through play," explains Laurie Oravec of Fisher-Price about the company's under-$40 InteracTV platform, a TV- and DVD-based learning system aimed at toddlers. The diminishing cost of technology has allowed the company, and others, to raise the bar. This year, interactive technology has gone mainstream, showing up in everything from tween play sets to boys' action figures. Mattel´s Batwave line utilizes VEIL (Video Encoded Invisible Light) to coordinate products with the new Kids WB! animated series, "The Batman." Bandai´s Tamagotchi Connection is another hit, allowing the digital pets to communicate with one another through infrared technology. Mattel is looking to use VEIL in other products for 2005, possibly extending it past the Batman-focused line.
Here's a look at the cream of the interactive crop:

1.) Batwave Batmobile ($51.99, 4+) by Mattel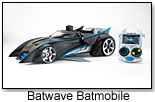 This Batmobile revs-up for the animated series with lights, motion and sounds—corresponding exactly to the TV series' story developments and action sequences.
-KidsWB! is the number one ranked network in tweens aged 9-14.
-Also available: Batman action figure and Batwave communicator using the same technology.
-After activation, an LCD screen shows "engine graphics, diagnostics, and weapons systems."
2.) Serafina (Approx $39.99, 3+) by Mattel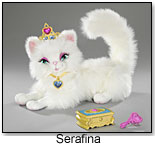 It's like watching the movie with Barbie's feline companion, since a "magic" jewelry box allows Serafina to interact with the scenes.
-Serafina acts as if she is actually watching the latest Barbie DVD, "Barbie as the Princess and the Pauper," (included).
-She interacts with the CD by making comments, singing along, and expressing emotion.
-When her front paw is squeezed, she tells a secret.
3.) InteracTV ($39.99, 3+) by Fisher-Price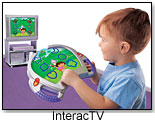 Helps pre-schoolers learn from watching TV and by asking questions using a colorful wireless console.
-The curriculum is based on numbers, colors, counting, critical thinking, and problem solving.
-Special DVD titles allow interaction with episodes of SpongeBob Squarepants, Sesame Street, Dora the Explorer, Barney, and Blues Clues.
-The system's educational questions are randomized, ensuring repeat play.
4.) Strawberry Shortcake Singing Surprise ($39.99, 4+) by Bandai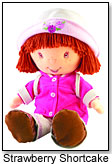 Tiny diva's can produce music, with Strawberry as a collaborator.
-The doll employs color-recognition technology—so that when passing Strawberry's pencil over a color in the included Rememberin' book, a song plays.
-The music-making color-recognition technology works on any surface.
-According to Bandai, Strawberry Shortcake has been a top-three seller in the mini doll category since 2003.
5.) Tamagotchi Connection ($14.99, 8+) by Bandai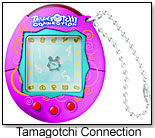 This time the pets interact with each other, develop friendships, even fall in love and have kids.
-A single digi-pet can have up to fifty friends, linked by infrared technology, to visit or play games.
-Cumulative sales of the latest incarnation of Tamagotchi were on track to exceed one million units in Japan.
-Launched in 1996, Tamagotchi has sold more than 40 million units worldwide.
6.) T*Neez Groove Mall ($39.99, 4+) by Bandai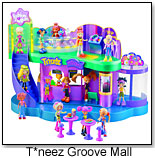 Every tweenage girl loves spending time at the mall, and this play set covers all the hot spots.
-Realistic soundscapes abound in this play set: for instance, by visiting the counter at the movie theater, popcorn can be heard popping.
-T*Neez bendable figures' magnetic feet trigger 25 actions, lights and voices.
-Destinations include the ATM and a moving sidewalk.
7.) Pixter Digital Camera for Pixter Color ($24.99, 4+) by Fisher-Price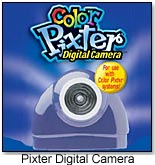 Mini-photographers, can store and manipulate images with this ingenious accessory.
-Children take pictures and alter them using special effects and colors.
-The kid-friendly Pixler PDA system acts as a portable computer featuring LCD screen, stylus and function keys.
-Nick Jr. magazine named the Pixter system "one of the 50 best toys of 2003."
8.) V-Smile ($59.99, 3+) by V-Tech


This video game system is built specifically for pre-schoolers and it caters specifically to their skill level.
-It plugs into the TV and interacts at a slower pace for the younger children.
-The Smartridges are sold seperately and teach math and problem solving
-They're listed on Amazon.com as the number 46 early adopter product in electronic learning.
9.) Dancing E-L-M-O ($29.99, 18months+) by Fisher-Price


Kids enjoy watching him sing and dance to the tune of YMCA.
-He spells out the letters in his name using arms and legs,
-This item was endorsed by the Toy Wishes "Hot Dozen" for 2004.
-This is the next version in a line of Elmo dolls from past years.
10.) One to watch…Wheel of Fortune ($29.99) by Hasbro
Now players can spin the wheel in the comfort of their laptop.
-It allows players to participate with the television show in real time.
-Winners download a single game as the main prize.
-Hasbro plans a launch in Spring 2005.
The key sources for this list were online retailers, manufacturing contacts and published materials. TDmonthly staff compared the data of 13 articles pertaining to the subject of "interactive toys" to current announcements such as the ToyDirectory.com Updates. In addition, staff contacted six manufacturers, and the writer visited at least five online retailing sites as well.

Click on the links below for more TDmonthly Magazine's Top 10 Most Wanted lists.

TDmonthly´s Top 10 Most Wanted Casino Games



TDmonthly´s Top 10 Most Wanted Pop Culture



TDmonthly´s Top 10 Most Wanted Interactive Games



TDmonthly´s Top 10 Most Wanted Sports Figures



TDmonthly´s Top 10 Most Wanted Video Games



TDmonthly´s Top 10 Most Wanted Fem. Action Figures



TDmonthly´s Top 10 Most Wanted Mini Action Figures