Every sports fan has fantasized about running towards the end zone to score the winning touchdown, delivering a bone-crushing blow in a WWE title bout, or hitting a grand slam in the bottom of the ninth to win the World Series. Alas, purchasing a triumphant action figure likeness of their favorite athlete may be the closest these imaginary athletes get to the heart of the action.
Luckily, it's a great time for sports figures, with leading toymakers and designers committing time and resources to life-like sculptures of the world's most popular playmakers. The Cooperstown Series by McFarlane Toys is a certified hit and the company's plans for 12" and 6" NHL Legends have garnered a great deal of press. The trend has translated into the world of wrestling as well. Longtime wrestling licensee Jakks Pacific introduced a highly profitable line of WWE Classic Superstars, which have also been aftermarket hits with collectors. "To the fans of wrestling, these are like the Mickey Mantles," says Jeremy Padawer, Director of Marketing for boys' entertainment at Jakks Pacific.
McFarlane has created a substantial sub-culture around locating rare items within all of their product lines. "Everyone is looking for the next 49ers Jerry Rice from NFL series 5 or a Ray Lewis [also from series 5]. They are tough to find," says Travis Pyan of clarktoys.com. Football figures are the best selling sports subcategory for Pyan, whose phone rings off the hook with customers asking for short-packed variants when shipments arrive. On the receiving end of the collector furor, Pyan believes, "a lot of it's the hype--Nolan Ryan is not going to pitch a no hitter tomorrow."
Attention to detail, authenticity and articulation are key factors for many shoppers. McFarlane Toys is known for their realism and accuracy, but the company's intricately-posed figures are somewhat limited in their playability. Sport enthusiasts are flocking to the MLB Sportclix game because highly detailed figures are included in the set – and go hand-in-hand with a beloved game simulation system. For certain sports, posability is the priority; the WWE Classic Superstars line gives its plastic grapplers the ability to perform pretzel-like contortions. "We do a good job of making a more articulated figure," says Jakks' Padawer.
With the holiday shopping season nearing, companies are looking for ways to improve products while incorporating an increasing range of sports. Basketball – a perennial action figure favorite -- is next on the list; McFarlane is preparing an NBA Legends Series and Pro Specialties Group has a line hitting shelves near the all-star game. In alternative sports, look for Road Champs, Inc. to re-invent themselves in the months to come with an array of innovative products tying into the company's focus on the BMX circuit.
Fans will want to grab two tickets, toss on a team jersey and get ready to cheer for their favorite players after a look at the top ten sports action figures.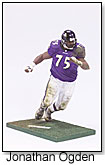 1.) NFL 9: Jonathan Ogden figures (Approx $11.99, 5+) by McFarlane Toys
This Raven, who comes straight from the field with dirt on his uniform, is a highly sought after piece due to limited production
-He is the first offensive lineman that McFarlane has ever produced.
-Small amounts are being manufactured and McFarlane is not making variations.
-There is a lot of hype about how short printed series nine is compared to other sports.
2.) WWE Classic Superstars Ultimate Warrior ($9.99, 13+) by Jakks Pacific
The classic series allows customers to jump in the ring with retro '80s superstars like Junkyard Dog and Ric Flair.
-Other popular items include Jimmy "Superfly" Snuka and Jake "The Snake" Roberts.
-They have been "selling like hot cakes--remarkably well," according to a representative.
-Wrestling was a pop culture phenomenon in the '70s and '80s.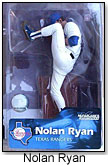 3.) Cooperstown Collection: Nolan Ryan Chase Figure (Approx $11.99, 5+) by McFarlane Toys
The figure captures Ryan's signature fastball in mid-delivery, and no one can touch his success on the shelves.
-Number 78 Early Adopter Product in Action Figures on Amazon based on purchases.
-This player is one of the hot sellers according to a company representative.
-He is featured in his Astros uniform, which makes it an item.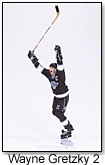 4.) NHL Legends: Wayne Gretzky 2 (Approx $11.99, 5+) by McFarlane Toys
The great number 99 is a name synonymous with hockey. He is featured in a variety of uniforms throughout the collection.

-This hall of famer has 10 scoring titles, nine MVP awards and four Stanley Cup championships.
-"These figures will be very life-like and highly detailed," said Gretzky in a press release.
-Bestselling sports action figure on Unleash.com
5.) WWE Ruthless Aggression Eugene (Approx $6.99, 4-7) by Jakks Pacific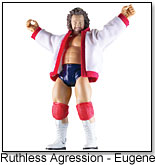 Kids forgo front row seats to experience the action with these life-like figures.
-The line is targeted at kids; popular champions also include HHH and The Rock.
-There are 72 figures on the market and new arrivals every month.
-The WWE earned $296.1 million in revenue off live and televised entertainment in 2004.
6.) GridIron Gladiator Eli Manning ($14.99, 5+) by Pro Specialties Group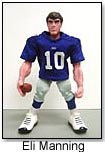 This rookie has uniquely moveable arms, legs, elbows and wrists.
-They produce a limited edition (approximately 5,000) and one out of four has an away uniform.
-Ray Lewis is popular with collectors because of the McFarlane version.
-Other players that have been selling well include Ben Roth, and Lavar Arrington.
7.) Payton and Eli Manning two-pack (Approx $11.99, 5+) by McFarlane Toys
Collectors pull out their wallets for brothers who rule on the playing field and fly off the shelves at retail.
-Eli manning was the first pick in the NFL draft with a $20 million signing bonus, Payton got $34.5 million from Indianapolis.
-The two-pack is a popular trend in sports figures.
-This is a hot item according to McFarlane.
8.) MLB SportsClix: Extra Bases ($19.99, 8+) by WizKid


Late season trades and hotshot rookies are included in the updated version of this sports game.
-It won the 2004 Creative Toy Award by Creative Child Magazine.
-WizKid has sold over 100 million figures worldwide in the last four years.
-It appeals to a diverse audience of kids aged 8-12 and sports collectors 18-35.
9.) Snowboarding Huck Doll ($10.00) by Huck Doll

Allows dudes to practice aerials and tricks without ever hitting the slopes.
-They offer all the alternative sports, including snowboarding, skateboarding and -wakeboarding.
-They use actual athletes and provide stats such as sponsors and career highlights.
-There are currently 3.4 million snowboarders and by 2015 there are predicted to be more participants in this sport than skiers.
10.) One to Watch…NBA Legends Line by McFarlane Toys
Customers are expected to line up to shoot hoops with a court of classic players.
-Coming out in the spring of 2005, it should have wide appeal.
-It will feature Larry Bird, Dr. J, Wilt Chamberlain, Bill Walton, Willis Reed and Pete Maravich.
-The 2004 NCAA Men's Basketball Championship had 72.5 million viewers (Viacom.com).
Retailers served as a key research tool for this piece. TDmonthly staff contacted a number of stores and 10 online retailers that specialize in sports action figures in addition to seven manufacturers, who discussed their latest and top selling products in the area. Staff obtained background information from previously published articles by TDmonthly and other consumer publications as well.

Click on the links below for more TDmonthly Magazine's Top 10 Most Wanted lists.

TDmonthly´s Top 10 Most Wanted Casino Games



TDmonthly´s Top 10 Most Wanted Pop Culture



TDmonthly´s Top 10 Most Wanted Interactive Games



TDmonthly´s Top 10 Most Wanted Sports Figures



TDmonthly´s Top 10 Most Wanted Video Games



TDmonthly´s Top 10 Most Wanted Fem. Action Figures



TDmonthly´s Top 10 Most Wanted Mini Action Figures
Read an update on Female Action Figures in Playzak.