For the home player and casino game enthusiast, one of the most desirable formats is the portable, stand-alone hand-held game, which combines the thrill of the tables with faster-than-life action. Radica Games is well-known for this type of play, but they are not without competition, with companies like Excalibur Electronics making a play for recreational Poker fans. The plug-and-play genre (also a Radica specialty) has tapped into the adult gaming audience with new casino-oriented gadgets from Manley Toys and Jakks Pacific. PC games are another successful avenue. As Glenn Drover, president of Eagle Games (ToyDirectory) explains, "You can jump on for twenty-minutes and get your fix."

Put on your best poker face and make a bet on TDmonthly's Top 10 Most Wanted Casino Games:

1.) Lighted Poker ($9.99, 8+) by Radica Games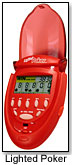 There are no clocks in a casino so don´t stop playing when the sun goes down – just turn on the lighted screen.
-The most popular actual casino game for the company, Lighted Poker includes Loball, Deuces and draw poker.
-Radica´s poker games are the top selling casino games in the market (Radicagames.com).
-Also available are Lighted Blackjack, Slots and Solitaire; each comes in an attractive ergonomic case.
2.) World Series of Poker: Electronic Texas Hold ´Em ($19.95) by Excalibur Electronics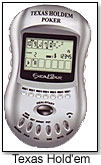 Consider this game practice for a seat at the Ceasar´s Hotel & Casino next year.
-Excalibur partnered with casino operator Harrah´s to make this game.
-"World Series of Poker" is in its second season and ESPN has more than tripled event coverage.
-In the real competition, players compete for an estimated total prize money between $20-$25 million.
3.) World Poker Tour: Texas Hold ´Em Casino Games by Radica Games
Skip to the high-stakes final table instead of just watching it on TV.
-Shipments in Spring 2005 will coordinate with the new season´s launch.
-Poker boasts more players worldwide than golf, billiards or tennis (Radicagames.com).
-Players don´t have to wait for the show to practice their skills because this devise is portable.

4.) World Poker Tour ($19.99, 5+) by JAKKS Pacific
Players will be tethered to the TV after playing this addictive game.
-"…. play exciting, high stakes poker (for play money) in a single, simple-to-use controller…" says Jakks Pacific's Jennifer Richmond.
-Jakks has pledged to work closely with WPT experts in development; the company's WPT game includes SRAM for saving games.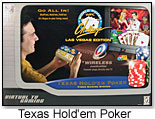 -The buy-in at real WPT events is approximately $10,000.
5.) Texas Hold ´Em Poker ($39.99) by Manley Toys (ToyDirectory)
Plugging into a TV automatically transports players to the casino floor.
-Due to the strategy involved in play, Texas Hold 'Em has become the most popular form of poker.
-It allows users to play against twelve of the world´s best card sharks.
-Plug-and-play has been a hot trend in retro gaming for 2004.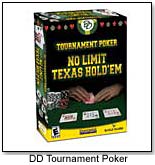 6.) DD Tournament Poker for PC/Mac ($29.99) by Eagle Games
(ToyDirectory) It spices up that Sunday night poker game by allowing players to design a personalized tournament.
-The entire tournament can be played in 20 minutes; as players improve, DD goes into "turbo mode."
-It's sold at Wal-Mart, Target, Best Buy, Sams Club and Game Stop.
-Every aspect can be customized – from buy-in amount to time limit and payouts.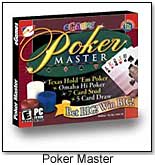 7.) Poker Master (Approx $9.99) by Egames
The bets get big in this game, but the levels range from beginner to genius.
-It´s "doing very well" according to a company rep.
-It includes Texas Hold ´Em, Omaha Hi, Seven Card Stud, and Five Card Draw.
-A bonus Pocket PC Texas Hold ´Em game is included – ideal for color PDAs.
8.) Reel Deal Slots, Nickels & More, (Windows 98 & above) (Approx $19.99) by Phantom EFX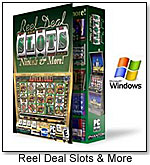 Everyone can relate to these games, with stereo sound and Disney-quality animation.
-Based on customer purchases, this is Amazon.com's #59 early adopter product in Software.
-Phantom has half a million slot-users playing their games.
-The company was approached to make casino versions, to be unveiled in 2005.
-Listed in Amazon.com´s top 10 early adopter
9.) 101 Bally Slots for Windows/Mac ($19.99) by Masque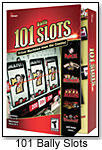 Who needs Vegas when just by pulling the lever players can watch the slot wheel spin right from their home computers.
-Includes 101 varieties of Bally casino slots.
-Bally gaming is the premiere slot company in the industry
-The game covers traditional slots and video slots.
10.) Blackjack & Poker ($9.99, 8+) by MGA Entertainment
Card sharks don´t have to wait for a hot dealer; they can practice their twenty-one skills on the go.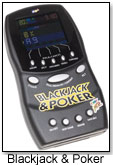 -The game is high stakes; players can bet up to $2,000.
-The game comes in color with "realistic casino sounds."
-Blackjack is among the most popular table casino games.
TDmonthly staff compiled research for this article from information published in print articles and Web sites. After analyzing data from seven online retailers such as Amazon.com and KBtoys, staff called a variety of brick and mortar stores, speaking with approximately five retailers, including Target and EB Games. Lastly, staff contacted seven manufacturers to gain information about their latest products and their features.

Click on the links below for more TDmonthly Magazine's Top 10 Most Wanted lists.

TDmonthly´s Top 10 Most Wanted Casino Games



TDmonthly´s Top 10 Most Wanted Pop Culture



TDmonthly´s Top 10 Most Wanted Interactive Games



TDmonthly´s Top 10 Most Wanted Sports Figures



TDmonthly´s Top 10 Most Wanted Video Games



TDmonthly´s Top 10 Most Wanted Fem. Action Figures



TDmonthly´s Top 10 Most Wanted Mini Action Figures