Just in time to stuff stockings, action figures shrink this season. No longer just the domain of specialty and import collectors, mass-marketed figures now come in all shapes and sizes – from the hyper-articulated 18" giants to tiny, Lego-esque 1.5" superheroes. Generally, mini-characters stand shorter than five inches. Doll-makers have utilized this format in recent years, and the popularity of Japanese-produced Kubrick collector figures have spurred a similar trend for mainstream boy's toys. Enthusiasts and completists are typically fans of this category, but many of the children´s companies have found an audience as well. Most of these products are followed into the marketplace by coordinated playsets where the smaller characters can co-exist, battle or simply strike an exciting pose. While mini-figures are often just one iteration of a multi-platform character like Spider-Man or Batman, some characters are only produced in the miniature format, and have found success by betting big on this unconventional and growing subcategory.

Here is a "small" top ten list in random order.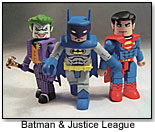 1.) C3: Batman and Justice League (Approx $9.99) by Art Asylum
These Block-like figures will save the world through construction sets.

- Asylum has created close to 100 Marvel Minimates.
- "The lines will bring the fun and action of construction to the hands of kids and collectors alike," says Art Asylum's Adam Unger.
- Batman will resemble the comic book version and the Justice League follows the designs of the Cartoon Network TV series.

2.) Lord of the Rings Minimates 4-Pack (Approx $9.99, 4+) by Art Asylum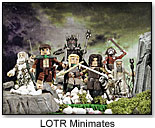 Legolas, Aragorn and the gang from Middle Earth might have shrunk, but they still pack retail power.

- Each 2" figure has fourteen points of articulation.
- Lord of the Rings: Return of the King made $1,118,887,224 worldwide at the box office.
- The 4-pack's Frodo figure is translucent, emulating the character's ring-based powers of invisibility from the films.

3.) 4.5" Gundam Seed Action Figures (Approx $8.99, 8+) by Bandai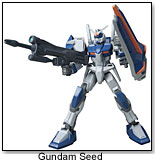 This highly detailed team comes with plenty of weapons.

- The line is based on Cartoon Network´s Gundam Seed.
- 2004 marks Bandai's 25th anniversary; special marketing and product launches mark the milestone.
- 2003´s Battle-Scarred line sold well. The Gundam Pilot Academy and the Collectible Card Game will also launch this year.

4.) Star Wars Miniatures: Entry Pack (19.99, 12+) by Wizards of the Coast (ToyDirectory)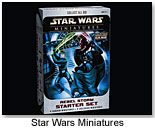 Classic characters from "the original trilogy" return , now with retro packaging.

- NPD Group ranks Star Wars #3 in action figure properties based on movies.
- The release coincides with the debut of the classic Star Wars films on DVD in September, 2004.
- Miniature Luke Skywalker is the #1 early adopter product in Toys & Games (Amazon).

5.) 1.5" Teen Titans Comic Book Heroes (Approx $7.99, 5+) by Bandai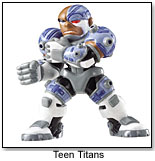 Get all six characters at one time; even villains are included.

- The packaging comes with a collectible comic page; fore version combine to make a mini-comic book.
- Year over year, the Cartoon Network's Teen Titans Go! Series increased by viewership 40% among kids ages 6-11. The program also runs on WB kids.
- The line exceeded Bandai´s expectations, according to a representative.

6.) The Incredibles 3" Cinema Scene Act 1 ($9.99, 4+) by Hasbro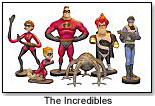 Retired super heroes come in all sizes.

- Three assortments feature with members from the family, lost heroes, and the Incredibles in battle.
- The highly anticipated Disney/Pixar animated film debuts November 4, and features the voices of Holly Hunter and Samuel L. Jackson.
- The first wave of 18 figures allows children to recreate scenes from the movie.

7.) 3" NFL Football Series 2 (Approx $6.99) by McFarlane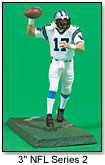 Collectors will tackle each other for the scaled down version of their football
favorites.

- In 2005, McFarlane will launch 3" series for basketball, hockey and baseball.
- McFarlane SportsPicks collections are a leader in the market.
- The line features player two-packs like Michael Vick/Shaun Alexander, Jeff Garcia/Terrell Owens, and Randy Moss/Drew Beldsoe.

8.) Valor vs. Venom: G.I. Joe 3-3/4" Figures (Approx $4.99, 5+) by Hasbro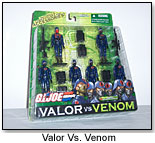 The military hero line is still one of America´s favorites.

- 2004 is G.I. Joe´s 40th anniversary.
- The line coincides with "Valor vs. Venom," the first original G.I. Joe DVD feature.
- The 3.75" Joe´s also pilot Deluxe Vehicles that fire missiles, make sounds and include a comic book.

9.) Harry Potter Mini Figures (Approx 7.99, 5+) by Mattel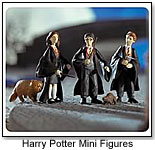 The wizard-in-training used his magic powers to shrink his line into a 3.5" version.

- The line comes with mini playsets like Magical Creatures and Potions Class.
- Based on "Harry Potter and the Prisoner of Azkaban" which is ranked #4 in 2004 box office revenue.
- "Azkaban" is the third Potter movie in a planned series of seven.

10.) Lego Knights Kingdom Action Figure (Approx $8.99, 5+) by Lego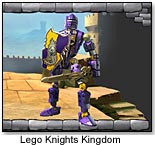 Five Knights compete for the attention of young consumers.

- The Kingdom line is designed for younger children.
- Lego Knights also appear in Bionicle-sized figures in the line and themed playsets.
- Over 300 million children have played with LEGOS in the past 40 years, according to lego.com.
TDmonthly's staff spoke with a number of manufacturers for this article and consulted five online retailers. They researched various articles and Web sites on the subject to obtain background information about the marketplace.

**One to Watch: Stink Blasters B.O. Boys by MEG
These smelly 4" figures have left their mark on the toy business.



Click on the links below for more TDmonthly Magazine's Top 10 Most Wanted lists.

TDmonthly´s Top 10 Most Wanted Casino Games



TDmonthly´s Top 10 Most Wanted Pop Culture



TDmonthly´s Top 10 Most Wanted Interactive Games



TDmonthly´s Top 10 Most Wanted Sports Figures



TDmonthly´s Top 10 Most Wanted Video Games



TDmonthly´s Top 10 Most Wanted Fem. Action Figures



TDmonthly´s Top 10 Most Wanted Mini Action Figures

Read an update on Female Action Figures in Playzak.