Can music make your child smarter? Studies on the "Mozart Effect" suggest that children under 3 who are exposed to the composer's music have increased brain development. Other studies indicate that such exposure appears to confer increased temporal-spatial reasoning skills. The net benefit is that such skills can enhance a person's lifetime abilities in science, chess, math and engineering. It's an intriguing, if unproven concept. However, neurological benefits aside, as any parent knows, kids love music.

With this in mind, manufacturers currently offer a wide range of new musical toys as well as upgrades of popular favorites for babies and toddlers.
Storytime Gloworm by Playskool (Birth+ $19.99)


Like its predecessors, a new addition to Playskool's popular "Gloworm" line intends to ease baby's transition to sleep. Squeeze the soft and cuddly Storytime Gloworm and it glows while telling five special bedtime stories and singing songs. As stories finish, the light fades.

Hug & Learn Baby Tad by Leapfrog (6 Months+ $26.99)
Baby Tad is not only a lovable stuffed toy, he's also an interactive teaching tool with great features.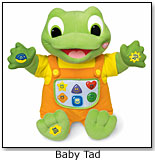 Like Storytime Gloworm, Baby Tad is soft and cuddly but he also teaches shapes and colors, which are the easiest concepts for babies to absorb. Baby Tad has six shapes on his bib (star, triangle, diamond, square, circle, and heart). When the shapes light up, Baby Tad tells a child what they are. When pushed, each shape starts a song, such as "Twinkle Twinkle Little Star." A hidden button on Tad's hand scrolls through the songs so your child can select the one he or she wants to hear.

Baby Tad is also interactive. If left alone for a while, he'll say "Pick up Baby Tad," in an adorable froggy voice. He has a variety of other sayings as well. Tad also reacts to "kisses." If you press his lips, he'll say "I love you".
Another feature is Baby Tad's battery-saving ability. If he's not being played with, he shuts himself off. He can also be turned off manually with a switch on one of his hands.


LittleTouch LeapPad by Leapfrog (6 months to 3 years $34.99)

Mentioned in an article about famous children´s must-have playthings in People Magazine's September 13 issue, "They can't live without…Many famous kids own the LeapFrog Little Touch LeapPad… which responds to an infant's touch with stories and music"[1], this unusual toy is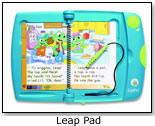 designed to grow along with your child.

LeapPad teaches early learning skills through stories that come alive with a touch. With three different settings and over 100 early learning activities that teach ABCs, letter sounds, colors, numbers, shapes, LeapPad adjusts to your child's developmental stage.

Setting I, Music and Soundscapes, stimulates early brain development with a variety of sounds, rhythms, and music.

Setting 2, Word Play, builds early-language skills and object-word association with short phrases and visual context.

Setting 3, Laugh and Learn, targets preschool readiness with rhymes and early learning concepts.


LeapStart Learning Table by Leapfrog (6 months+ $44.99)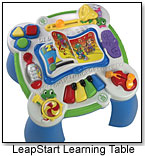 The interactive LeapStart learning table teaches the alphabet, counting, shapes, colors, instrument sounds, learning songs, cause and effect, and improves motor skills.

Contoured grips make pulling up easy and help babies develop motor skills. With detachable table legs for infant floor play, a volume control and an automatic shut-off, the Learning Table entertains your baby with melodies, instrument sounds, and things to spin, slide, roll, open, and close.

With over 40 songs to choose from, when babies turn the center page, the table switches modes and transforms musical discoveries into learning activities where each instrument plays a learning song.

Learn and Groove Activity Station by Leapfrog (4 months+ $99.99)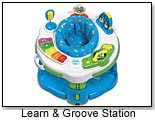 This interactive five-station activity center and infant walker rewards movement and develops motor skills while teaching the alphabet, numbers, counting, colors, cause and effect, and language. With real instrument sounds, "dance-step piano keys," flashing lights, rotating seat, and a spinning disco ball, the fun travels anywhere your baby does.

Move and Groove can be height-adjusted as your baby grows, folds flat, and has an integrated travel handle. The seat base rotates 360 degrees, has a machine washable pad, and a rocking base that can be locked out.