Article Archive: Infant & Toddler

Learn how one family worked together to bring their toy to market

When my three-year-old daughter, Lyla, drew a picture of a monster and asked me to "help make it real" for her Daddy's holiday gift, I didn't hesitate to pull out a box of fabric for her to rummage through and thread up my sewing machine. But when my husband received the monster and suggested we make a business out of it, I thought he might be crazy...

9/1/2015
2014 ABC Must-Sees

If you're planning on going to the 2014 ABC Kids Expo (September 7-10 in Las Vegas, Nev.), look no further! Leading up to the show TDmonthly Magazine will be sharing information on exciting new products that will be shown at the Expo, along with ordering specials for our readers...

9/1/2014

ToysRUs Has Major Problems

ToysRUs has basically three main businesses in the United States – toys, video games and baby products. Neither has done particularly well...

5/1/2014

2014 Toy Fest West Toy Report

Our reporters were on the floor of the recent 2014 Toy Fest West show in Las Vegas, learning more about toys we love and discovering new products for the year ahead...

3/1/2014
Q&A with Bob Wann, CEO of Patch Products

The toy industry is a dynamic place, and no one is more familiar with its ever-changing character than Bob Wann of Patch Products. Mr. Wann has worked for major brands like Hasbro, Fisher Price and Playskool, has worked on evergreen products including Monopoly, Candyland and Scrabble, and even helped introduce now-iconic brands like Strawberry Shortcake and Nerf...

8/1/2013

Holiday Shopping List: Great Gifts for Babies

TDmonthly has compiled a shopping list to make finding that perfect gift for Baby just a little easier this holiday season. Keep this page on your SmartPhone when you shop. Click on any item to learn more about it, or simply scroll down for more information...

12/1/2012
2012 ABC Kids Expo: Products to Watch

The 2012 ABC Kids Expo is running from October 14-17th in Lousiville Kentucky. What can retailers expect to see this year at the Kentucky Exposition Center? TDmonthly Magazine wanted to know, so we asked manufacturers to share some of the products they'll be featuring at the show...

10/1/2012

ToysRUs – 2 Strategic Imperatives + 1 Major Potential Problem

A few weeks ago I said in this space that "ToysRUs has gained market share in the overall U.S. toy space – online and total retail - on a continuous basis since 2009"...This prompted me to look more closely into the factors driving TRU's product strategy...

10/1/2012
Q&A with Jane Walter, Founder of organicKidz

Jane Walter, founder of organicKidz, is a woman of action. When she first heard about the danger of BPA in baby bottles, she took it upon herself to design and manufacture a new line...

10/1/2012
Q&A With Tereson Dupuy, creator of FuzziBunz

When Tereson Dupuy's son was having difficulties using disposable diapers, she came up with a solution: an absorbent, reusable cloth diaper that didn't rely on powerful chemicals to keep babies dry...

10/1/2012
Top-10 Most-Wanted Infant & Toddler Toys

When TDmonthly Magazine interviewed retailers about their best-selling Infant & Toddler toys in April 2012, one item raised its neck above the competition for the 4th year in a row...

5/1/2012

Infant & Toddler

See these recently added specialty and mass-market Infant & Toddler products...

10/1/2011

ABC Kids Expo Lets Toy Companies Expand

Exhibitors at last month's ABC Kids Expo in Las Vegas said that the show allowed them to evaluate their sales and marketing strategies and push product development into new arenas...

11/1/2010
September Staff Picks

RazBaby eliminates the need to rinse ground-dwelling pacifiers, and Mark-My-Time introduces a hip digital booklight...

9/1/2010
Summary of Online Toy Reviews

Review Scout scours the Web weekly for reviews of new and hot products so you don't have to spend your time searching...

9/1/2010
Summary of Online Toy Reviews

TDmonthly Magazine's Review Scout scours the Web weekly for reviews of new and hot products so you don't have to spend your time searching...

8/1/2010
Watch Toy Videos of the Day (8/9/10 - 8/13/10)

We want you to see the toys we see, so you can determine if they're right for your store! Check this space every weekday to see brief video clips of new and specialty products...

8/1/2010

Watch Toy Videos of the Day (8/1/2010 - 8/6/2010)

Week 1's Videos of the Day feature a variety of outdoor sports toys for two-player fun, including the Uberdart from A&J Suppliers, Zing Air Zartz from Zing, and the OgoSport Super Sports disc set...

8/1/2010
WATCH VIDEOS: ASTRA Marketplace 2010

Equating Rhode Island's "intimate setting, and its celebration of self-determination and reinvention" with the specialty toy market's top qualities, organizers at ASTRA chose the smallest state to host their biggest event...

7/1/2010
Holiday Preview: Infant & Toddler

Toysmith may help drum up holiday tunes with a musical set from its B. line, and Magicforest introduces the Moulin Roty of plush animals from France. See rattles, blankets, onesies and more in TDmonthly's Holiday Preview of Infant & Toddler gifts below.For products that interest you, click "Add to my...

6/1/2010

Take a Look at These Holiday Toys

There's always the challenge of deciding what to order for the Christmas season, and once you do, where to store it! For that first part, TDmonthly Magazine wants to ensure that you don't miss out...

6/1/2010
Top-10 Most-Wanted Infant and Toddler Toys

Items like the Fill & Spill Mailbox from Melissa and Doug represent classic play patterns for young children, according to a nationwide survey of 39 specialty retailers discussing best-selling playthings for babies...

5/1/2010

TDmonthly Goes Inside ... Green Genes, Chicago

Two-year-old Green Genes in Chicago began with a simple idea: Owner Heather Muenstermann wanted to create a one-stop shop for organic and eco-friendly kids' and babies' products...

4/1/2010

April Staff Picks

This month in TDmonthly Magazine's Staff Picks, brinca dada gives the dollhouse family modern appeal, used crayons find a second life, and classic wooden blocks adopt a unique attraction in a line called Tegu...

4/1/2010
Video: ASTRA Talks Holiday Sales & Social Media

TDmonthly Magazine's Julie Jones caught up with Kathleen McHugh, president of the American Specialty Toy Retailing Association, at Toy Fair 2010. ASTRA is encouraged by 2009 holiday sales in the specialty market...

4/1/2010

Top-10 Most-Wanted Wooden Toys

Melissa & Doug. We could almost stop there, based on responses from 38 specialty toy stores across the United States, but there are other top-selling wooden toys, too...

3/1/2010

March Staff Picks

Games and non-traditional construction pieces will keep children's imaginations alive and offer hours of fun as spring approaches...

3/1/2010
In This Issue

TDmonthly Magazine will bring you on-site coverage from the exhibit halls of the 2010 American International Toy Fair in New York City Feb. 14-17. Bookmark TDmonthly.com to find daily updates...

2/1/2010

Toy Videos of the Day: 2-25-10

We want you to see the toys we see, so you can determine if they're right for your store! Check this space every weekday to see brief video clips of new specialty products...

2/1/2010

January Toy Videos Go Traveling

This month's toys have legs. Pull-along elephants, a world explorer kit and travel-friendly pacifiers let kids trot the globe...

1/1/2010

What You Won't Miss at Toy Fair

You aren't alone in your quest to find the best products at Toy Fair. TDmonthly Magazine's pre-show research and booth visits will yield daily reports Feb. 14-17 to guide you in the right direction...

1/1/2010
Innovations of 2010

Coins jump into bracelets, a dollhouse goes super modern, pacifiers take a new shape, and baby food benefits from a safe storage solution in stylish silicone...

1/1/2010
Toys in the News: 1-27-10

The U.S. Consumer Product Safety Commission, in cooperation with Regal Lager Inc., has announced a voluntary recall of about 1,100 CYBEX Strollers in the United States and 90 in Canada because when opening or closing, the hinge mechanism may amputate a child's fingertip...

1/1/2010

Toys for the Christmas Rush

Your store is no doubt stocked and ready for the holiday rush leading up to Christmas day. But should you run low or have room to test exciting new products, we've gathered some newer entrants...

12/1/2009
December Toy Videos Generate Holiday Warmth

Those happy holidays are here and TDmonthly Magazine's December toy videos demonstrate lots of new games and toys that can let people stay warm and toasty indoors...

12/1/2009

Award-Winning Toys For a Hassle-Free Holiday

If you're finding holiday shopping to be a stressful task this year, don't worry, you're not alone! At TDmonthly Magazine, we realize that with the limitations of the recession, what you buy for your children this year is more important than ever...

12/1/2009
Infant & Toddler

Go back to main article: "Award-Winning Toys for a Hassle-Free Holiday"...

12/1/2009

TDmonthly's November Staff Picks

Ideopolis' Alphabotz line decks out robots to give whimsical character to phonetics, and stainless steel becomes more present...

11/1/2009

My Best Sellers: Pufferbellies Toys & Books

At Pufferbellies Toys & Books for Children in downtown Staunton, Va., customers can find a distinctive blend of the "good old days" along with some fresh and innovative toys...

11/1/2009

Video Highlights of the 2009 ABC Kids Expo

The ABC Kids Expo filled the Las Vegas Convention Center with baby gear Sept. 13-16, wowing attendees with an expansive array of car seats, infant playthings, costumes, blankets, feeding supplies and more...

10/1/2009
In This Issue

Once again, TDmonthly Magazine brings you a video-focused issue, so you don't have to make buying decisions based on text and images alone...

10/1/2009
Safe and Eco-Friendly Shine at ABC Kids

Folkmanis was one of the many toy vendors at this year's ABC Kids Expo in Las Vegas — a show that over the past several years has progressively attracted an audience beyond the traditional juvenile products market...

10/1/2009

See "Green" in Videos of Eco-Friendly Infant Toys

Natural, eco-friendly dolls and teethers are the subjects of the following baby product videos, which also feature "Anew" design for post-maternal wraps and a soft play camera that's snappy...

9/1/2009

ABC Kids Expo Highlights

The ABC Kids Expo is huge — and growing, with another 50 confirmed exhibitors during just two weeks of August, according to a Twitter post — so TDmonthly Magazine's video crew will be hitting the trade show floor...

9/1/2009

ABC Kids Preview: Stories Worth Sharing

Exhibitors of the annual ABC Kids Expo have plenty of motivating stories to share about products inspired by safety, fashion or daily demands in baby care...

9/1/2009

Fresh Videos Take Flight

Now's the time to order, so this month TDmonthly has a new batch of toy videos to help you make decisions for fourth quarter...

9/1/2009

TDmonthly's Fall 2009 Award Winners!

TDmonthly Magazine's Fall 2009 award winners include bugs that buyers can't resist, sophisticated arts and crafts kits for girls, games with penguins, gobblers and plenty of dice, and beautiful natural and wooden toys...

9/1/2009
TDmonthly Goes Inside … Toy Crazy, Malibu

In 1998, when Melissa Moore opened the first Toy Crazy in Malibu, Calif., the beachside town was a lot more laidback than it is today. Sandals and cutoffs were de rigeur fashion and iconoclastic specialty shops the norm...

9/1/2009

Top-10 Most-Wanted Baby Gifts

Recently, TDmonthly Magazine spoke to 47 specialty retailers about the most in-demand baby gifts at their stores...

8/1/2009

TDmonthly's Top 10: Baby & Kids World, Tokyo

Japan's first-ever Baby & Kids World trade show, held concurrently with Reed Exhibitions' GIFTEX and DESIGN TOKYO shows, welcomed 106 exhibitors July 8-10, offering a variety of juvenile care items, clothing, toys and accessories...

8/1/2009

Product Demo Vids from ABC Kids!

Dubbed one of the fastest growing trade shows in the country, the ABC Kids Expo will hit Las Vegas once again this year, featuring more than 800 exhibitors for the juvenile products industry. TDmonthly Magazine's video crew will be there...

8/1/2009

Top-10 Most-Wanted Puzzles

In June 2009, TDmonthly Magazine asked 47 specialty retailers about their best-selling puzzles...

8/1/2009

Top-10 Most-Wanted Plush and Puppets

In May 2009, TDmonthly Magazine surveyed 43 specialty retailers about their sales of plush and puppets. More than half of the storeowners said Folkmanis accounted for their top sales...

7/1/2009
Top-10 Most-Wanted Dolls

"All of a sudden, we've had a surge on dolls," Bill Rayment, owner of Toy Crossing in Harbor Beach, Mich., told TDmonthly Magazine during a recent survey of 43 specialty toy stores...

7/1/2009

TDmonthly Goes Inside ... Elegant Child

TDmonthly's video crew recently paid a visit to Beverly Hills baby and early childhood store The Elegant Child, which carries Kaloo plush and Vulli's Sophie the Giraffe, along with a variety of custom specialty items...

6/1/2009
Holiday Preview - Infant & Toddler

TDmonthly's Holiday Preview of products for infants and toddlers features many items, including a fishing game and a pot of colorful vegetables, designed to stimulate babies' various senses and support development of motor skills. There's also a fashionable teething bracelet for mom to wear, as well as some cute and...

6/1/2009
TDmonthly's June Staff Picks

From baby shoes with crazy attitude to cute comics for little kids, there are plenty of exciting new releases to keep your eye on as you sail through the summer and prepare for autumn...

6/1/2009

Toys from ASTRA Exhibitors

TDmonthly Magazine's video crew will be in full force at this year's ASTRA Marketplace show in June, but while you await the toy demos featured in our July issue, we'd like you to become familiar with some of the specialty exhibitors...

5/1/2009
Top-10 Most-Wanted Infant & Toddler Toys

Infants and toddlers, or at least the consumers who buy for them, especially love Rhino Toys' Oball and Taggies blankets, a TDmonthly Magazine survey of 64 specialty retailers revealed...

5/1/2009

Top-10 Most-Wanted Bath Toys

To say that toys by Alex-Panline dominate bath time would be an understatement. Nearly 70 percent of 64 specialty retailers surveyed this spring named the Alex line, or particular products from it, when discussing best-selling bath toys,...

5/1/2009
In This Issue

When you're not browsing through the current issue of TDmonthly Magazine, visit ToyDirectory's recently launched retailer blog to see posts from Joe Mitchell of YoYo Joe's Toys & Fun in Wilmington, Del...

5/1/2009
Regional Reports: What's Selling … And Where

The best-seller category was different for all the storeowners interviewed this month. For some, lines with broad numbers of small product, such as Lego or the Iwako erasers by BC Industries, soared...

5/1/2009

New ABC Conference Aims to Inform

The ABC Kids Expo is in its seventh year, with plans to take over the Las Vegas Convention Center again this September. But this year, All Baby & Child is also offering something completely new...

4/1/2009

TDmonthly's Psychologist Mom

TDmonthly Magazine's Psychologist Mom hung out with a magical elf, discovered an ideal carry-along for a plane trip with kids, and found an ingenious way to help "spot" a lost child in her latest round of reviews...

1/1/2009

December Staff Picks

The holidays demand that your store be more about selling than buying this month, but it'll soon be time to excite customers with new and innovative toys, games and gifts for 2009...

12/1/2008
ABC Show Shows Off

At the ABC Show in Vegas last month, "mompreneurs" and other inventors showed off innovative, problem-solving products. TDmonthly Magazine brought its camera crew...

10/1/2008

Rich Frog Capitalizes on Smart Design

Maarten van Ryckevorsel had been working as a national sales manager in the toy industry for about five years when a "brilliant play on words" popped into his head...

10/1/2008

September Staff Picks

From new books to flying discs to cuddly friends, TDmonthly Magazine has come across intriguing new products during the last month...

9/1/2008

TDmonthly's Top-10 Most-Wanted Gifts for Babies

TDmonthly Magazine's recent poll of 66 specialty toy retailers indicates that many top-selling baby toys are geared toward a tactile experience and feature health-wise, safe-to-the-touch materials...

9/1/2008

Safe, Fun Travel Drives Star Kids

After a bumpy start, Alyson Probst and Starr Products LLC dba Star Kids Products of Denver is paving the road to success, one pothole at a time...

9/1/2008

TDmonthly's Top-10 Most-Wanted Gifts

The season for giving is just around the corner, and 66 specialty toy retailers have shared with TDmonthly Magazine which gifts customers most prefer for boys, girls and even babies...

9/1/2008

ABC Kids: Caught on Tape

Hundreds of companies and thousands of buyers will attend the ABC Kids Expo in Las Vegas this month, and TDmonthly Magazine will be there to capture it...

9/1/2008

TDmonthly's Psychologist Mom

In her latest round of reviews, TDmonthly Magazine's Psychologist Mom applauds lessons on virtue in classic tales, gives a kid a "boost" with a well-designed product for toddlers, and gets sporty with some hip-hop and indoor bocce...

9/1/2008

Film Me, Film Me at ABC!

Keep an eye out for TDmonthly's Video Crew at the ABC Kids Expo in Las Vegas, Sept. 7-11! We'll be capturing video demonstrations of the newest toys...

8/1/2008

Retailer Spotlight: LB Toys

Glitches in the rise to success may sometimes serve as launching pads into unexpected careers. Such was the case for Jamie Burdette, owner of LB Toys in Media, Pa...

6/1/2008

My Best Sellers: LB Toys

Customer service — including a play area for kids and activities for the community to enjoy — is a key element at LB Toys in Media, Pa...

6/1/2008

Toddler Roundtable: Horseplay Brings Smiles

The Knee-Rider by Danoco Corp. gained yeas and neighs from TDmonthly Magazine's Toddler Roundtable with its innovative, interactive concept and realistic sound effects...

5/1/2008

Toys in the News: 5-29-08

Emily the Strange, the surly tween pop-culture icon who started "life" as a tee-shirt design, is being pushed toward the big screen by Dark Horse Entertainment president Mike Richardson...

5/1/2008

TDmonthly's Top-10 Most-Wanted Bath Toys

TDmonthly Magazine spoke with 40 specialty retailers to find out which bath toys are making the biggest splash. More than 62 percent of retailers named products by Alex-Panline USA Inc. as the most popular in their stores...

5/1/2008
TDmonthly's Top-10 Most-Wanted Dolls

Thirty-seven of 62 toy-store owners raved that Corolle babies are their best-selling dolls, with sales averaging from two to 50 per month year-round and significantly more at Christmas...

2/1/2008
TDmonthly's Multimedia Expert

TDmonthly Magazine's Multimedia Expert has devoted her career to watching and listening to imaginative creations in a variety of media...

12/1/2007

TDmonthly's Top-10 Most-Wanted Baby Gifts

Toys from Melissa & Doug and International Playthings will be popular gifts for babies and toddlers during the 2007 holiday season, specialty retailers told TDmonthly Magazine...

11/1/2007
Babies: Simple Plush Fires Imaginations

This month, TDmonthly Magazine's Infant/Toddler Roundtable participants evaluated a rag doll Dwarf from the SILKE line and a plush bear from the KOSEN line of Koesen USA. Both products received rave reviews...

10/1/2007

New Toys for New Folks (0 to 4 Years)

It's time for Christmas, so get your ordering muscles in shape by browsing through these specialty toys selected for you, for kids 0 and up...

8/1/2007

Infant/Toddler: Babies Read TV

This month, TDmonthly Magazine's Infant/Toddler Roundtable participants evaluated Smart Kids — Your Baby Can Read! from PENTON OVERSEAS INC...

7/1/2007

New Companies and Colors Mix It Up

Infant and toddler toys account for 15 percent or more of their total sales, said eight of nine specialty storeowners surveyed by TDmonthly Magazine...

5/1/2007
Infant/Toddler: Baby Loves Bathtime

This month, the Infant/Toddler Roundtable participants evaluated the Whistling Hippos by Alex, the Whale Bath Toy by Tiny Love, and the Bathtub Fun Center by Ravensburger's Mini-Steps...

5/1/2007

LilyBugs Let Babes Chug-a-lug

Founder and CEO Crystal Kane of LilyBugs Inc. admitted to TDmonthly Magazine that she came up with the idea for her company's baby-bottle covers by chance...

5/1/2007
Baby Roundtable: Soft Dogs Beat Hard Pigs

This month the Infant/Toddler Roundtable participants evaluated the Douglas Cuddle Toys Golden Retriever Puppy and the interactive Fisher-Price Little People Light & Sound Puzzle Collection – Old MacDonald from SABABA TOYS,...

4/1/2007

Infants and Toddlers Rate Toys

Five sets of moms with infants and toddlers evaluated three new toys, rating them on a scale of 1 to 5, with "5" being the highest score and "1" being the lowest...

1/1/2007

Lots and Lots for Babies and Tots

Toys and other items for infants and toddlers cover an astonishingly large spectrum — from teethers and plush to ride-ons and puzzles...

12/1/2006

Toys Meet Toilet Training

Making the transition from diapers to toilets isn't easy for many children, but Joe Lalicata, CEO of Jeckida Inc. of Staten Island, N.Y., maker of Toilet Buddies, has turned the toilet into a toy...

9/1/2006
TDmonthly's Developmental Expert

Christina Liu has a B.A. in Child Development and Family Studies from California State University and has worked for more than three years as an early intervention specialist, concentrating on children 0 to 3 years old...

9/1/2006

It´s All in the Name

What's in a name? Ask designers and retailers of personalized baby and children's gifts and they'll tell you that the name is the game to get into...

11/1/2005

Plugging In Junior

Whatever happened to teddy bears and blankies? Though still popular, these classics are joined by an ever-increasing number of fancy electronic gadgets for the under-5 set...

11/1/2005

Baby Goes High-tech

Many top-selling baby toys now feature electronic components that add light, sound, movement and interactive play...

11/1/2005

Learning the Basics Still Tops Mom's List

The A, B, C's, and 1, 2, 3's are still at the top of Mom's list when it comes to infant/preschool toys, according to a recent Toy Tracker survey conducted through C&R Research by Funosophy, Inc. In this nationwide poll, 200 moms of 3- to 5-year-old boys and girls were asked to rank the importance of eight different features and benefits...

11/1/2005

TDmonthly´s Top 10 Most Wanted Realistic Play Babies

When it comes to baby dolls, the "realer" the better. Lifelike baby dolls meant for collectors, such as Ashton-Drake Collectible's So Truly Real! line and the Lee Middleton Original Doll Co.'s Breath of Life Babies, have even crossed over into the (very careful) play category...

9/1/2005
Time Off From Work Helped Hooray!

Often, it's the smallest decisions that have the most profound effect. This is true for Audrey Koocher, president of Hooray!, a specialty toy company based in White Plains, N.Y...

6/1/2005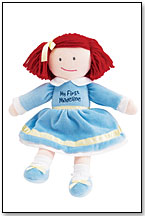 TDmonthly's Top 10 Most Wanted Dolls

The research for this article was compiled by December 10, 2004. Interactivity and electronics are the season's buzz words -- dolls are incorporating both these trends to encourage play. Movie tie-ins are also a huge trend. As parents pick up the first "American Girl" movie or Barbie's big screen adventure, children are desperate to add these new characters to their collections...

1/1/2005
Infant & Toddler Toys: Baby on Path to Early Genius

Babies are getting smarter than ever at an earlier age. At least, that's the goal sparking a large trend in infant and toddler products to be created with multiple stimuli. Encouraging increased awareness from all the senses, the following exuberant infant and toddler toys are sure to light up baby's...

1/1/2005

TDmonthly's Top 10 Most Wanted Toys for Boys: Infant to Preschool

High-tech gadgets and retro favorites are hot commodities for little boys. Electronic gaming has reached the preschool set, with companies like VTech, Leap Frog and Fisher-Price hoping to corner the market with educational game systems. Meanwhile, Learning Curve and Radio Flyer bank on the classics by updating old-time toys...

12/1/2004

TDmonthly's Top 10 Most Wanted Girls´ Plush

The hottest toys of previous seasons have successfully combined interaction and cuddliness and created rage sensations among tots and parents alike. According to Michelle McLaughlin, director of retail development for Nickelodeon Consumer Products, interactive plush is on the rise. This year, these toys are tackling some difficult tasks including singing, walking, dancing, and even potty training...

12/1/2004

Bells and Whistles: Musical Toys for Infants and Toddlers

Music comes in many shapes and forms, and thank goodness it does! From plush toys that play traditional music to interactive DVDs, the musical toys on the market with have infants and toddlers singing and dancing with delight!...

11/1/2004
New Musical Toys for Babies

Can music make your child smarter? Studies on the "Mozart Effect" suggest that children under 3 who are exposed to the composer's music have increased brain development. Other studies indicate that such exposure appears to confer increased temporal-spatial reasoning skills. The net benefit is that such skills can enhance a...

11/1/2004
Plush

Eurpsville Entertainment Your child will have tons of fun learning the first letters of the alphabet with the new ABC Plush Set by Eurpsville Entertainment. Each cuddly letter is 9-inches tall, with adorable, embroidered faces and upper and lowercase letters on the feet. Included is an entertaining pop-up Eurps...

9/1/2004
INFANT/PRESCHOOL

Design Science Toys Feebee is a fun and fascinating toy for toddlers because it is big, lightweight and brightly colored. This educational and child development toy is great for learning about size, shape, color, texture and coordination. It is collapsible, washable, safe and is also great for travel. Feebee...

8/1/2004
PLAY SETS & BUILDING KITS

LizzyBee Toys The Hide & Seek Castle playset has lots of places to play and hide, such as doors, trapdoors and towers. Six royal mice characters live inside; toddlers love the castle's brightly colored illustrations. A rainbow handle makes it easy to carry. Guidecraft Inc. Shimming Water is a...

8/1/2004

Bad News About TV Means Good News for the Toy Industry, IF...

Caring parents will want to fire their "electronic babysitters" and find other ways to amuse and develop their young. They will likely purchase more toys to replace time currently occupied by television. Most importantly, they will seek more education about toys, as well as manufacturers' assurances about the impact of toys...

7/1/2004
Toy Bin

See What We´ve Got...

7/1/2004

Big Baby

A lot of people my age look for ways to relive their adolescence. Not me. I want to be a big baby...

7/1/2004
INFANT & TODDLER

Camp Kazoo The Boppy® Preemie and Newborn Lounger has a sunken center to give comfortable, womb-like support to your preemie or newborn. The recessed interior allows new parents safe, invaluable, hands-free time in this first stage in their child's life. The Boppy® Preemie and Newborn Lounger is essential in...

7/1/2004
INFANT & TODDLER

Baby Picnic on the Go The Eat-n-Play Activity Cooler by Homegrown Kids, Inc. (ToyShow) holds up to four baby bottles, cups or water bottles, and has three mesh pockets, a reusable ice pack and three outside storage pockets for keys, wallet or diapers. What...

3/1/2004
Since 02/01/05 people have visited this page.

Advertisement: