Extex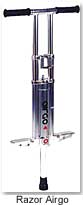 The Razor Airgo pogo stick is for fun-loving active kids and adults! It will support 60 to 220 pounds without springs, but adjustable air compression. It features aircraft-grade aluminum construction and TIG welding for extreme durability. It is lightweight and folds to 8" x 22" for easy storage after use. ($79.95)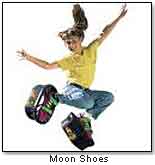 Hart Enterprises, Inc.
The original mini trampolines, Moon Shoes 2002 are made for feet so kids can jump with anti-gravity effects. Made with quality, high-density plastic, adjustable nylon straps with sure-footing, non-skid treads, the shoes help develop kids´ balance and coordination. (Ages 7 and up; $45.00)

Headball, Inc.
The Headball is a safe, soft soccer ball that is very effective in the training of young players in the art of heading a soccer ball. By teaching young players the proper techniques of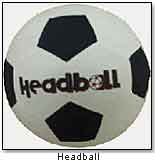 heading a soccer ball, it can reduce the possibility of concussions and make soccer a safer sport for all. The secret? Size 5 Headball weighs approximately 220 grams (most Soccer balls weigh 400 to 500 grams).
The Pencil Grip Inc.
The Band Buddies Jump Rope Kit lets kids eight years of age and up create an awesome jump rope. The wide variety of hot colors assures that each child´s final product is enhanced by his/her own creativity. Great as a party favor, travel toy, camp gift, or stocking stuffer.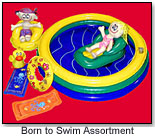 Playground Enterprises Inc.
The Born to Swim Assortment by Playground Enterprises Inc. is a water friendly play set that includes: Danny and Sally pose-able dolls, an inflatable swimming pool, lounge chair, inner tube and chair; 2 terry cloth towels and a rubber duckie. (Ages 2 and up)
Indus Sports
The hand stitched 1100 Winner Tournament & Match Ball features 32 panels and is made from top quality two tone Cordley Crystal Japan. It is fitted with heavy duty butyl bladder and is approved by the National Federation of State High School Associations, USA. It is available in sizes 3, 4 and 5.