Can action figures be fashionable and fight evil at the same time? Toymakers are breaking down traditional categories and mixing genres in the female action figure market. Classic superheroes are no longer the only women kicking butt in this niche group; television stars, Goth-teenagers and comic queens are competing for the top slots with kids and collectors.
Movies and television have made a strong impact on consumers and collectors this year, Kill Bill from Neca and Mattel's She-Ra were hot commodities. In the youth market, Cy Girl, Kabukui and Chobatas lead the way. Finally, there are the classic super-heroes like Wonder Woman and Catwoman who seem to enjoy perennial popularity. Collectors of each gender are having a blast accumulating rare, sexy and detailed female figures.
Here are the most powerful women in miniature form.
1.) Charmed Action Figures (Approx $12.99) by Sota Toys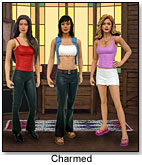 The enchanted Halliwell sisters are depicted in 6", fully-articulated versions.
-Charmed averages almost 4.7 million viewers per episode and has been renewed through 2005 by the WB.
-This Aaron Spelling show stars Allyssa Milano, Rose McGowen and Holly Marie Combs and they have all been made into figures.
-The line will also include a play set of the attic.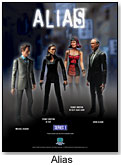 2.)Alias Action Figures by Stevenson Entertainment Group
The line offers two versions of TV's Agent Sidney Briston, each loaded with espionage accessories.
-The toy release will correspond with that of season three on DVD season four on ABC.
-SEG is also making a 12" Sidney doll.
-The Alias television show averaged 9.14 million viewers during the 2003-2004 season.

3.) CY Girl: Aska (Approx $30-$35) by Blue Box Toys


This "girl with attitude" comes holding a sword as her weapon.
-This line is primarily aimed at collectors, according to a company sales representative.
-There are 15 Cy Girls in the collection, including new member Ice.
-Aska stars in a Cy Girls PS2 video game.
4.) Wonder Woman Minimate ($5.99) by Art Asylum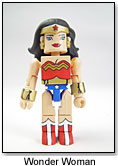 This legendary crime fighter is still as powerful as ever.
-There is also a Catwoman minimate in the series.
-Many variations on the Wonder Woman figure have been released over the years.
-Mattel's Justice League: Unlimited Wonder Woman figure has also fueled the character's popularity.
5.) Buffy the Vampire Slayer: Tara (Approx $29.99) by Diamond Select Toys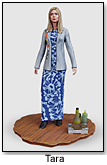 Willow's love comes with a spell book, potion bottle, green candle and bookcase.
-Fox´s Angel and Buffy the Vampire Slayer continue to enjoy great success with their best-selling DVD releases.
-There are also a series of Angel figures coming out; Darla should hit stores in January.
-Anya has been another popular Buffy character within the line.
6.) Kabukui: Scarab ($14.99) by Diamond Select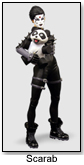 David Malk's agent creation uses the array of weapons to expose covert justice.
-This 6" figure comes with 13 points of articulation.
-Each comes with a variant Akema companion.
-Comes with a loose dagger, two handguns and a ninja weapon.
7.) Emily the Strange Action Figures ($9.99) by Toynami
This figure comes in two poses, along with her cat, Mystery.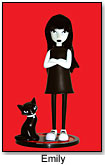 -Books, clothing and accessories have already succeeded with tween and adult consumers.
-She is best known as a Goth anti-hero for kids whose favorite phrase is "get lost."
-Cosmic Debris has an apparel partnership with hot topic and the company is worth approximately $5 million.
8.) Batman Hush: Poison Ivy Figure (Approx $14.95) by DC Direct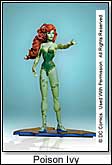 This villain's potions can overtake even the strongest good guy.
-She comes with a 6" piece of Ivy and a Batman logo.
-Based on the "Hush" graphic novel that topped comic book sales charts for most of 2003.
-The figure was designed by Jim Lee, one of the best known American comics artists.
9.) Fantastic Four: Invisible Woman by Toybiz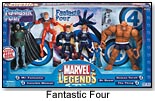 After acquiring powers through a space accident, Sue Storm doubles as a super-hero.
-Toybiz already sells a Fantastic Four gift pack and will release a full action figure line to mark the film's release.
-Actress Jessica Alba plays the Invisible Woman in 2005's Fantastic Four movie.
-The Fantastic Four comic book has published over 500 monthly issues since 1961.
10.) Storm: Marvel Legends Series 8 (Approx $8.99) by Toybiz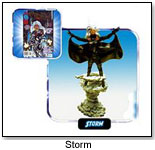 Lighting and clouds provide the base for this weather-manipulating X-man who has nature's powers in her hand.
-A chase figure of the Black Widow is another female in the series of Marvel Legends.
- Each figure comes with a Marvel comic book, with a base and display stand.
-According to Marvel's Q2 year report, net sales grew to $155 million fueled by the toy segment.
One to watch…Chobitas Anime Action Figures by Toynami
These cute robot girls will reign supreme when they come out early next year.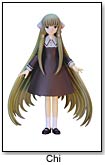 -Figures include Chi and Yuzuki.
-"Both Inuyasha and Chobits are among the hottest animated properties in today's media, and they're a perfect fit for us," said Toynami's president, George Sohn.
-Chobits DVDs and comic books are available at video stores and bookstores nationwide.
Staff members surveyed the entire marketplace to gather information about this niche genre. TDmonthly compiled much data from online Web sites and recent articles. They also contacted a number of action figure manufacturers for information on their best selling female items. Click on the links below for more TDmonthly Magazine's Top 10 Most Wanted lists.

TDmonthly´s Top 10 Most Wanted Casino Games



TDmonthly´s Top 10 Most Wanted Pop Culture



TDmonthly´s Top 10 Most Wanted Interactive Games



TDmonthly´s Top 10 Most Wanted Sports Figures



TDmonthly´s Top 10 Most Wanted Video Games



TDmonthly´s Top 10 Most Wanted Fem. Action Figures



TDmonthly´s Top 10 Most Wanted Mini Action Figures
Read an update on Female Action Figures in Playzak.