According to the U.S. Department of Commerce, two million more Americans become Internet users every month, and over half the population is now online. Reluctance by some business owners to give up the familiar trappings of retail—store aisles, cash registers, shoplifters—has prevented some businesses with high marketing potential from growing. In 2004, the customer may be in the next city, state or country, not at the doorstep.

Contrary to many people's assumptions, running an online business doesn't have to involve sacrificing service.

"We could put a secure-ordering website together, but I prefer taking the order in person so I can explain anything the customer doesn´t understand and discuss the merits of any toy," says Buck Service, owner of Salmagundi Tin Toys, the largest tin toy retailer in the United States.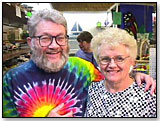 Buck and Norma Service

"I can also encourage them to buy toys that they may not be aware of.

I prefer to handle this business like a little old toy maker might have in the past," Service says.

Aware of the resistance some customers have to Internet retailing, Service suggests drawing people´s attention to your site through other media. "Our website is adjunctive to our advertising," says Service. "We originally thought that if we told people how to find our website that it would do the selling for us, but that proved to be an incorrect assumption. You have to show people what you´re selling, include as many selling tactics as possible, and then tell them about your website."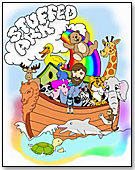 Stuffed Ark

Others have developed a processing system suited to large-scale distribution.

Bill and Sandy Chickering, owners of Stuffed Ark and Nose-N-Toes, recommend keeping it simple:

1.) Use a consistent design, color scheme and graphics, simplifying navigation for the consumer and maintenance by the Web master.

2.) Use a single typeface and clean primary and secondary colors to be read by all browsers.

3.) Design the pages to achieve favorable search engine placement. Invest in selective pay-per-click ads, and develop a team of affiliate websites.

4.) Develop a secure, easy-to-use shopping cart vendor and use shipping methods that insure and track each package.

5.) Ship on schedule and provide order and delivery confirmation.

Sandy Chickering claims that focusing on one niche can stave off competition from major online retailers.

"We don´t try to be everything to everyone like the big chains," says Chickering. "We found that cutesy Easter bunnies and pastel poodles don´t work as well for us as they may for a grocery or chain store, since those are mostly impulse buys."

Nose-N-Toes Llama Gifts

Nose-N-Toes Llama Gifts started as a merchandising arm for the Chickering's llama ranch.

In 1997, they launched Nose-N-Toes' website, and by 2001 the site offered about seventy different stuffed animals.

In 2003, the site offers over six hundred choices.

"We found our niche in providing quality," says Chickering. "How many places can you find an Australian bilby or a naked mole rat? If we had a brick-and-mortar store, we [would have] the limitations of Main Street as opposed to the unlimited exposure of the worldwide Web."

Remaining people-oriented is essential. "We listen to what our customers are looking for. With over twenty-five vendors to choose from, we try to find just the right animal for that special occasion."

The Chickering's advice for a successful e-business? "Enjoy what you´re promoting and keep it fresh!"