With many manufacturers offering original designs for kids created with the assistance of both therapists and educators, play carpets not only brighten up a child's room, they allow children to discover their own creativity and individuality.
Small Space Solves Big Problems
Invented and designed by Helen B. McIntosh, M.Ed, Ed.S, The Peace Rug® (ToyDirectory) ($153) promotes educational development. The rug features a serene cloud design and comes with an instructional brochure and audiotape (available in English and Spanish) for two or more young people to use while sitting on the rug. According to manufacturer, The Peace Rug Company, the rug is not meant to be a substitute for counseling. Instead, it provides a place for young people to process hurt feelings, anger and conflict, while improving relationships in the process.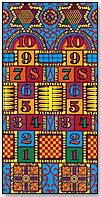 Teach-A-Tot©
Classroom on the Floor
Put down those tedious textbooks. With the Symbols of America© rug by Joy Carpets ($249-$429 for 5'x7' or 7'x10' respectively), children can learn about our nation's leaders, national monuments, the American flag, and many more of this country´s important symbols. The Teach-A-Tot© ($429) and First Lessons© ($249-$429, three sizes: 5'4"x7'8," 7'8"x10'9" or 7'7" round) rugs incorporate geometric shapes, letters of the alphabet, numbers and games to teach children everything from spelling to telling time.
Carpet Diversity
With the Carpets for Kids® Bilingual Classroom Carpet ($279-$429 for 5´4"x 7'8" or 10'9" by 8´4"), children are taught shape, color and word discrimination in both English and Spanish. The rug's outer edge features the Spanish alphabet. The Bilingual Number Squares ($54.95) kit can be added to teach numbers 1-10 in Spanish.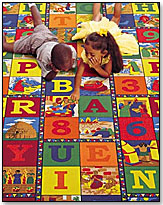 Bible Blocks®



Visit the Farm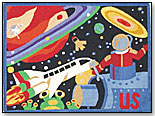 Lost in Space rug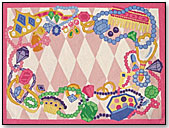 Her Majesty Rug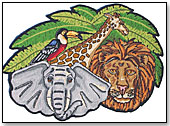 Safari Rug
Civic and Spiritual
Based on Old Testament stories, Bible Blocks® by Flagship Carpets (ToyDirectory) ($149-$408, four sizes: 6'x9,' 12'x 6,' 12'x15,' 12'x12') is an excellent tool to assist children in learning the rich stories of the Bible or Torah. The Places to Go® Rug ($100) keeps a child's imagination fueled as it teaches about town life, including the function of a bank, fire station, hospital, library and basic traffic rules. Teaching manuals are included with both rugs.
Learn by Playing
Children can create their own adventures and stories with the Visit the Farm and My Dollhouse Play Carpets by Let's Learn & Play (ToyShow) (contact manufacturer for prices). These carpets are excellent for strengthening memory, language, matching and speaking skills, and developing eye-hand coordination. The Community Bingo play carpet teaches children about community workers while challenging them to solve basic matching skills.
Imagination Runs Wild
Kid at Heart Designs creates play carpets that let children blast off into space with their Lost in Space rug ($120), or keep their feet on the ground for an adventure with elephants, lions and giraffes with their Safari Rug ($120). Bright colored bubbles, makeup and jewelry are scattered about their Glamour Girl Rug ($120), while a little girl can surround herself with a tiara and jewels and be queen for the day with Her Majesty Rug ($135).