FamilyFun Magazine has announced "What's in Ned's Head?" as a T.O.Y. (toy of the year) Award Winner. The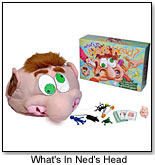 awards were presented recently at the new flagship Toys "R" Us Times Square store and described as "the Oscars of the toy industry" by The Wall Street Journal.
This year's test began with 148 different manufacturers submitting 479 different toys. Of these 479 toys, 66 were chosen as finalists. After 30,690 hours and testing over 1,000 children, "What's in Ned's Head?" was selected as the winner of the "Ages 5-7 Games Category."
"We're glad to see that children have seen the inner beauty of Ned", stated Chip Voigt, president of Fundex Games, Ltd. Previous T.O.Y award winners include Tickle Me Elmo, Rescue Heroes and MGA´s Bratz dolls. "We are confident that Ned will follow previous award winners," said Voigt.