Winter means squirmy kids are often stuck indoors and anxious to do something fun. Children's playhouses can provide the perfect remedy for cabin fever.

My Very Own House™ Cottage

Bob Becker, vice president of marketing and sales for Pharmtec (ToyShow), says, "Playhouses encourage group activities and can be the central theme of a birthday party or part of everyday fun. Kids use their imagination with these big creative canvases, and pretend they are in a train or at Grandma's house."




Mystery Van Play House



Wiggles Play House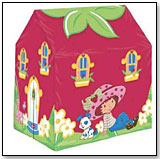 Strawberry Shortcake Play House

My Very Own House™ Cottage ($34.95) from Pharmtec lets children color and decorate the entire surface of a cottage however they please. Its solid, four-foot tall design quickly folds down to only three inches high for easy storage. Pharmtec also makes decorating kits and accessories with auto-racing, doll or holiday themes.

Role Play

Susan Meek, vice president of licensing for Hedstrom Corporation, believes, "Role playing is becoming more important, and the new playhouses reflect that trend."

Whether you want to be Fred, Shaggy, Velma or Daphne, the Scooby-Doo Bubbles Play House or Scooby-Doo Mystery Van Play House ($19.99 each) from Hedstrom provide ample room (44 inches high) for kids to share Scooby snacks and imitate their heroes' voices. Also from Hedstrom, the popular Strawberry Shortcake Play House ($19.99) is made of easy-to-clean, flame-resistant vinyl and has an open window and the charm of Strawberry and her dog Pupcake. Wiggles Play House ($19.99), based on the children´s show, lets kids act as wacky as the popular Aussie TV characters.

Jump for Joy

Jingo Jump's (ToyDirectory) latest Creative Inflatables products, Yellow Castle and Green Castle, are available in either 13' x 13´ ($1,799) or 15 ' x 15 ' ($2,095). The Indoor Unit ($1,599), a bold patriotic-themed jumper, is only eight feet tall and fits inside a garage or large room--great for areas of the country where weather does not permit outdoor activities year-round. All Moonwalks come with a blower, tarp and everything else needed to put these environments into action.

Playscapes' Imagination Manor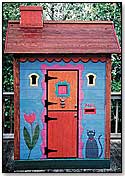 Redwood Playhouse



Supersize It!

Playscapes' Imagination Manor ($6,895 with slide), at almost eight feet tall, holds six to eight children. This two-story colorful castle allows for easy visibility and supervision of children, is wheelchair accessible and meets safety guidelines. Also from Playscapes, the two-story Seascape Manor ($7,495 without slide) creates another charming play station with an underwater theme.

Treasure Custom Designs

At the Cozy Cabin (ToyDirectory), Barbara Butler's newest Redwood Playhouse ($3,330), stands seven feet tall and features a Dutch front door with sliding peephole and doorknocker, a mailbox, gabled tongue and groove roof with faux chimney, two side windows with shutters and a bench inside.

Backyard Mansions Playhouses ($999 and up) are custom made to your specifications. The creative possibilities are virtually endless.