Whether you're creating a mold of hands, casting a favorite object as a keepsake or designing a heart-shaped mosaic box for storing trinkets, kids crafts mean more than just paper maché and modeling clay.


Skullduggery's Eyewitness Mold-It Kit
Angles of Artifacts
From ancient Egyptian artifacts to findings in your own back yard, Skullduggery's Eyewitness Mold-It Kit (ToyShow) ($12.95, ages 8-12) makes a lasting impression of favorite objects. This educational kit explains how paleontologists and archaeologists duplicate rare fossils and artifacts with molds.


Memory Hands Keepsake Kit
The Curve of Memories
Grandpa's hand joined with Little Joey's is just the sort of memory that the Memory Hands Keepsake Kit from Precious Impressions (ToyShow) ($17.95) captures. A tiny hand clasped in a big one, the imprint of baby fingers, or two small hands locked together help make precious moments last forever.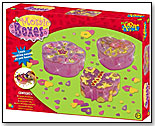 Play Art Mosaic Boxes
Butterflies, Hearts and Flowers
Colorful, sparkling Play Art Mosaic Boxes by Toys J.E.E. are shaped in the likenesses of butterflies, hearts and flowers and can be used to store precious trinkets. For ages 5 and up, each kit ($9.25) includes glitter, glue, foam sheets, gems, brushes and varnishes.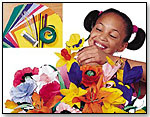 Crepe Paper Flowers Kit
Poppies, Pansies and Peonies
Now kids can grow beautiful bouquets, flower arrangements and indoor gardens that they won't have to remember to water. Crepe Paper Flowers Kit by Hearthsong ($14.95) includes enough crepe paper for 25 brilliant lilies, daffodils, poppies, pansies, roses, irises and more. Making flowers is much easier than it looks, even for those without green thumbs.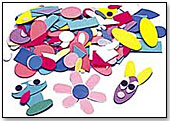 SmarterKids' Flexible 200 Foam Shapes
From Triangles to Trucks
SmarterKids' Flexible 200 Foam Shapes, coming in a variety of colors and shapes, are great for craft projects ($2.95, ages 3-9). Measuring approximately one-half inch to two inches, they can be cut, glued, layered and painted to resemble people, trucks or any other plaything.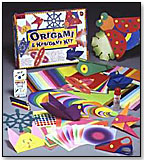 My Origami and Kiriga Kit
Birds, Animals and Other Delights
By folding colorful, pre-cut origami sheets, kids can create their own birds, animals or extraordinary beings with Alex Arts and Crafts My Origami & Kirigami Kit ($14.95). With scissors in hand, kids can also follow directions to learn Kirigami, the Japanese art of cutting and folding.


Crayola Dough
Dough! Crayola Enters the Market
Fun 4 All is bringing the first Crayola-licensed dough to kids worldwide. The soft, non-toxic dough is available in all the famous colors of Crayola's crayon box. Crayola Dough ($8, 3 lb. tub) includes such favorites as "Blizzard Blue," "Screamin' Green" and "Vivid Tangerine."