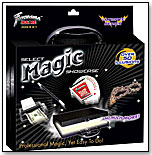 Magic Showcase set

Unlike many other toys, the passage of time (and advances in technology) has not brought obsolescence to children's magic kits. The basic illusions are all there--cups and balls, card tricks and the drawer box, to name a few. However, many sets are receiving timely makeovers, including brighter, more attractive packaging; colorful props; and instructional videos and DVDs.

Fantasma Toys leads the way with their new Magic Showcase set ($35, ages 8 and up). The only company to be awarded by the International Brotherhood of Magicians (http://www.fantasmatoys.com/). It contains over 50 tricks, including card illusions by the world's top sleight-of-hand illusionist, Simon Lovell. The set, which has received the endorsement of the International Brotherhood of Magicians, also includes a professional-looking wood carrying case.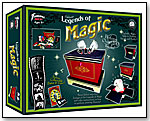 Legends of Magic set

Magicians looking for a wider array of illusions will be interested in the Legends of Magic set ($60, ages 8 and up). With props including a "magic" table to perform "vanish and produce"-type illusions and clearly written instructions, little Houdinis can learn more than 200 tricks. Also included is a 60-minute video that contains never-before-seen footage of some of the world's greatest magicians such as Harry Houdini.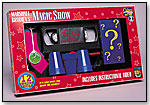 Marvin's First Magic Show

Recently released from Marvin's Magic is Marvin's First Magic Show, a collection of 25 basic illusions that can be performed by children as young as age 4. Because the kit contains parts small enough to be manipulated by little hands and includes a picture-laden instruction manual, even the littlest magicians will be able to learn basic illusions in no time.

Also new from Marvin's Magic are the first three sets in their new Deluxe Pocket Tricks series. These sets, designed for children ages 6 and up, contain mini versions of popular tricks found elsewhere in the Marvin's Magic line.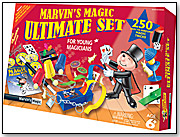 Marvin's Ultimate Set

Finally, there is Marvin's Magic Ultimate Set ($39.99, ages 6-12), containing the props and instructions needed to perform 250 different card tricks and other types of illusions.

Cadaco has also introduced a new set with the budding illusionist in mind. Marshall Brodien's Magic Show ($9.99) provides the props needed to perform 12 different tricks, ranging from simple one-step tricks to more complex illusions. The accompanying video shows the illusions being performed before breaking each one down into step-by-step instructions.
MagicVision Video Magic Set

S.S. Adams (ToyDirectory) newest product, the MagicVision Video Magic Set ($52.95, ages 8 and up), teaches classic illusions including cups and balls, the dollar maker and the ball and vase trick. The set also includes a 70-minute instructional video featuring master magician Billy Bishop.

Fun Inc.'s Great Magicians Magic Set lets children ages 7 and up try their hand at a whopping 75 different magic tricks. Classic legerdemain like the "cups and balls" routine, as well as dozens of other magical wonders, await the novice magician ($25).