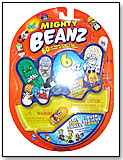 Mighty Beanz 6 Pack

Mighty Beanz may be about the size of a thimble, but they´re one of the biggest toys for the 2003 holiday season. Initial orders underestimated the product's popularity, and both KB Toys and Wal-Mart sold out within a month. "It went from zero to ten in barely an instant," said Harold Chizick, director of marketing at Spin Master Toys, Ltd., the North American Distributor for Mighty Beanz. Chizick attributes the success of the Beanz to a combination of low price point, high collectabillity and good word-of-mouth.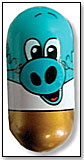 Rare Moose Beanz

After December 2003, Mighty Beanz Series One was retired, increasing hunger for new Beanz beyond the holidays. This year, 70 original Series Two characters have emerged. "That's how collecting works," said Chizick. "You don't buy just one pack. You buy as much as you can with your money and keep going back until you have the complete set."


Some pre-release buzz was generated by the success Mighty Beanz had overseas, but to reach consumers in North America, Spin Master took a hands-on approach. In July 2003, the Mighty Beanz promotional tour was launched in Chicago and Toronto, handing out samples at every mall, playground and park.

Each Mighty Beanz is painted in one of 60 character faces and contains a ball bearing that causes the bean to wiggle, roll end-over-end and stand with seemingly gravity-defying attention. They have a game play similar to traditional jacks or marbles, though it's collectability, not game play, that is the key to the Beanz success.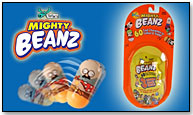 Mighty Beanz Package

Along with samples, Spin Master handed out collector's guides. Each character is rated according to rarity by "Mighty Merit Points" (mmp) on a scale of 50 mmp to 1,000 mmp. Mighty Moose, the rarest of the Beanz, recently sold on ebay for $650, making Mighty Beanz a treasure hunt starting at $5.99 for a pack of six ($3.99 for 3 pack).

"The tour was well timed," said Chizick. Staying eight weeks in each city built up recognition and interest that that was still fresh when kids returned to school. In
September Mighty Beanz launched nationwide along with a network TV commercial and an unforgettable jingle. A craze was born.


2004 will see two licensed character lines: Marvel and Teenage Mutant Ninja Turtles. There will also be play sets and 70 original Series Two characters. Spin Masters predicts Mighty Beanz holiday sales will grow from $30 million to $60 million. Next year´s sales are predicted to reach $200 million, hopefully doubling overall sales for the company.