"Buying stolen properties, pimpin hoes, building crack houses and projects, paying protection fees and getting car jacked ... Not dope enough? If you don´t have the money that you owe to the loan shark, you might just land yourself in da Emergency Room."
So reads the promotional copy for Ghettopoly, a game that is testing the adage that there's no such thing as bad publicity. Though the game's creator, David Chang, claims it was meant as a parody of "urban" stereotypes found in rap and hip-hop music, Ghettopoly has angered many in America's African American community and lead Hasbro, owner of the original Monopoly name, to file suit for copyright infringement on Oct. 21.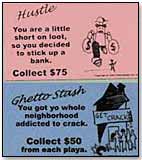 Ghettopoly cards

"We feel it is an unlawful use of Hasbro's intellectual property," said Mark Morris, director of public relations for Hasbro games.

"Parody makes a statement about the object of parody.

In this case, someone is using Hasbro's product to make a statement about something else.

There's a big difference."

But what about the hundreds of other Monopoly knock-offs that have long found space on retail shelves? "Our bottom line is, if it doesn't say Monopoly, it's not something we endorse," said Morris. "We work with USAopoly [to create Monopoly take-offs], and we defend our property wherever we can."

Hasbro's not alone in wanting the game's sale stopped. Civic leaders across the country, including presidential candidate, Reverend Al Sharpton, have deemed Ghettopoly "racist" and successfully pressured Urban Outfitters, a national retailer of youth-oriented fashions and accessories, to pull the game from its shelves.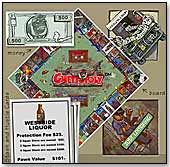 Ghettopoly

"Here we are trying to teach 13-year-olds to read, and this is what they are being sold; it is absolutely horrendous," said Adora Obi Nweze, president of the Florida NAACP in a statement to Bloomberg News.

"Stereotypes are everywhere," states Chang in "A Message to the Haters" posted on his website. "When you flip to MTV or BET you do not often [sic] see the same images and lyrics, rappers rapping about sipping on 40's, pimpin hoes, smoking the chronics, slinging crack rocks."

Instead of the familiar metal top hat, Ghettopoly's game pieces include a "Pimp, Hoe, 40 oz, Machine Gun, Marijuana Leaf, Basketball and Crack." Also included are "40 Crack Houses, 17 Projects, Pink Slip Cards, Ghetto Stash and Hustle Cards."

A sample game card reads, "You got yo whole neighborhood addicted to crack; collect $50 from each playa."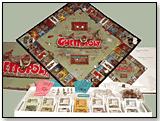 Ghettopoly Game Board

Morris stated that Hasbro was not involved in Yahoo's decision to shut down Ghettopoly.com on Oct. 13 ("without warning" according to Chang), but the site is currently back online and taking orders, with Chang claiming brisk sales.