Build-A-Bear Workshop

Since its beginnings in St. Louis, Missouri in 1997, the Build-A-Bear Workshop chain has become an international success.

Ronnie Gaubatz, the company's Web designer, credits Build-a-Bear's online success to her "guest-friendly" approach to site design.

TDmonthly: What was your approach in creating the Build-a-Bear website?

Ronnie Gaubatz: We use the website to create an online community around our retail locations. It must be true to the look and feel of the stores and create that same type of playful, creative excitement one feels when they visit. We use a handful of artists to get the look of our bears just right, and a team of in-house flash developers do all the animations. The best approach has been to have a simple, easy-to-navigate site. No important information should be more than two clicks away from a Guest.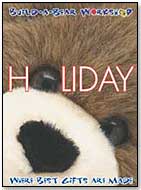 Build-A-Bear Online Catalog

TDM:

To what extent does working with charities help your business?

RG: As I mentioned before, our website is designed to create a community. The causes we support reinforce our belief that, "It takes a village to raise a bear." We have conducted a virtual walk on our site to raise money for children´s cancer research, and have a kit online to provide tips for kids who want to raise money [for charity]. Emphasizing these programs online gives our guests a chance to help others, regardless of where they live.

TDM: How does Build-a-Bear's online store remain people-oriented?

RG: Our standard response time to guests' inquiries is immediate, and that permeates the company, starting with [founder] Maxine Clark. She receives and responds to many emails every day from guests of all ages. Our website is designed to be interactive and to promote guest communication.

TDM: What design tips can you provide that are specific to the toy and hobby industry?

RG: Keeping the overall design simple, with one main call to action has been effective [for us]. It is also extremely important to keep messages fresh. We try to change site sets entirely about six times per year, but within each set we have many elements that change daily or weekly. I also believe that messages personalized to the visitor are important. This means choosing colors, features and layout based upon what the guest has told us they like.

(Scroll to the bottom to review readers comments.)

Other older articles on Build-a-Bear published by TDmonthly Magazine:

TDmonthly - Build-A-Bear Workshop: An International Success Story

... Build-A-Bear Workshop was named "Best New Concept for 1998" by Chain Store ... The National Retail Federation named Build-A-Bear Workshop the "Retail ...
www.toydirectory.com/monthly/article.asp?id=90

The New Bear Era: Stuff it Yourself and Prosper -- Page 2

... Build-A Bear is another major player in the 'stuff it yourself' ... A company representative says 2002 will see over 100 Build-A-Bear stores open in ...
www.toydirectory.com/monthly/july2002/teddybears_2.asp

TDmonthly - A Trade Magazine For The Toy, Hobby, Game and Gift ...

... Build-A-Bear Workshop: An International Success Story Maxine Clark, founder of the Build-A-Bear Workshops, took a winning idea in early 1997 and turned ...
www.toydirectory.com/monthly/index.asp?id=19

Most popular about RETAILER SPOTLIGHT - TDmonthly Magazine

... Build-A-Bear Workshop: An International Success Story (2/1/04) Maxine Clark, founder of the Build-A-Bear Workshops, took... ...
www.toydirectory.com/monthly/section_rs.asp

Stock symbols for public toy and hobby companies. Profile pages ...

... Build-A-Bear Workshop Inc, BBW . Canadian Tire Corp Ltd, CTR.TO . Carrefour SA, CARR.PA . Cassidy Brothers PLC, CDY.L . The Children´s Place, PLCE . ...
www.toydirectory.com/stock.htm

TDmonthly - Toy Fair 2005: Candy & Food

... to seasonal and everyday themes, new cookies include hot licensed designs such as Build-A-Bear Workshop(TM), Transformers(TM) and My Little Pony(TM). ...
www.toydirectory.com/MONTHLY/article.asp?id=1075

The New Bear Era: Stuff it Yourself and Prosper -- Page 3

... How big can Build-A-Bear get, and will Jerry McLean and Stanley Block tear each other apart in their race for the remaining market share of teddy ...
www.toydirectory.com/monthly/july2002/teddybears_3.asp

Retailer Spotlight - TDmonthly

... Build-A-Bear Workshop: An International Success Story Maxine Clark, founder of the Build-A-Bear Workshops, took a winning idea in early 1997 and turned it into ...
www.toydirectory.com/MONTHLY/front_rs.asp - 24k
---