Besides visions of home-made ravioli, when people think of Italy they think of design and elegant craftsmanship. Now that list might also include construction toys as well.

Supermag

Edoardo Tusacciu co-founded the Plastwood Company (ToyDirectory), based in Calangianus, Italy, and transformed a 25-year-old family cork business into the best-selling magnetic toy company in the late 1990s.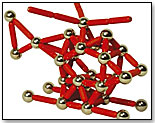 Supermag Helicopter

Plastwood's latest phenomena, the Supermag line, is composed of plastic rods infused with pieces of metal, which connect end to end with metal spheres serving as magnetic connectors.

"The entire rod is a magnet and is tapered so you can get more rods around the metal ball," said Deborah Robinson, marketing director for Plastwood's U.S. branch. "The structure holds together much stronger [than Plastwood's earlier Geomag set]."

The basic Geomag sets are smaller (24 rods per set) than the Supermag sets (50 or 102 rods per set), which makes the Supermag line capable of building structures unmatched in strength and complexity. Each set comes in a single color with the choice of red, black, yellow, green, white, glow-in-the-dark, black or transparent. Plastwood debuted a set in silver, black and red in spring, which is packaged with enough pieces to create a racing motorcycle.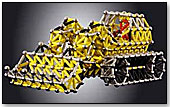 Supermag Tractor

"The Supermag really takes [our product] to a new level. Absolutely nothing can surpass it in quality," said Robinson. "It's our attention to detail--what we've put in down to the last millimeter--that sets us apart."

The suggested retail prices for Supermag range from $10.95 for the smallest set to $1,080 for the 1,666-piece Collector's Edition. More information can be found at Plastwoodusa.com.