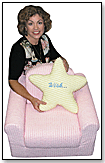 Laura Lind
As owner of Fun Furnishings (
ToyDirectory
),
a children's furniture company specializing in designs for Tweens, Laura Lind says, "There's always been a lot of furniture for babies, but as kids get older, the selection drops off. Now, people are finally recognizing the Tween market."
A visit to Fun Furnishings website (funfurnishings.net) reveals a list of specialty retailers across the country carrying the company's furniture, as well as mass-market retailer Marshall Fields. Though Pottery Barn and Ikea have launched Tween and Teen furniture lines recently, Fun Furnishings has been in the market for ten years. Products such as its Interactive Bean Bag Chair exemplify the company's desire to create interesting and fun furniture.
Purple Flower Bean Bag Chair
"[Company designer] Lisa Wick came up with the idea of attaching things to bean bag chair slip covers to make them more like a toy," says Lind. "We have a butterfly chair, where the wings fold up when a child sits on it; a Daisy chair, where the petals fold up; and even a Shark, where the mouth closes around you. The boys like those."
The Interactive Bean Bag chairs are going into production soon, as are a new line of animal-shaped chairs. "Baby Boom parents, and grandparents, want to have something special for their kids," states Lind.
Mom Starts Her Own Company
Prior to starting Fun Furnishings, I worked as a senior account executive in the training and organization development field. Working with large companies to help solve management problems sparked a desire in me to run my own business. It would have been logical to start a company in a similar area, but I was a new mother and very excited about the idea of developing a business centered around children.
Fun Furnishings was born when my gals were two and four. As a result of our family's frustrated effort to find attractive, reasonably priced juvenile furnishings, my entrepreneurial dream and consumer needs joined together, and we launched a new business. In the last two-and-a-half years, I have taken responsibility for running it.
Slumber Party Market Research
Kids helped make our company's decisions; right from the beginning, our daughters, their friends and cousins helped us do our market research. We would bring home new fabrics and sample products (and still do) and say, "Hey kids, what do you think of this?" We have three chairs and several new fabrics aimed at Tweens. We offer what kids and parents like, because they make buying decisions jointly.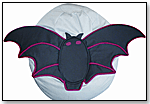 Bat Beanie Chair
Go Ahead, Jump on the Furniture!
We distinguish ourselves from our competitors in terms of quality, fabric and style selections. We offer over 25 different fabrics, with many different furniture styles for tots to Tweens. Recently, we introduced a new line of products that [can be] used as furniture or toys: interactive beanbags and animal chairs.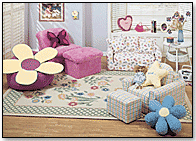 Girl Power Furnitures

Our furniture is functional and fun for a child. Because it's lightweight and very durable, only a child's imagination limits what it can become. For example, I've seen our Sleeper Sofa used as a car, cave, clubhouse and trampoline, to name a few. Sofas, sleepers and beanbags are our best-selling products. Personalized Beanbags are a big seller as well.

We have recently dedicated ourselves to product development in hopes of bringing a fresh spin to our existing line, while creating exciting new products for our customers.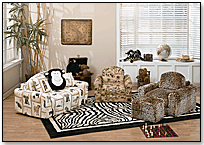 Safari Furniture Set
Company Highlights
1996 - Interview with Entrepreneur Magazine.
1997 - First JPMA Show. Customers told us we had the most exciting new products at the show. We picked up many juvenile store accounts that still do business with us today.
1999 - We added a new line of fabrics to coordinate with children's bedding. Customers liked the look and longevity of these designs.
2001 - Launched Textures and Novelty Pillows. We added soft chenille, brushed denim and faux furs to our line of fabrics. Textures have a great appeal. Novelty Pillows have been a big hit.
2003 - Interactive Beanbags debut at the ABC Show in Las Vegas.
Fun Furnishings will be exhibiting their newest products on Feb. 15-18 at the 2004 American International Toy Fair in New York City.