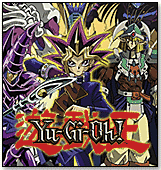 Yu-Gi-Oh!
According to new research from market information provider The NPD Group, sales of toys licensed from movies and television shows are expected to show a 5 to 10 percent increase in 2003 thanks to hit card games such as Yu-Gi-Oh!, based on a Japanese anime cartoon, and popular kids' shows such as the bilingual Dora the Explorer, and Beyblade, the spinning top game.

Popular Action/Adventure movies such as The Hulk and the soon-to-be-released Lord of the Rings: The Return of the King are creating a buzz among kids and within the 18-and-older collector´s market as well.
When Kids Talk, Parents Listen

Care Bears

Gone are the days of kids wondering what toys will be under the Christmas tree; they likely already know. An amazing 62 percent of toys purchased for 3-17 year olds are requested by the child, according to NPD, indicating that parents stay in touch with kids' wishes and know the hot, trendy products their children want.

Consumer data also points to the strong re-emergence of classic brands such as Care Bears, Transformers, Disney Princess and Strawberry Shortcake. The marketing strategy behind these toys has played on their nostalgic appeal. Many of the kids who once played with these toys are now parents themselves and are shopping for their own children.

Grandparents: A $3.4 Billion Buying Force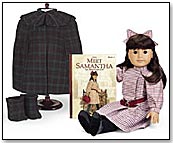 American Girl
Grandparents spend a formidable $3.4 billion annually on toys, accounting for 16 percent of the $21 billion-a-year toy industry.

Retailers have focused their marketing efforts on the tendency of grandparents to shy away from trendy items in favor of classic toys.

Grandparents also
tend to buy high-ticket items, which translates into higher shares in brands such as Little Tikes, Power Wheels, and American Girl.
Grandparents have embraced the convenience of online shopping, just as they have traditionally done with mail order catalogs, with 12 percent of their holiday shopping done online. With the average Web purchase commanding a significantly higher price premium than non-Web purchases ($13.30 v.s. $6.22 respectively) and the tendency of grandparents to spend freely on their grandchildren, it´s a relationship retailers should consider developing.
Make or Break Time For Retailers
"While overall sales of traditional toys year-to-date (January through September 2003) are slightly off last year's pace, there is still time for the industry to end on a positive note as we enter the most intense time of the year for toy sales," said Michael Redmond, senior industry analyst at NPD.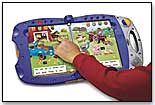 PowerTouch
"Many will be banking on Learning & Development toys to have a strong holiday push. The Leappad Plus Writing Learning System from Leapfrog and the PowerTouch from Fisher-Price are expected to be very popular."
In an additional effort to boost sales, many manufacturers are taking advantage of extending a property across many toy categories and, in some cases, even outside the toy aisle. "You may see Bratz, Dora The Explorer and Yu-Gi-Oh showing up on retailer shelves in fashion dolls, puzzles, activity toys, children's games, plush, books, video, DVD's, clothing and backpacks," says Redmond.