Don Meyer, director of consumer and public affairs for the Hobby Industry Association, states that many traditional crafts are experiencing a resurgance in popularity, especially scrapbooking, needlecraft, and beading.
Information technology has revolutionized scrapbooks, and low-cost computers, printers and scanners are giving scrapbookers more tools. Digital cameras and graphics software that allow editing and cropping of images are changing scrapbooking, leading many software companies to produce special scrapbook software.
Though the digital age has opened new opportunities, traditional scrapbooking crafts are just as popular. Three-dimensional decoration of scrapbooks, including metal and beads, is back on the radars of craft retailers.
Sue Bingham and Melissa Pride of A Novel Idea, a scrapbooking and crafts boutique in Friendswood, Texas, agree with Meyer's assessments. Ephemera--stuff you might not expect to find on a scrapbook--are currently big sellers.


Creative Imaginations

"People are buying metal embellishments, coins, seashells, and charms for their scrapbooks," said Pride.

Beading is another craft experiencing growth because of scrapbooks, but Meyer states that it is growing on its own as well. "Beads are gaining favor as embellishments and ornaments among younger crafters," he said.

"Customers make jewelry out of watch parts, scrabble tiles and dominoes," Pride agreed, noting the recent growth of a younger demographic.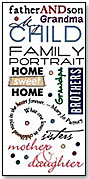 Phrase Cafe Graffiti

Other current growth areas are stamping and stickers. Bingham was enthusiastic about sales in this sector. "Me and My Big Ideas, Creative Imaginations, Phrase Cafe, and Thoroughly Girl Stuff lines of stickers are really selling," she said.

So, what's sitting on the shelves? "Stamping kits don´t sell well," said Bingham. "Our customers prefer to pick and choose."

What are people using stickers and stamps for? Altered books--books transformed from reading matter into art. "People choose a theme," explained Pride. "For example, women: They fold the pages, and add stamps and stickers related to the theme--faces, clothing, things like that."

Needlecrafts are also seeing an increase in popularity, according to Meyer, as well as knitting and quilting. Some of the growth may be due to the economy and the world's state of affairs. Needlecrafts--knitting, cross-stitching and quilting--are economical crafts and provide crafters with a sense of comfort and nostalgia.

Martha Montgomery of Quakertown Quilts, a Houston-area quilt store, echoed Meyer. "Retro is big," she said, holding up a pair of 1930s-style knickknacks. "We had a rack of these. This is what is left."

Seasonal items featuring traditional and retro themes are also big sellers. "Last year, angels and traditional Santa quilt kits outsold snowmen," said Montgomery. Religious themes also do quite well.

Quilt block kits are just as popular. Quakertown Quilts has several "block of the month" series. Quilters can finish one as a wall hanging or pillow, or put nine or 12 blocks together for a themed quilt. Many are aimed at children or infants.

How do you learn what´s hot? According to Melissa Pride, watch the Do It Yourself show or Home and Garden cable networks, or track trends in crafts magazines. "Customers see something on a show, or an article in crafts magazines, and they are in here the next day asking if we have it."