Even in this era of pixilated, licensed entertainment, kids still love a good page-turner. A book can make the perfect counterbalance to the Gameboys, Power Rangers and Bratz dolls sure to be crowded under trees and stuffed in stockings along Santa's route.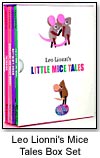 LEO LIONNI'S LITTLE MICE TALES (BOXED SET) by Leo Lionni (Knopf). This new boxed collection of Lionni's beloved picture books includes the Caldecott Honor Book FREDERICK, which tells the story of a field mouse—a daydreamer and a poet—who spins tales to cheer up his family as they face a bleak winter. After visiting an art museum, the gentle mouse in MATTHEW'S DREAM discovers that he is an artist at heart and that following his dreams can be exciting.
In TILLIE AND THE WALL, Tillie's unbearable curiosity about what lies beyond the wall that she and her friends live behind prompts her to tunnel under it and find out what she's been missing. And Geraldine, from GERALDINE THE MUSIC MOUSE, experiences the joys of music for the first time after sculpting a magical flute-playing mouse out of a hunk of cheese. This reasonably priced set makes a great gift or collector's item. Ages 3–7; $15.95.

K IS FOR KWANZAA: A KWANZAA ALPHABET BOOK by Juwanda G. Ford; illustrated by Ken Wilson-Max (Cartwheel Books). In this 2003 paperback version of Ford's 1997 alphabet book, young children will take an "A for Africa" to "Z for Zawadi" journey through the basic history, principles and language of the African-American cultural holiday known as Kwanzaa. Text and illustrations show the costumes and foods associated with the holiday, and handy pronunciation keys are included for all the African words. This is a great holiday or anytime book for kids celebrating Kwanzaa or simply learning about African-American history. Ages 3–5; $5.99.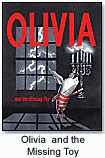 OLIVIA . . . AND THE MISSING TOY by Ian Falconer (Atheneum). While watching her mom sew her new red soccer shirt, headstrong little Olivia—young readers' favorite pig—finds herself in the middle of a mystery: Her favorite toy has disappeared. She looks everywhere, even accusing her little brothers of taking it, but has no luck. Later that night, Olivia hears alarming sounds behind a door; opening it, she finds her dog Perry ripping her favorite toy to shreds! Olivia is horrified, but finds a way to repair the toy and her friendship with Perry. New Yorker cartoonist Falconer brings Olivia's latest adventure to life with his entertaining charcoal-and-gouache illustrations. Ages 4–8; $16.95.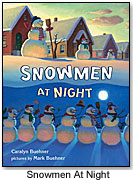 SNOWMEN AT NIGHT (GIFT SET) by Caralyn Buehner; illustrated by Mark Buehner (Dial Books for Young Readers). A boy notices that the snowman he built the day before hasn't fared so well. Wondering what might have happened, he imagines a scene in which all the neighborhood snowmen met up with each other overnight to have snowball fights, drink ice-cold cocoa, and engage in other rollicking activities. Mark Buehner uses playful oil-and-acrylic paintings to illustrate this rhyming picture book. A plush snowman toy accompanies this reissue of the 2002 holiday favorite. Ages 2–6; $16.99.

THE TALE OF JACK FROST by David Melling (Barron's). Young Jack wakes up in the forest among animal friends and soon surprises them with his magic: Everything Jack touches turns to beautiful, icy-white frost. After his friends name him Jack Frost, evil forest goblins decide that Jack should not be permitted to work his magic in "their" territory. They try to steal Jack's powers, but will they succeed? Melling's charming color illustrations help create a magical, wintry world that will entrance young readers. Ages 4–7; $14.95.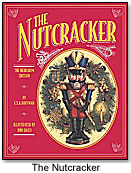 Running Press Books has updated a timeless Christmas story with THE NUTCRACKER, HEIRLOOM EDITION by E.T.A. Hoffman. This cloth-bound hardback book tells the story of a toy nutcracker soldier who saves the young Maria Fritz from danger on a stormy Christmas Eve. With its gold-embossed edging and playful bookmark bearing a likeness of the Nutcracker himself, this edition is sure to be brought out for story-time reading for years to come. Illustrations by the late award-winning artist Don Daily bring the story to life. Ages 6 and up; $16.95.