Did Henry Ford ever think, years after he watched the first Model T come off the assembly line, that children would be able to create their own mini models of the automobile? That's the idea behind the Cast & Paint Krazy Kars kit, which allows kids to build their own matchbox-size race cars by pouring casting material into a mold tray, letting it dry and peeling the car's body out of the mold.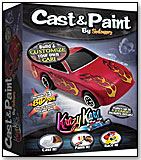 Cast & Paint Krazy Kars kit

The new kit from Skullduggery (ToyShow) comes with enough material to make three cars and includes tires, BLOpens (non-toxic, safe gadgets used to color the cars by blowing paint through a pen) and stickers to give those with a flair for the dramatic a chance to really customize their chassis.

Cast & Paint Krazy Kars Content

According to Skullduggery, the Krazy Kars kit enocourages learning by enhancing a child's instruction-following skills as well as hand-eye coordination. In addition, children get the satisfaction of building something out of nothing and deciding if they want to use it for play or display.

The car kits have been on the market since June, and Skullduggery President Stephen Koehl says the reaction has been positive, with reorders for the holiday season. In addition to cars, the company manufactures high-quality fossil replicas as well as science kits that contain life-like animal teeth, claws and skulls, human skeletons and prehistoric eggs.

Cast & Paint Krazy Kars Cars

Cast & Paint Krazy Kars kits are $7.50 wholesale and $14.95 retail. The cars can be used on any plastic 1/64-scale racetrack and are intended for kids 8 years old and up.