Hasbro wanted to remind moms that for the price of one video game, they could buy five board games at Xmas time…
Last month, the Hollywood Toyboy talked about product placement, getting ideas of what's up by looking at movie trailers. What about celebrity placement? If Ewan McGregor pushes Star Wars toys, do they sell more? How about The Rock of the WWF? Do kids want to buy more action figures? Or are celebrities targeted to children at all?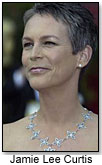 When a manufacturer hires a celebrity spokesperson, why do they do it? Take an upcoming example from Hasbro: the always lovely Jamie Lee Curtis, mom, author and … board game aficionado?
Bill McCarthy, director of promotions at Hasbro, headed up the new Jamie Lee Curtis "Games Make Great Gifts" campaign. How did this come about? Hasbro noticed their classic games "bucket" of the company hadn't been allocated as much attention as the other areas, such as new or licensed games. "Kids already play games. They have closets full of them." Moms know board games are good.
What Hasbro wanted to remind moms was that for the price of one video game, they could buy five board games at Xmas time: a win-win situation. So, they began the search for the celebrity spokesmom to influence the other moms out there to buy board games.
Criteria? Has to be known as a mom and would fit well with the company image. "We had hundreds of ideas from TV and movies," McCarthy explained to TDmonthly Magazine. "So, after we narrowed it down a little, we took it to the moms themselves."
They showed celebrity pictures to real moms and asked three questions: 1. Do you know this person? 2. Do you like this person? 3. Do you respect this person?/Would they represent Hasbro well? "Far and away, the winner was Jamie Lee."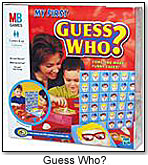 After a couple days of shooting in Los Angeles (16-hour days where Jamie Lee smiled, joked and played Guess Who? with the crew during downtime), the ads are ready for rollout. The week before Thanksgiving will bring coupons, in-store appearances, TV spots, print ads — the works.
But will this sell more board games?
In a poll of 248 celebrity print ads by Gallup & Robinson, Inc. over an 11-year period, celebrity ads showed a 34% higher level of awareness than non-celebrity ads. In a similar 3-year analysis of 488 television commercials, they found a 35% premium related to the use of celebrities. And awareness translates directly to sales.
So how does a retailer make use of this information? The key is keeping your eyes peeled to the newspapers and the Hollywood trade journals (e.g. Variety or The Hollywood Reporter). When a company gets a spokesperson, they may not make a big noise for it at the time, waiting to hold that for an official announcement. But agents and managers are not so circumspect: They will say something. They can't help it.
Then, think about it: does it make sense? A big push on board games? A likeable, respected mom like Jamie Lee Curtis? Statistically, those board games targeted by the ad campaign spike, but board games in general will gain awareness, too.
Being aware of a celebrity spokesperson early may keep a retailer ahead of the curve.