---
Personalized Piggy Banks Cash In
Adding a Personal Touch Strengthens Sales
"There is lots of growth in the hand-painted personalized items." — Michael Brielmann, Gift Giant
With additional reporting by regional correspondents Krista Lebednik and Hee Ko
What's Selling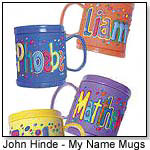 People like buying kids stuff with their names on it, and kids like seeing their names on stuff, retailers told

TD

monthly Magazine. Personalized items from piggybanks to lap desks are strong sellers.

"[John Hinde's] My Name Mugs are a very good seller," said Natalie Reese, manager of Angel's Toy Barn in Greensburg, Pa. "They are popular for birthdays and holidays."

Generations for Children in Ann Arbor, Mich., carries one of Gift Giant's most popular items: Hand-painted Piggy Banks.

"We personalize them with paint pens in the store," said clerk Margaret MacDonald.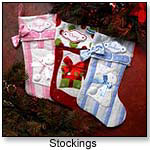 "There's lots of growth in the hand-painted items for us," Michael Brielmann, CEO of Gift Giant, relayed to

TD

monthly. "It's something that not everyone can do."

Brielmann said that products that are hand-painted and designed by one of the company's 20 artists can then be personalized in-store.

At Learning Express of Exton, Pa., not only are Gift Giant's piggy banks popular, but so are personalizable items from other companies, such as Austin-Abbott Inc.

"The wide variety of [Austin-Abbott's] little Carry-all Bags for the summer has been very popular," said Idanna Smith, owner of Juggles in Wakefield, R.I. "Their Treasure Boxes are also popular." Her staff personalizes all of the items.

The Busy Box ― a bin with a sliding chalkboard top that is personalized in toy stores ― is one of the company's most sought-after items, said Austin-Abbot's president, Lynn Rebarber. The company added new colors ― raspberry, lime and orange ― and is seeing the volume going up on these boxes. In addition, she said, Lap Trays have been hot, especially with the new colors.

What to Make of It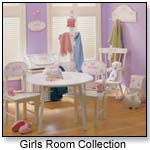 "Personalized is growing," Brielmann concluded. "The Piggy Bank is a classic, a staple, but plush room signs are big now, as well as jewelry boxes."

Once a name has been added, toys and other items become a gift that can last a lifetime. Manufacturers and toy stores alike continue to bank on this concept. Here are a few items that may add some pennies to your piggies: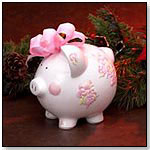 These hand-painted piggy banks are among Gift Giant's most popular. The custom handpainting sets these piggy banks apart from others in the market. They can easily be personalized for customers on the spot, using a paintpen.

ToyDirectory Product ID#: 9099

(added 8/22/2006)

.

AD
---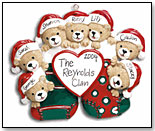 These resin Holiday Ornaments are designed to be personalized. The items become one of a kind when a name is added.

ToyDirectory Product ID#: 9100

(added 8/22/2006)

.

AD
---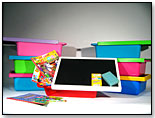 The Busy Box Fun Pack is a bright plastic storage bin with a sliding chalkboard top. It comes complete with chalk, sponge eraser, coloring books, crayon and pencils. Retailers can personalize the bin and the frame for a unique gift item that is useful and fun. It's ideal to take on a road trip. The Busy Box provides hours of back seat entertainment and enjoyment.
— "It's made in beautiful colors … [and] provides hours of creative play with the enclosed components or without! It's excellent to take on the go," Roxanne Rebarber of Austin-Abbott Inc. told TDmonthly.

ToyDirectory Product ID#: 9101

(added 8/22/2006)

.

AD
---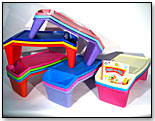 The Lap Tray is a colorful plastic tray with side pockets for storage. It's ideal as a lap desk for homework, snacks and more. Retailers create beautiful designs on this practical and profitable tray. They can even be creative, fill the pockets and then wrap for a wonderful, personalized gift. The Lap Tray is great for all ages from toddler to Grandma.

ToyDirectory Product ID#: 9102

(added 8/22/2006)

.

AD
---

Writer's Bio:
Terri Hughes-Lazzell is a freelance journalist based in Ossian, Ind. After spending nearly a decade as a daily newspaper reporter, she has worked as a freelance journalist for more than ten years, writing about a variety of topics. Her work appears in newspapers, magazines and specialty publications nationwide.
Read more articles by this author
THIS BANNER IS AN AD:
---
---