---
TDmonthly's Psychology Expert
Send Her Your Toys and She'll Tell You How They Play
Beth Carroll, Psy.D., is a professional psychologist who specializes in child intervention and development. She works with children in many capacities, including providing early intervention services to infants and toddlers and conducting play therapy and psycho-educational assessment with children and adolescents. She has also provided private childcare for families for more than 22 years. Her diverse experience working with children has enabled her to see firsthand how playing with toys can be one of the richest sources of learning and communication for kids. In the following reviews, Dr. Carroll shares her toy recommendations with

TD

monthly Magazine by rating them with 1 to 5

TD

s (for

TD

monthly) with "5" being the highest grade.


You Build It — Motor Mania by SMARTLAB TOYS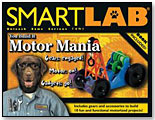 Age: 8 and up
Gender: Boys and Girls
Price: $18.99






First Impressions
Rather than handing children toys that are already put together, giving them this cool kit lets them build their own toys so they learn how motors work. You Build It — Motor Mania comes with plastic motor parts, project accessories and clearly illustrated instructions to build 10 different motorized gadgets, including a mini crane, conveyor belt, game spinner and fan.

Developmental Stage
You Build It — Motor Mania is a great way for kids and parents to spend time together building motorized projects and developing a sense of competence that comes from creating something that works. The kit lets kids develop valuable skills, such as reading and following directions, fine-motor dexterity, planning and sequencing, and conceptualization of how a motor works. Older school-age children can follow directions and complete the projects independently.

Recommendation
My only "constructive" criticism is that the many small plastic parts may get lost or worn out over time. However, SmartLab has come up with a great way to educate and entertain young minds … perhaps the future engineers of tomorrow.

---
Party Cake Chef by B-BEL INC.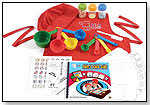 Age: 5 and up
Gender: Boys and Girls
Price: $24.95






First Impressions
Party Cake Chef is a cake baking and decorating kit that includes a guide book with basic cake batter recipes and decorating instructions, colorful measuring spoons and measuring cups, a red chef hat and apron, sprinkle containers and paper stencils.

Developmental Stage
Baking projects provide rich learning opportunities for children. Skills such as reading directions, following steps and planning, measuring, hand-eye coordination, color and shape identification, and creativity are all targeted by Party Cake Chef. One special feature is that the directions in this kit are color-coded. Each color is also paired with a symbol (e.g., star, circle, oval and diamond) so that even young children who don't yet read can follow along and participate.

Recommendation
This cake-making and decorating kit is a great activity for kids of all ages. They'll build self-esteem and competence as they carry out each preparation step and bake tasty treats. The kit does not come with the ingredients or the baking pan required for each recipe, so they must be purchased separately. Parental supervision is necessary, as the use of an oven is required.

---
Animals — Craft Kit & DVD by TOT-A-DOODLE-DO!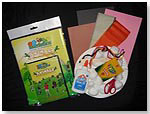 Age: 3 to 7
Gender: Boys and Girls
Price: $19.95




First Impressions
A perfect combination of kid activities and entertainment wrapped up into one 30-minute interactive DVD, Tot-a-Doodle-Do! "Animals" combines live demonstration with real child participants, animation, puppets, singing and educational details to teach children about animals. The DVD kit even comes with all of the supplies needed (e.g., paper plates, tissue paper, glue, scissors, crayons and cotton balls) to complete an animal mask.

Developmental Stage
Tot-a-Doodle-Do! "Animals" provides a fantastic educational experience for children in the preschool to early-school age range. The variety of activities in the DVD is like bringing a days' worth of school activities into the home. Children can watch a demonstration of a craft activity and follow along with their own supplies; they can watch children ask a dog trainer questions about how she teaches guide dogs, sing along to various animal songs, learn to make a healthy snack, and even learn about animal safety. I used the art activity with some of my preschool clients who are working on fine motor skills, such as snipping paper with scissors, and they loved it!

Recommendation
I like the fact that Tot-a-Doodle-Do! "Animals" comes with the necessary art supplies for children to create their own animal masks. Parental supervision is required for the art activity, especially for younger children, as scissors are involved. Because the children in the DVD are culturally diverse and one child is in a wheelchair, I think the DVD would appeal to almost any child. Parents will be impressed as well.

---
Write On! Printing DVD Tutor Kit by INCREDIBLE KID LLC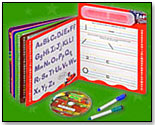 Age: 3 to 8
Gender: Boys and Girls
Price: $24.99






First Impressions
Finally, there's a fun way for children to learn to print the alphabet! Write On! Printing DVD Tutor Kit includes a board book with solid and dotted lines, traceable letters and printing directions. Two dry-erase pens are also provided, so children can follow instructions on the interactive DVD tutorial.

Developmental Stage
The DVD uses quirky animal puppets (Violet, Professor Scribble, Alphie the dog and Bob the bug), animation and music to entertain young writers while instructing them on how to print upper- and lower-case letters. Viewers are guided through each step of writing the alphabet. The simple, clear illustrations encourage better penmanship in older school-aged children and are a helpful guide for beginner writers, too. In addition to writing skills, letter identification is also reinforced.

Recommendation
Each line in the book is color-coded and uses a star to indicate the starting point for each letter, making it easy for children to follow along. Helpful tips such as "Don't lift your pen" are also provided as a reminder. I liked the dry-erase feature of this book, which enables a lot of practice without wasting paper. The kids with whom I work seemed to enjoy erasing almost as much as writing!

---
Light-Up Wand by SMALL MIRACLES INC.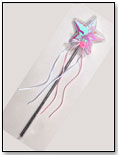 Age: 3 and up
Gender: Girls




First Impressions
This silver-and-pink, star-shaped wand lights up and flickers when the tip is squeezed. The wand is adorned with a pink rose and streamers.

Developmental Stage
Wands and other "magical" accessories inspire pretend play and enable children to explore different roles. The light-up feature of this wand makes it a more attractive alternative to those that do not light up. Even the very young children with whom I work enjoyed pressing the star tip over and over again to trigger the flickering light.

Recommendation
This wand can be paired with other Small Miracles products, such as the Pink Fairy Wings and Light-Up Tutu. It is a great accompaniment to any fairy costume. However, the wand inspires imaginative play on its own and girls can work their fairy magic and cast spells any time, anywhere.
Writer's Bio:
Beth Carroll, Psy.D., is a licensed clinical psychologist who specializes in child intervention and development. She works with children in many capacities, including providing early intervention services to infants and toddlers and conducting play therapy and psycho-educational assessment with children and adolescents. She has also provided private childcare for families for more than 22 years. Her diverse experience working with children has enabled her to see firsthand how playing with toys can be one of the richest sources of learning and communication for kids.
Read more articles by this author
THIS BANNER IS AN AD:
---
---