Tools:








This Issue's Highlights
What to Read in November
Time is precious. So

TD

monthly Magazine has summarized some of our top stories for a quick scan. If you want to know more, just click on the links.


Hot Sellers for the Holidays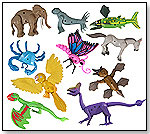 Most top-10 Holiday Toys lists are useless for specialty retailers ... but these new toys are expected to fly off specialty toystore shelves this Christmas: Webkinz, PlayFoam, Dragonology, Ringzz, OgoSport, Khet: The Laser Game, Monster Under My Bed, Pentago, Fashion Angels Design Studio Set and Zoomorphs Deluxe/Tub Set. Click here to learn why retailers like you are so sold on them.


Homeschooled Girls Soften Up



Beacon Street Girls (ToyDirectory) products are getting retailer buzz, according to

TD

monthly regional correspondents. Read what our homeschooled scholars have to say about the gal pals and luxurious tween products from Fashion Angels Enterprises (Gift Guide) and Kidz by Dezign (ToyShow) by clicking here.

To Give or Not to Give



Charitable contributions of toys can make retailers feel fantastic, brighten kids' lives and even increase a storeowner's network. But if your heart's not in the right place, charity can backfire. Find out how to give without being taken by clicking here.

If You're Thinking About Books...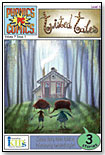 Dorothea DePrisco Wang, TDmonthly's Expert Book Reviewer, has a keen eye for what titles will do well in toy stores. Read what she has to say about "Jurassic Poop," "Marco Polo," "What Elephant?" and other books by Harcourt (ToyDirectory), National Geographic Society, Kids Can Press, Scholastic, Kane/Miller (ToyDirectory) and Innovative Kids by clicking here.


Tween Girls Go Shopping



Cool purses by Overbreak LLC and Posh International Ltd. may help tween girls buy even more at toy stores, including must-haves from Fashion Angels, Seventh Sense, International Playthings and Klutz. Click here to read more.


New Toys

To view by category the new and notable toys that have come into ToyDirectory/

TD

monthly during the last three months, click here. Or, to see everything, do an ADVANCED SEARCH (top of the page) and select "All" for your Category.

Finally, if you're curious about the cute little bears on the cover, they're from Flatout Australia and are included in this month's Top-10 Surprise Hits ... read about them and the other nine toys by clicking here.
Catalog Request Form

Writer's Bio:
ALISON MAREK is an award-winning writer, director and cartoonist whose work has been published by Fairchild Publications and DC Comics (Piranha Press), broadcast on Showtime and other cable networks, and viewed worldwide in film festivals. See her short films and print work on www.alisonmarek.com. Watch her nefarious villains in the web series www.MuggsMovers.com. Get inspired by her cartoons "Daily ARFFirmations to Unleash Your Inner Fido" at www.ARFFirmations.com. Phew! And then ...
Read more articles by this author
THIS BANNER IS AN AD:
---
---