---
Cool Company: Sol-Effect
Face-to-Face Dealings Bring Family Success
"Be patient and hang on." — Bruce Yeh, Sol-Effect Enterprises Inc.

A well-built base of trading partners from all over the world is one of the keys to success for Sol-Effect Enterprises Inc. (ToyDirectory) of Arcadia, Calif. Relationships, in fact, are central to this family-owned business, which has quintupled its sales over 20 years.

Building on the Past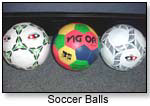 The company was originally founded in Taiwan in 1985 by Ming Nee, whose background was in both auto parts and sporting goods.

"At the time, she was working for a company, and the owner decided to retire," explained Nee's brother, Bruce Yeh, who serves as the company's vice president of sales.

Nee saw an opportunity, and started Sol-Effect by building on the prior company's customer base.

The company grew, and in 1991, the California office was established to serve customers in the United States. This office's main function is to import, export and distribute sporting goods and novelties, such as scooters.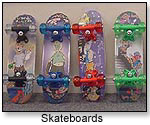 Sol-Effect's most popular items are currently soccer balls and skateboards, but their other items include all kinds of sports balls and some small fitness items, such as handgrips.
All of the company's products are currently produced in the Far East ― mainly in China. Taking turns, someone from the company travels there about once a month.

Yeh, originally a software engineer, decided to join the family business 11 years ago.

Meeting Beats Meetings

"I look for prospects," he explained to

TD

monthly Magazine. "Before, we did mostly exports but now I try to expand our domestic customers — chain stores and retailers. We always hope to get more customers and more items."

At one time, Yeh tried going to trade shows, but that strategy did not prove to be very beneficial. Visiting customers brings him better results, so he travels around the United States to meet with prospects.

"It's a very specific industry, so I know where the customers are," he said. Their customer list includes Big Lots, KB Toys, Factory 2U and sporting-goods stores.

Steady Growth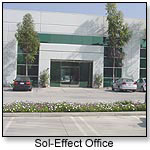 When the company started, its business tallied $2 million a year, said Yeh. Today, the total has grown to $10 million, and the company hasn't suffered any setbacks.

"So far, we've been pretty lucky," he told

TD

monthly.

Sol-Effect currently employs about 12 workers, including another brother, Mike. The 25,000 square-foot facility includes approximately 5,000 square feet of office space and 20,000 square feet for warehousing. The warehouse contains several hundred types of products at any given time.

Service Keeps Them on Top

Yeh noted that Sol-Effect is set apart from others in the same type of business by its good service and reasonable markup.

"Overall, I think we are very competitive," he shared with

TD

monthly.

But staying competitive requires effort. Yeh said that one of the main marketing lessons he's learned since joining Sol-Effect is that everything takes time — time and money.

His advice to others getting into the business is to "be patient and hang on. … It's not easy."

Here are a few of Sol-Effects' products that your customers might want to hang on to: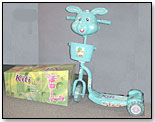 This scooting bunny makes sounds and blinks its eyes and kids get mobile. It comes in pink, light blue and dark blue.

ToyDirectory Product ID#: 8462

(added 7/5/2006)

.

AD
---







This award-winning invention comes with 2 flexible decks. It is propelled by weight being shifted between the two decks and provides a solid workout. It is new for 2006.

ToyDirectory Product ID#: 7173

(added 3/9/2006)

.

AD
---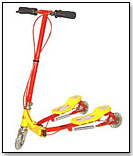 This new invention is propelled by gliding with one leg or two. Kids can switch directions while riding. The Glider comes in four different sizes and prices range from $60 to $160. It won a 2005 Genius Cup at the 2005 Taipei International Invention Show & Technomart.

ToyDirectory Product ID#: 6301

(added 1/4/2006)

.

AD
---

Writer's Bio:
Brenda Ruggiero is a freelance writer from western Maryland.
Read more articles by this author
THIS BANNER IS AN AD:
---
---