If you want to know what a toy will look like on your shelf,

TD

monthly Magazine lets you see it before and after it comes out of the box. Among this month's new toy videos are a hot new doggie in a purse, a new baby doll, and a fire-breathing chess set. And if you're wondering which trade event to attend, manufacturer demos from the 2006 Toy Fair and WTHRA may help you decide. Just click on the category below and watch away.

Videography and editing by Alison Marek.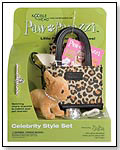 Pawparazzi Salsa Celebrity Style Set by NOODLE HEAD INC.
Salsa is a singing sensation. She's sold with her own designer carry bag, a rhinestone collar, bracelet, dinner accessories, name charm, leash, blanket and magazine. (

Watch Video)

Click here to watch manufacturers demonstrate their products at tradeshows

Writer's Bio:
ALISON MAREK is an award-winning writer, director and cartoonist whose work has been published by Fairchild Publications and DC Comics (Piranha Press), broadcast on Showtime and other cable networks, and viewed worldwide in film festivals. See her short films and print work on www.alisonmarek.com. Watch her nefarious villains in the web series www.MuggsMovers.com. Get inspired by her cartoons "Daily ARFFirmations to Unleash Your Inner Fido" at www.ARFFirmations.com. Phew! And then ...
Read more articles by this author