---
Wooden Sales Grow Stronger
Classic Games Make a Comeback in Wood
"Plastic is half the price, but my sales have quadrupled because [my products are] not plastic." — Jim Ressler, Ashley Reed Trading

Wood — the first wholesale toy-making material. Durable, beautiful ... expensive.

In the 1950s, plastic was the "wave of the future." It was cheap and easy to mold. It swept the toy industry like iron-age man wiping out the bronze agers. Then electronics came into vogue, and coupled with plastic, they were the answer to everything. But lately, wooden toys — some of which are reformulations of classic games — have made a comeback.

TD

monthly Magazine talked to three distinct manufacturers about the return of wood.

Why Wood?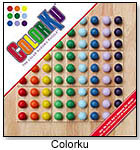 Mark Asperheim, president of Mad Cave Bird Games (ToyDirectory) explained that "I think people are tired of lightweight plastics and cardboard, which tend to be easily breakable. Wood is very durable, and we use recycled wood [rubber wood] for the board, so there's an environmental quality to the wood as well."

"People are definitely sick of electronics and plastic," Jim Ressler, owner of Ashley Reed Trading (ToyDirectory), concurred. "There's a big backlash to go back to wood."

Ron Reyes, head of Wood Expressions (Gift Guide), put it more aesthetically: "Wood is beautiful, timeless and denotes a quality that can't be matched. It also evokes a sense of nostalgia."

But Isn't It More Expensive?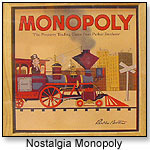 Ressler laughed: "Plastic is half the price, but my sales have quadrupled because [my products are] not plastic."

Plastic prices have been on the rise because of oil costs (both petroleum for making the material and rising fuel costs for shipping), and so what was once unthinkably dear has now evened out. Hasbro's Monopoly Wood Nostalgia Series Game (one of the whole Nostalgia series: Scrabble, Sorry! and others) costs about 75 percent more to make with wood, but three years ago would have been 400 percent more expensive.

Who Usually Buys a Wooden Game?


Reyes' company has been selling traditional wooden board games for about 30 years, and he's found that "They are generally purchased by adults for kids and other adults. They're what today's adults played with their parents and grandparents growing up; they relish reliving that with their children."

Asperheim and Ressler agree that adults buying for kids is the key. Asperheim told

TD

monthly, "I think parents really like the quality of the wood product and are looking forward to being able to buy the game for their kids."

What's in Store for the Future?

Portable wood games ... with magnets! Asperheim wanted to have a "travel version of ColorKu using wood and magnets." Ressler dreams of two versions of his game: "A travel one in metal and one in wood, with magnets inside."

The outlook for wood is good. Reyes has seen that "sales are surging," particularly in boutique stores and toy stores, because these products are more difficult to find in big-box retailers such as Toys R Us, Target and Wal-Mart.

In the end, Ressler summed it up best: "People just like the wood. Once they pick it up they say, 'Oh my God, I gotta have it!'"

Following are some of the high-quality wooden games that could grow your sales this Holiday season:




Age Range: 6 and upSKU or Item #: 12-562





This new, exclusive, gorgeous and timeless chess set features a 21" redwood chess board with triple-weighted, handpolished Ebony and Kari wood chessmen with leather bottoms, including a 4" king.

ToyDirectory Product ID#: 8962

(added 8/9/2006)

.

AD
---






ColorKu is a high-quality wooden board game based on the popular Sudoku puzzles. It uses 81 wooden marbles in nine distinctive colors placed on a 9" x 9" wooden grid to solve puzzles. The board is solid wood and 13½" x 13½". The game comes with 104 puzzle cards, but it can be used to solve any Sudoku puzzle.
— "We had people ask for a new colorized Sudoku called ColorKu," Mike Castor, owner of Pentwater Toy Box in Pentwater, Mich., reported to TDmonthly. "We were able to find the manufacturer in the next county, got a hold of him in Grand Rapids and got a shipment in 48 hours. We sold a bunch."
— "We believe ColorKu is the best Sudoku product on the market. Players can solve puzzles individually or in groups, and it can be made competitive by setting up the same game on two or more boards," said Mark Asperheim, president of Mad Cave Bird Games. "It's also a beautiful piece that looks great on a coffee table!"
— Three of 63 retailers who spoke with TDmonthly named ColorKu as one of their top selling games.

ToyDirectory Product ID#: 7323

(added 3/27/2006)

.

AD
---






Monopoly has been America's favorite board game since 1935. This special Nostalgia Series edition brings that history to life with vintage-look playing pieces, wooden houses and hotels, and "aged" Monopoly money. The wood collector box features a built-in banker's tray and cover art reprinted from the 1957 edition. It's an evergreen game that will be cherished and handed down through the generations.

ToyDirectory Product ID#: 9645

(added 10/10/2006)

.

AD
---
Writer's Bio:
Mark Zaslove is an entertainment industry veteran in developing content (writing, directing and producing television and feature films) for the major studios, including Disney, Universal and Warner Bros. A two-time Emmy Award winner for writing and recipient of the Humanitas Prize (for writing uplifting human values in television and movies), Mark is also Head of Content Development for Nice Entertainment.
Read more articles by this author
THIS BANNER IS AN AD:
---
---