Tools:








i-gami Makes Old Tricks New Again
Ancient Art Turns Into Plastic Play's New Toy
What do you get when you combine an ancient art form with modern ingenuity? One answer is i-gami — a new toy by Plastic Play Inc. (Gift Guide) based roughly on the ancient Japanese technique of paper folding (origami).

Simplifying a Concept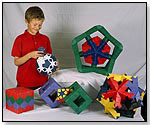 One of the founders of Plastic Play "came to me with the prototype about four years ago and it just went from there," Gerry Pascoe, owner and general manager of Plastic Play, explained to

TD

monthly Magazine. The prototype began with the concept behind origami, in which objects are built by folding paper, and then replaced the paper with a piece of hinged plastic.

A discussion about what to do with one plastic piece has grown to the point where the company is set to distribute its complete line of i-gami sets that include up to five types of hinged plastic pieces. The pieces can be easily folded and combined to build hundreds of shapes, objects and animals, without requiring the level of skill needed for the original origami.

As Pascoe readily admitted, "There's nothing really like it."

"Shocking" Debut Builds Hopes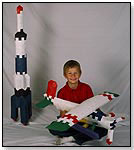 The first hint that the company had something special on their hands was their presentation at the 2005 New York Toy Fair. Although they hoped for a positive reaction, what they experienced took them by surprise: "We were overwhelmed. We were shocked. Everybody who came by had a positive reaction," said Pascoe.

That experience set the stage for what's happened since: interest from potential partners, distribution offers in North America and elsewhere, winning a Dr. Toy 10-Best Creative Products award and an iParenting Media Award, and inclusion in the MindWare toy catalog.

Just weeks before the i-gami sets were scheduled to launch in October 2006, Plastic Play had lined up 4,000 units of the Canadian-made toy ready to go to 100 specialty retailers. Pascoe hopes for sales of 100,000 units in the first year and 300,000 in the second. True to his cautious nature, he wonders, "if our expectations might be too high." Yet the potential for this toy might be limitless.

Construction Re-envisioned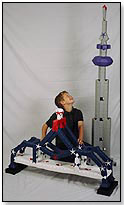 Although i-gami can fit into many categories, such as education, hobby, crafts and more, Pascoe believes Plastic Play is offering consumers a construction toy that "nobody out there is making: not LEGO, Mega Bloks or anybody."

When the five basic plastic pieces are manipulated and snapped together, kids can create anything from a shark to a plane. However, unlike other construction toys, i-gami makes hollow figures that are both lightweight and extremely durable.

As Pascoe summed up, "You really have to see it to believe it."

Here are some of the i-gami kits that are just now hitting retailers' shelves:
i-gami – Color Harmonies
by
PLASTIC PLAY INC.
Other products from PLASTIC PLAY INC.
TDmonthly rating: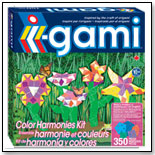 This colorful plastic origami kit is designed with girls in mind. Young builders can fold, snap and bend super-hinged plastic pieces into any shape they want, and the finished plastic pieces will hold their shapes. A basic starter kit, intermediate kit and advanced kit are also available.

ToyDirectory Product ID#: 7920

(added 5/22/2006)

.

AD
---







A new twist (or should we say a new "fold") to the ancient Japanese art of origami, i-gami allows a child to create lightweight models of any shape or form; simple or advanced; geometrical, abstract or realistic. With three different sets (Animals, Deep Sea and Flight), each kit contains five different shapes in assorted colors to create the images shown, or anything else the imagination desires.

ToyDirectory Product ID#: 8496

(added 7/7/2006)

.

AD
---






The Advanced Kit contains 600 plastic pieces. "I-Gami is based on a totally new concept from other construction toys. The secret is it's a block that can be manipulated in thousands of ways by changing the angles and folds," Gerry Pascoe of Plastic Play told TDmonthly. It was named one of the 100 Best Children's Products of 2006 by Dr. Toy.

ToyDirectory Product ID#: 8497

(added 7/7/2006)

.

AD
---
Catalog Request Form

Writer's Bio:
Dennis Furlan is a freelance writer who lives just outside of Toronto, Canada. He works on a variety of writing and editorial jobs with clients and publications worldwide. Dennis is proud to be part of the
TDmonthly
team, serving as a regional correspondent for the northwestern U.S.
Read more articles by this author
THIS BANNER IS AN AD:
---
---