Tools:








Girls Pamper Pets With Jewels
Diamonds Are Their Best Friend's Best Friend
"Magnetic earrings are a new trend." — Diana Nelson, Kazoo & Company
With additional reporting by regional correspondents Krista Lebednik, Bonnie Priever and Donna Sacks
What's New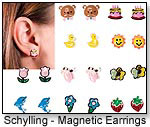 Little girls are scooping up jeweled collars for their pets and magnetic earrings for themselves, retailers told

TD

monthly Magazine.

There's an "exploding pet market" for girls, stated Michele Gietz, co-owner of the 15-year-old Where'd You Get That? in Williamstown, Mass. "Pawparazzi by Noodlehead (ToyShow) comes with a Bling! collar for the [plush] dog and matching bracelet for the little girl … and Pawparazzi Magazine."

Across the country in Colorado, Jerome Crawford, owner of the 4-year-old Crawdaddy's Toys in Lafayette is seeing the same trend.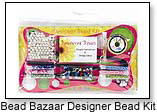 And 5 of 20 toy-store owners who carried jewelry claimed that magnetic earrings are attracting cash: "Magnetic earrings are a new trend," Diana Nelson, owner of 26-year-old Kazoo & Company in Denver told

TD

monthly. "Just stick them on and you're done."

What's Selling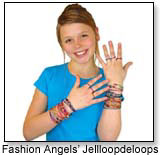 Beads are big … still, ten retailers agreed, especially in kits by Fashion Angels (Gift Guide) (formerly, The Bead Shop), Alex and Bead Bazaar.

"Anything that is glittery, especially bracelets," added Connie Hall, owner for 5-1/2 years of The Three Bears in Ruidoso, N.M.

Cynthia Strinich, manager of Phillips Toy Mart in Nashville, has noticed that lime and purple are the new preferred colors for rhinestones and other twinkly things.

What's Fading

But look out! "Porcelain and metal letters have died down," continued Geitz, though rhinestone letters and words such as "awesome" and "too cute" that can be strung on bracelets and necklaces remain strong for most retailers.

What to Make of It

Invest in the glitter. For gals or Great Danes, the bottom-line is clear:

"Girls want jewelry that sparkles," summed up Rick Garlock, co-owner of The Treasured Child in La Grange, Ky. "And they sure buy it."

Here are a few kits that retailers said set girls a-glitter, plus a few

TD

monthly finds:







Girls can decorate this pink phone strap however they wish with the 10-mm Build a Better Bracelet rhinestone letters (sold separately).

.

AD
---






.

AD
---






.

AD
---






Girls can make an armload of bracelets with the JellLoopdeLoops kit. Using 48 feet of glitter tubing, jewelry makers will be able to design 36 bracelets and 20 rings. Of course, we added our signature glass beads to make each bracelet totally divine. Jewelry pliers are included. This product received a 2007 Oppenheim Toy Portfolio Gold Seal Best Toy Award.

.

AD
---






Girls can hide all of their treasures in this stylish, hand crafted bead chest. It's the perfect place to store beads and other accessories. All the drawers in this adorable chest are fully lined. The Soothing Hearts chest is beautiful, with hearts and flowers in a pink, green and yellow design. The bead chest is a great permanent keepsake and it is one of Bead Bazaar's icon items; it adds a touch of style to any room.

.

AD
---






CHARM IT! Hello Kitty Charm Stickers bridge the gap between sticker and charm because they are metallic stickers. They come three to a pouch and CHARM IT! stickers are packaged four per polka-dot pouch.

.

AD
---






Fwingers are sign-language alphabet charms and key chains in the shape of bright cartoon-like hands. Educational and fun, they're available in the 26 letters of the alphabet, plus four generic hand signs. Fwingers do well at Kaleidoscope Toys in Falmouth, Mass., owner Michelle Deutschmann told TDmonthly. "Fwingers are the first and only sign language initial keychain that offers the complete alphabet," noted Craig Zucker of Small Marvel. "Sign language is the third most popular language in the United States."

.

AD
---






This flower power comes in citrus brights. There's a 16" silvertone chain with a 2" extension. It's sold in a violet, cotton-filled box. $20 set. For tweens. Smaller size on organza pouch.

.

AD
---






Think of them as Christmas lights for electrically challenged Lilliputians. It's a 36" long rainbow on green cord, red on black cord, silver on black cord. Price: $5; 3 for $12, 12 for $45 with free shipping.

.

AD
---






This unique line of jewelry for Aurora plush products includes six different styles, each individually packaged with an illustrated "How To" backer card. Each package includes four strands of detachable jewelry hanging from a key ring with clip. Two of the strands can be worn as bracelets by the child or his or her plush pet. The other two become charms for a purse, cell phone or MP3 player. One or all of the strands can be left on the key ring as a decorative accessory.

.

AD
---






.

AD
---






Rings & Things offers more than 400 sterling silver charms and word beads, ideal for high-quality charm bracelets or simple necklaces. Also available are connector findings, clasps and chain by the spool for custom lengths, or 16" and 18" finished necklace chains.

.

AD
---






These cute plastic earrings have a magnetic backing so girls who aren't ready to pierce can still doll up. Other styles include dolphins, strawberries, tulips, ducks and teddy bears.

.

AD
---
Catalog Request Form
THIS BANNER IS AN AD:
---
---