Tools:








When a Key-Chain Just Won't Cut It
Personalization Moves Beyond the Obvious
"Kids love hearing their name in music." — Daryl Ragsdale, Kids Juke Box

Gift-buyers seeking to please Taniquas, Cassandras and Xaviers need no longer despair: Personalization has gotten so personal, manufacturers told

TD

monthly, that almost any name can be added to anything from storybooks to CDs.

Calling Shoppers by Name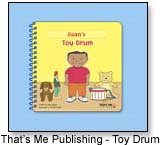 "Personalized products call out to shoppers. They can't resist stopping at displays of personalized products to see if their name, or the name of a favorite child, is represented," said Mary Dwyer of That's Me Publishing LLC. (ToyDirectory) "Shoppers who are looking for less common names feel especially motivated to buy the product, when they can find it."

Nowadays, though, they don't have to find it, or even order it. CD-ROM and Web site-based software lets them create it at home. That's Me Publishing's kits, for instance, contain everything the gift-giver needs to print out and assemble an entire personalized storybook.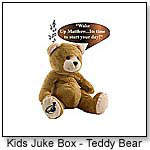 Kids Juke Box even offers personalized CDs that pair kids with Spider-Man for musical and Marvel-ous adventures:

"Kids Juke Box Personalized Music CDs are designed specifically for retail stores," explained Daryl Ragsdale of Kids Juke Box. The customer buys the CD in a store, then uses "Grab and Go" technology to complete the personalization at home on the Internet. "Kids love hearing their name in music, and parents love watching their child's face light up when their name is sung. Hearing kids laugh when their name is sung along with Spider-Man's is only available with the Kids Juke Box Marvel Heroes music CDs."

Learning's Easy When It's All About Me

Personalized products can even help kids learn, Becky Nusbaum, owner and creator of Me A-Z (ToyDirectory), told

TD

monthly. "We brought [our Personalized Children's Educational Program] to our elementary school and tested it. …[The kids] enjoyed hearing their names. It actually helped them learn the alphabet."



But low-tech personalization works for the retailer, too. Austin-Abbott offers multi-use products, such as Busy Boxes, Lap Desks and Clipboards that can be personalized with their Sharpie paint pens.

"Our great colors really work with the customer's needs," Roxanne Rebarber, co-owner of Austin-Abbott, told

TD

monthly. "Retailers can add value to our products, too, by adding coloring books, crayons and activities to our Lap Tray, for instance."

All It Takes Is a Photo ... and Imagination

And Picture Me Press (ToyDirectory) has plenty of personalized books that don't even need a computer: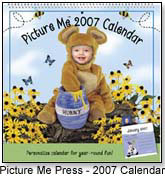 "Our products are personalized with a child's photo," explained Deborah D'Andrea, president of Picture Me Press. "We have more than 100 titles and the consumer just buys the product off the shelf and puts a photo in. Or they can go to our Web site and we'll custom-size the photo for them. We have really nice displays that are free with the purchase of a certain quantity, and books are displayed face-out so customers can see that the books are completed with the child's photo."

Following are some of the personalized products that can help you make your customers feel extra special:







.

AD
---






.

AD
---






.

AD
---






That's Me Publishing introduces personalized book kits for children to make at home. The fun and easy software includes delightful illustrated stories ready to personalize. For example, in "Barnyard Bash," the child enjoys an adventure in the barnyard. Children can enter their own names in the story and those of family and friends. The illustrations can be personalized right along with the words of the story. The book is then printed on premium paper and bound with bright plastic coil. "That's me," kids will say, "I made it myself."

.

AD
---






Adorable collections of scrapbook papers and stickers help parents preserve their baby's cutest moments. Whimsical sayings and cuddly costumed babies make these collections one of a kind. Parents insert their baby's photo, transforming Jr. into "As Cute as I Can Bee." Pages can also be decorated with full-size photos and colorful stickers. All contents are bound into a post-and-hinge, padded cover album. The stickers, cards and lettering are perforated for easy removal to use in decorating. The cards can be personalized with a photo and mailed to friends and family. The first album in the series, this kit has sold more than 5,000 pieces. Album size is 13" x 12" and sticker sheets are 7"x 12".

.

AD
---






Personalize these holiday cards with a child´s photo and they bring a delightful season's greeting. Each card has a cute holiday message inside. The cards are 3.75" x 4.75" (approx.). It is a 6 card set plus envelopes.

.

AD
---






CD Story Books can be played on any computer that uses Windows. Each story features the child's name, gender, ethnicity, and hair and eye color. It is personalized in both the audio text and visual animation, which draws children into the story. In this way, the product improves children's reading comprehension and can be used to help lengthen a child's attention span.

.

AD
---






.

AD
---






Each child creates his or her own program. Their pictures are uploaded for the Intro, their names are referred to throughout the text, and they choose from more than 360 graphics and ideas to describe themselves, such as, "Aa: You are Artistic" or "Athletic" or "Awesome" and "Bb: You enjoy Books" or "Ballet" or "Baseball". They can choose a pre-made corresponding sentence or create their own. There is an audio element, which lists the phonetics of each letter and their choices, along with the full alphabet song. Their names and their uploaded pictures are featured throughout.

.

AD
---
Catalog Request Form
THIS BANNER IS AN AD:
---
---