---
Hollywood ToyBoy: Nearer, My Toy, To Thee
How the Movies, Their Toys — and Maybe Your Kids — Get Religion
"I don't think we'll see Moses as a superhero very soon, but you never know." — Missoni-suited studio exec

Twentieth Century Fox recently unveiled something we've all been hearing about for a while: FoxFaith, a division that will acquire as many as a dozen family-friendly, faith-based movies a year. Hey, with Narnia and The Passion of the Christ leading the way, it was inevitable.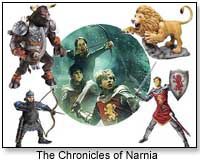 But ... where go family films, so goes toy merchandising. Faith-based toy products have been on the rise for a while (VIEW ARTICLE), but they're now poised to take off in a whole 'nother direction: movie-merchandise driven.

"I knew this was in the works at Fox for years, since my old boss at Columbia was looking for the person to run the division," explained a producer who's known for his independent bent and a penchant for rainy weather.

According to a report by Research and Markets, 25 percent to 35 percent of all toy sales in the United States are driven by character licensing. In Japan, that rises to 45 percent, per EPM Communications. Europe varies depending on the movie, but is within these numbers.

"He who licenses the top movie and television characters wins the battle," blurted a CEO of one of the top-10 toy manufacturers, who had a mouth full of yakitori. "That's why we all want television shows spun off, or movies. Do you really think anyone would have thought of the BRATZ series unless there were toys involved? If religion drives the top movies, then there will be more religious toys based on them."

So, what's in store in toy stores? Will Hollywood, that hotbed for godless liberals and unpatriotic atheists "see the light"?

"Hey, money's money," calmly explained a Missoni-suited exec from one of the studios, who was balancing a piece of baklava in one hand, a Turkish coffee in another. "If people want to see movies about two-headed snails named Maury, we'll do movies like that. Right now, there's a swing toward more wholesome family fare with a bit of a religious aspect. I don't think we'll see Moses as a superhero very soon, but you never know. Same thing happened in the '40s during wartime: "Here Comes Mr. Jordan," "A Matter of Life and Death," that sort of thing. It's always a reaction to what's going on. I bet in 2008 we'll see a whole shift yet again."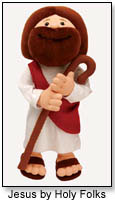 But what if we don't? Will the big toy companies begin licensing more and more faith-based properties? And if so, will it begin a striation in children: those who have faith-based toys, and those who don't? Will parents of one faith not allow their children to have toys based on another? Will this become a method of proselytizing to the young, aimed directly for conversion, rather than play?

"Get them while they're young," smiled an ad exec who's sold everything from Coca-Cola to Ford cars to cigarettes, "And they're yours for life."
Writer's Bio:
Mark Zaslove is an entertainment industry veteran in developing content (writing, directing and producing television and feature films) for the major studios, including Disney, Universal and Warner Bros. A two-time Emmy Award winner for writing and recipient of the Humanitas Prize (for writing uplifting human values in television and movies), Mark is also Head of Content Development for Nice Entertainment.
Read more articles by this author
THIS BANNER IS AN AD:
---
---