Tools:








Spotlight: Playing Works at The Fun Zone
10-Year-Old's Mindset Leads to 26 Years of Success
"I can see amusing applications to toys that other people can't." — Mark Gauger, The Fun Zone

When a new employee was about to start her job at The Fun Zone in Iowa City, Iowa, there was one last thing owner Mark Gauger required: He asked her to play with every toy in the store.

He wasn't giving her the day off. It's part an approach that has led to 26 years of surviving the increasingly competitive toy retail market: All employees working in The Fun Zone must know the toys they're selling.

As Gauger explained to

TD

monthly Magazine, "We can't underprice the big stores like Wal-Mart … but we're a small store and we can compete in other ways. … We try to be unique."

Personality Pays

Gauger believes that the two things that separate his store from others are a "cult of personality" and a "quirky sense of humor." His customers love both him and his unique approach to toys and life.

As he puts it, "I can see amusing applications to toys that other people can't."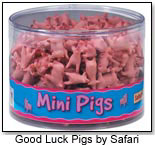 For instance, he sells loads of Good Luck Pigs by Safari (Gift Guide). Though they come in a plastic tub, he offers each pig individually, accompanying it with a small leaflet he's devised that explains why saying "Ich habe Schwein gehabt" in Germany ('I have had pig') is a sign of good luck.

"It probably dates from hard times, when if you had a pig to feed your family, you were indeed fortunate," the card states.

Gauger undoubtedly learned about great gift giving from his parents. As he jokes, "Some parents buy their kids toys; mine bought me an entire store."

Make It a Lifestyle

The Fun Zone started in a flower store's basement in 1979, later grew to a large space in a pedestrian mall, and has finally settled into its current 650-sq.-ft. location.

His mother, Carole, has been beside him in the store all along. Also there to help are his wife, Beth, and father, William. Their closeness is part of what allows the store to flourish.

Even their vacations are filled with toys. Gauger and his wife hit local toy stores on their travels, and try to figure out what is working, what's not and why.

How can he and Beth make those determinations so quickly?

Think Like a Kid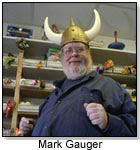 "You have to get into the 10-year-old mindset to understand the appeal of the toy. Once you can say 'Ah-ha' from that mindset, you know you've got something there," he told

TD

monthly.

Gauger also emphasized just how important sales reps from toy manufacturers are to his business. He believes that if "they know what we sell and how we sell it, then they're right for our kind of store."

Being unique, knowing your store, and developing a personal touch have all led to Gauger's success as a toy retailer. It also doesn't hurt to play with the toys. It's just part of the job.
Catalog Request Form

Writer's Bio:
Dennis Furlan is a freelance writer who lives just outside of Toronto, Canada. He works on a variety of writing and editorial jobs with clients and publications worldwide. Dennis is proud to be part of the
TDmonthly
team, serving as a regional correspondent for the northwestern U.S.
Read more articles by this author
THIS BANNER IS AN AD:
---
---