Holiday Trims, Inc.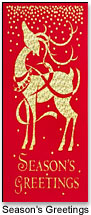 Decorate your front door and around the house with the lovely Season's Greetings Christmas banner by Holiday Trims, Inc. This banner features a large gold reindeer with golden snow falling around its head, against a red backdrop. Below the reindeer states "Season's Greetings" in gold, a beautiful way to spread holiday cheer in your home and neighborhood.
Brainwave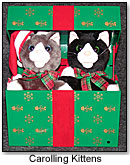 Bring music to any tabletop or shelf with the Caroling Kitten by Brainwave. This adorable kitten wears a Santa hat and sits in a gift box. When you open the box, the kitten will sing a song, like "Jingle Bells" and "Silent Night." While singing, the kitten's head, mouth, eyes will move, and even her paws will pop out!
Mr. Christmas, Inc.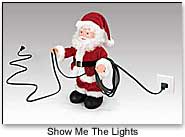 Forget about the hassle of turning on and turning off your Christmas tree lights by kneeling down behind the prickly tree. With Show Me The Lights by Mr. Christmas, Inc., you tell the 16-inch tall Santa to "Show me the lights" and the lights will go on. If you say, "Goodnight Santa," the lights will shut off. Anyone can do it!