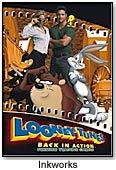 Just in time for the Warner Bros. movie, Inkworks has released Looney Tunes: Back in Action Premium Trading Cards featuring Bugs Bunny, Daffy Duck and the whole Looney Tunes cast along with non-animated co-stars, Brendan Fraser, Jenna Elfman and Steve Martin.
The cards include Movie Story cards, Area 52 cards, Monsters cards, Character cards and some randomly inserted bonus cards for collectors, such as:
Autograph Cards - Brendan Fraser (DJ), Heather Locklear (Dusty Tails), Jenna Elfman (Kate), Steve Martin (Mr. Chairman), Bill Goldberg (Mr. Smith), Don Stanton & Dan Stanton (The Warner Brothers) and Joe Dante (the director).
Official Looney Tunes Tours Cards - Nine cards printed on shiny foil that creates a map to follow the wacky worldwide adventure. These cards are also available as an uncut mini-press sheet.
ACME Cards – Six cards featuring some of the Looney Tunes´ favorite ACME products, printed on sparkly foil. (6 different cards - Inserted appx. packs)
Box Loader and Case Loader Cards – Look for three different box loader cards (1 per display box) and one cool case loader card (1 per case).
Cheat Code Cards – In cooperation with Electronic Arts Inc., three cards feature "cheat codes" that unlock hidden features in the Looney Tunes: Back in Action video game for PlayStation 2 and Nintendo GameCube.
The first 300 cases sold will include an additional "case topper," an actual casino chip used in the filming of the movie, complete with its own die-cut card holder.